A Perfect Day on the Lake – A New Courtyard Mural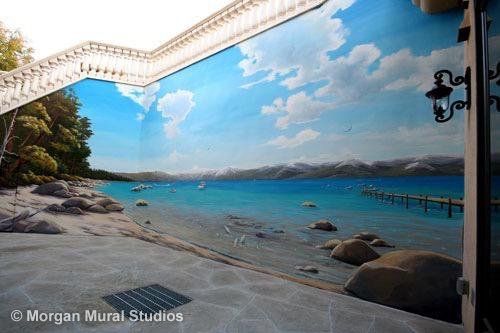 What would your ideal day look like? For Mary and Kent Gusafson, it would be family time on a warm, sunny day in Lake Tahoe. The time spent in their Tahoe cabin epitomizes their active lifestyle, so we captured that on their 14′ tall x 50′ long retaining wall. Now when they walk down the stairs they look out to a perfect day on the lake.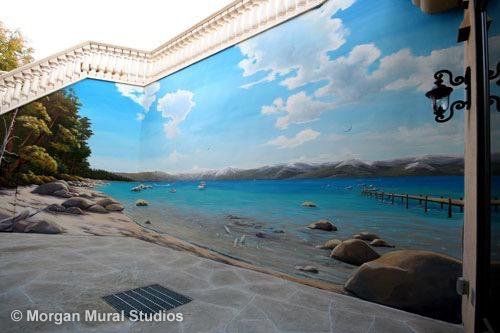 Click here to see more images from the Lake Tahoe Mural project.
A Dreamy California Landscape for Child Protective Services
I had the privilege to work with the wonderful folks at the Santa Clara Valley Health Center Child Protective Services to create a mural for their lobby. The lobby was shared with the sexual assault services, so they wanted to make sure the mural would appeal to both adults and children. We settled on a landscape that I hope will bring the feeling of calm and safety to all the angels that grace the waiting room. You can see the "room view" and more painting details in one of the consultation rooms by following this link to my website.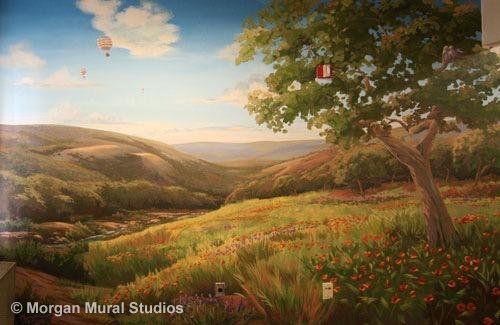 If you enjoy getting my newsletters, please consider forwarding this to a friend!
Blessings to you!
Morgan Bricca
Morgan Mural Studios