Rolling Out the Welcome Mat at Blossom Hill and Springer Elementary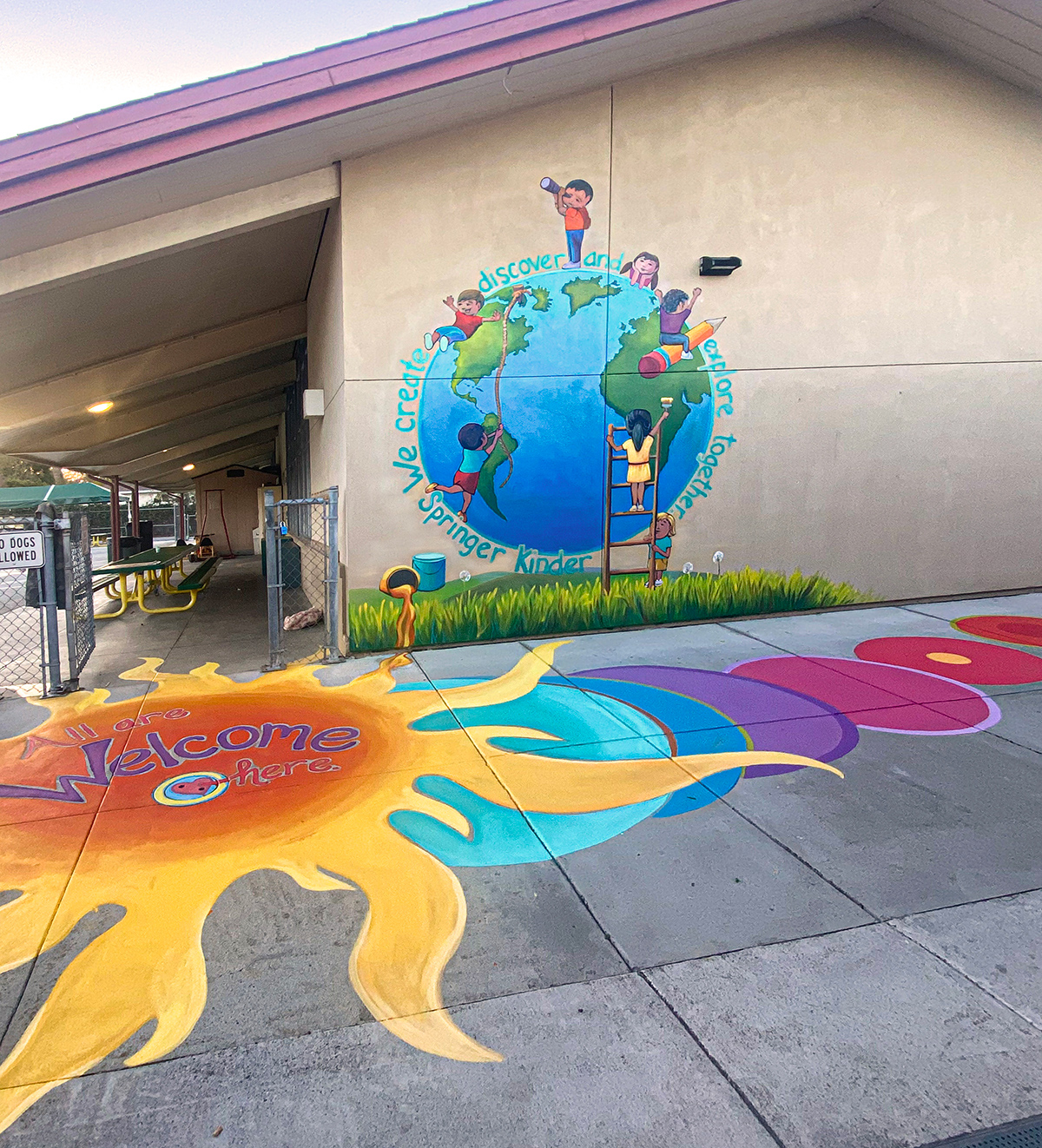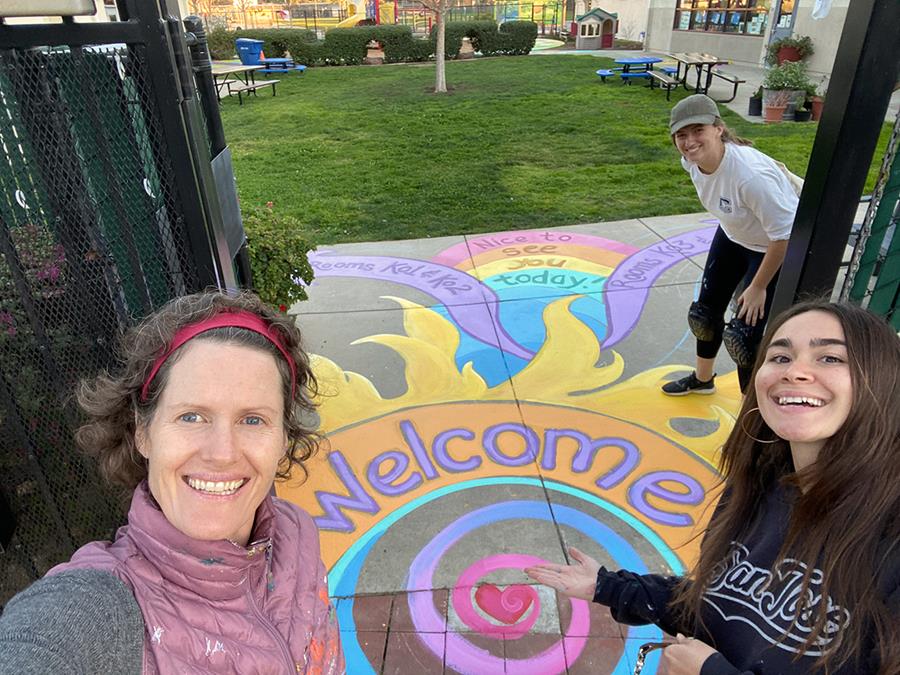 Last week I went to lunch with my friend and fellow mural artist Paul Gonzales. It was uncanny the similarities of experiences of our parallel lives as mural artists practicing our craft for over two decades. Like me, Paul paints a lot of school murals. Paul shared with me his why, describing firsthand stories of the enthusiasm of the students and teachers for the fun subjects and colors he uses and the joy he gets from the transformation the art brings to a school campus. It was the meeting of two school mural evangelists, and he was preaching to the choir. We know it's not going to forward our career fame or be a tremendously lucrative endeavor but it's both gratifying and fun to share the surprise of mural art on a beige institutional wall (or concrete pavement) where it is both most needed and least expected.
I get a warm fuzzy feeling inside when a school that I have painted a mural for previously calls me back for more! That means the success was felt all around, and the enthusiasm for the artwork has helped corral additional resources. This month I am excited to share with you new projects at Blossom Hill Elementary in Los Gatos (where I painted the ball wall murals I shared in my November newsletter) as well as new artwork at Springer Elementary School in Los Altos.
Kindergarten Play Yard at Blossom Hill Elementary
Los Gatos, CA
The many hours I spent playing the board game Sorry as a child must have stayed buried in my subconscious somewhere because as I improvised how to integrate wayfinding with colorful delight on the ground of the kindergarten area, what came out is something like a life-sized Sorry board, with just a little more color. There are arrows and slides and circles that lead one along the pathway to the classrooms (with rainbows as visual cues for the arc of each entry door) until you reach what is now an alphabet board circular play area. While it is confusing to describe in words, the kids didn't miss a beat and apparently love to skip, hop, and jump along with the art, over the bridge, and onto the playground.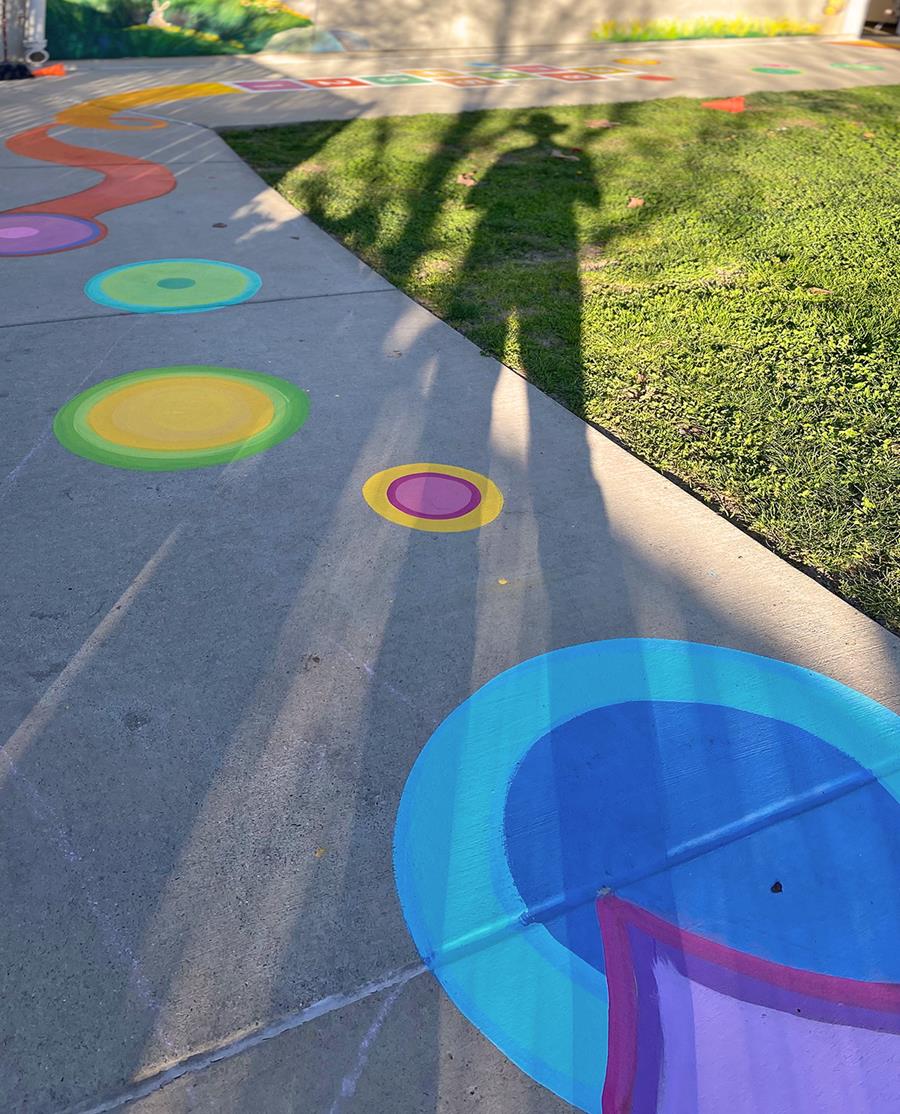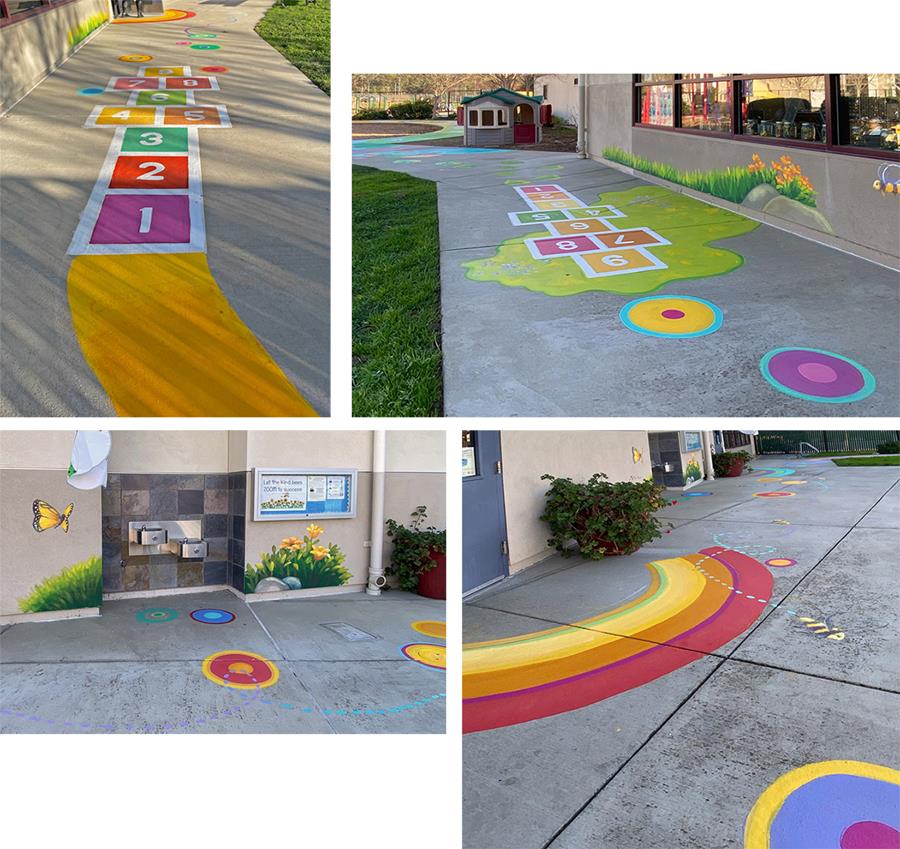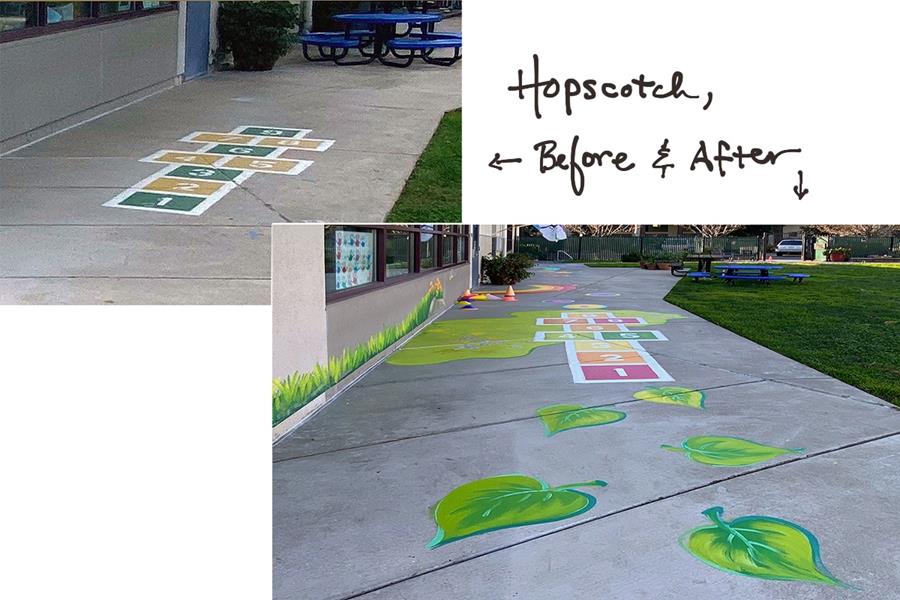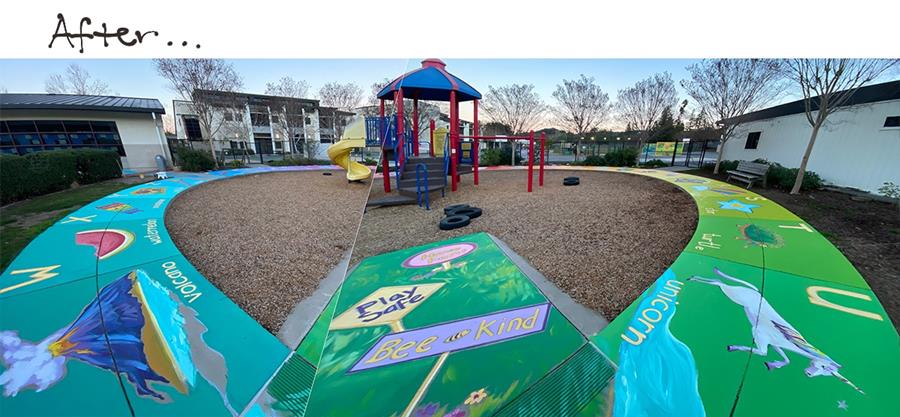 Artists Haley Cardamom and Chelsea Stweart helped me complete this huge playground project. We painted out alphabet cards across a color wheel on the ground of the circular path that surrounds the play structure.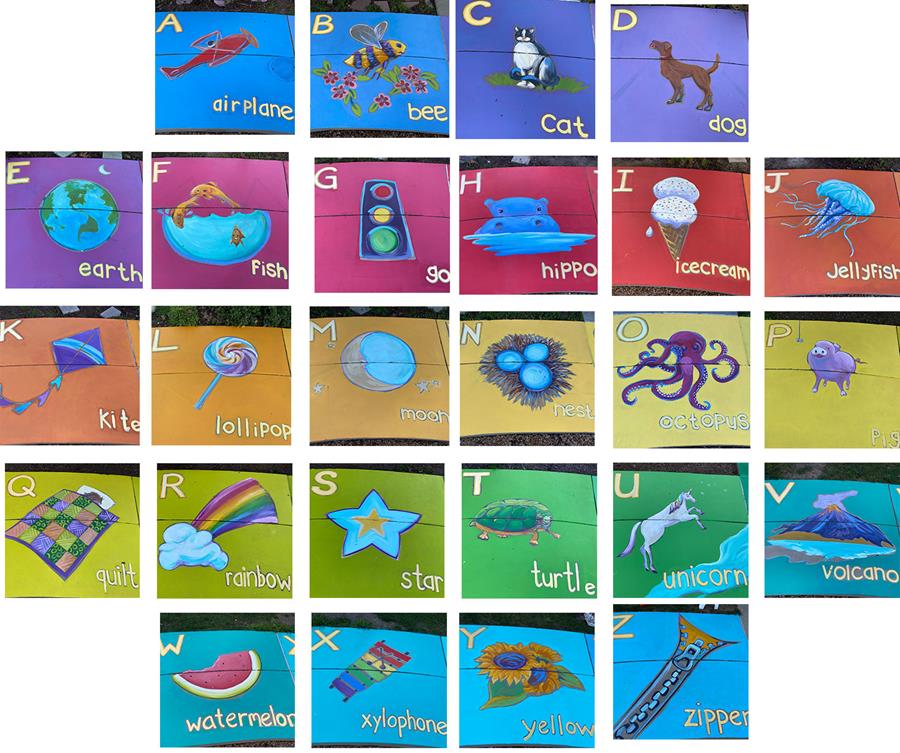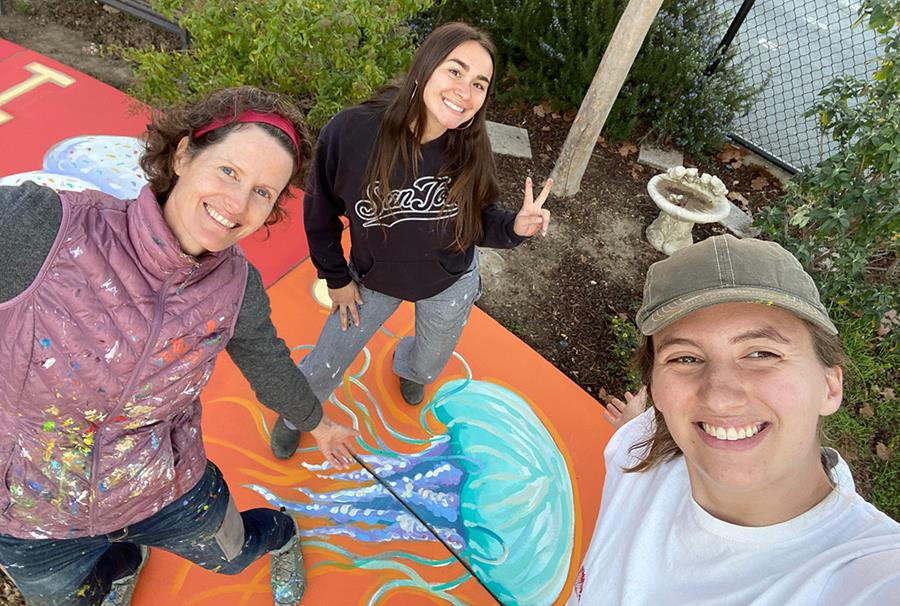 I also painted a garden outside the school library, where no garden would grow before…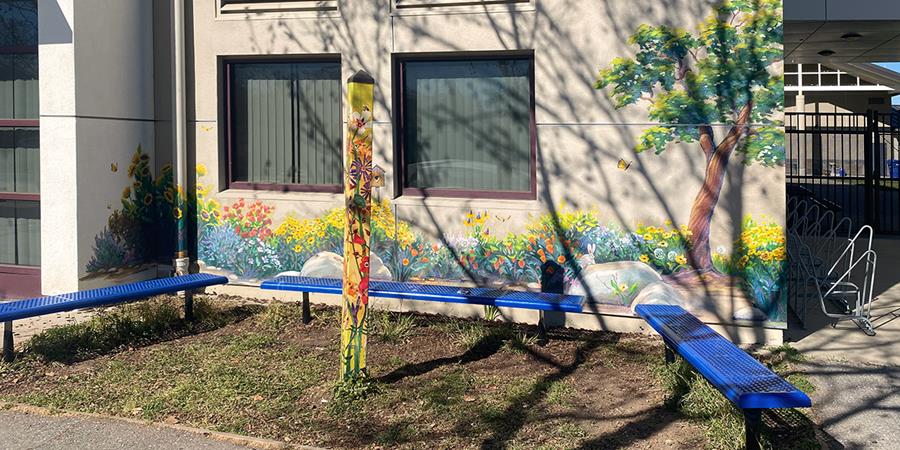 Springer Elementary Kindergarten Entrance
I have painted several murals as well as the kinder play yard at Springer in previous years, and this time they had me back to improve the curb appeal of the entrance of the kindergarten area.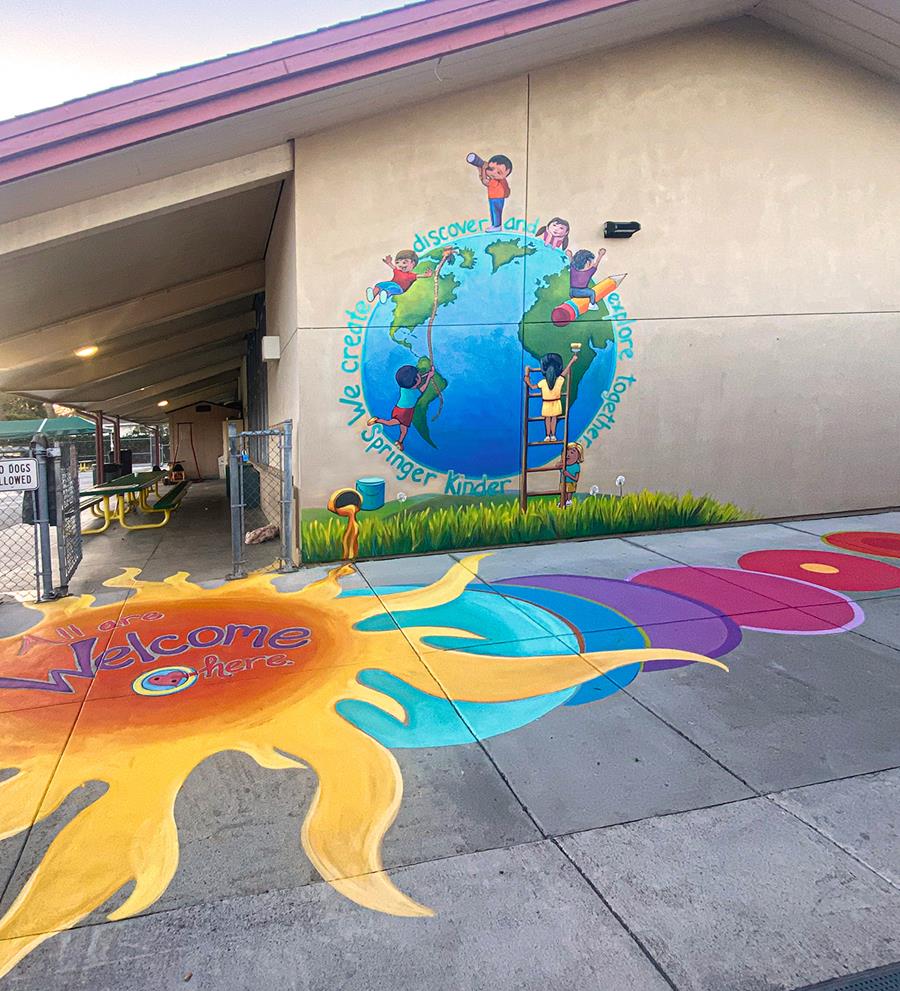 Since I had just come from Blossom Hill and felt the colorful dots and the "game board approach" for wayfinding worked so well there, I recycled the concept for the Springer Kinder entrance. No sense reinventing the wheel for every project! Instead, I see improvements with each iteration.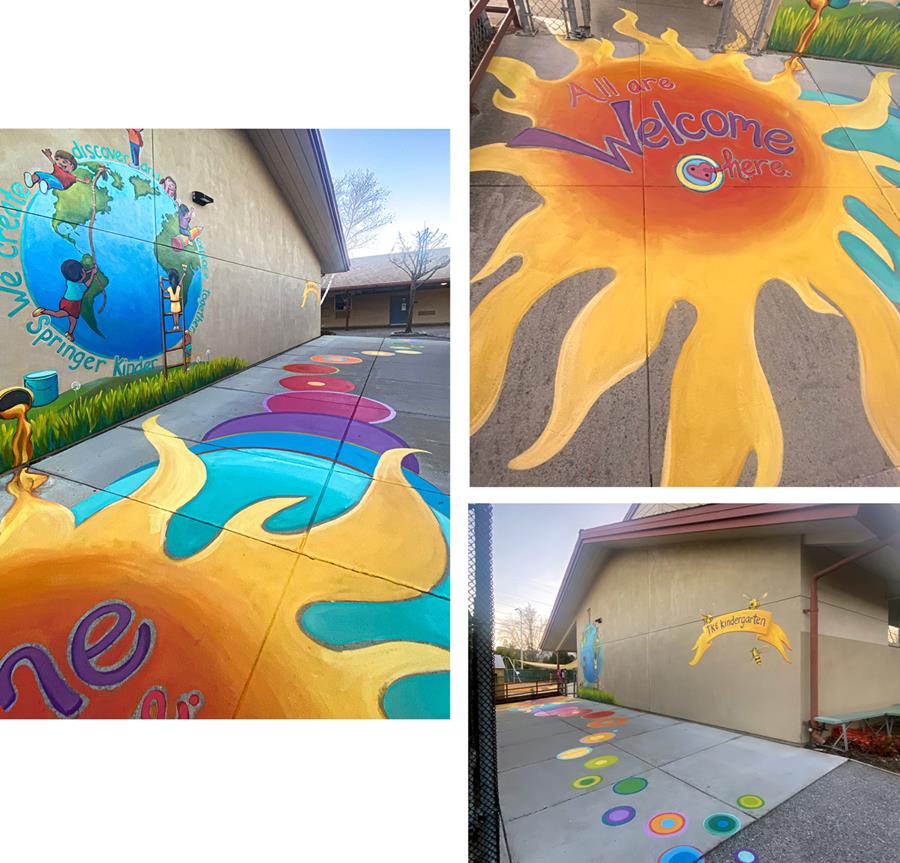 Thanks for letting me share my rainbows with you this month.
With love,