Memorable Murals – Morgan's Top 18 of 2018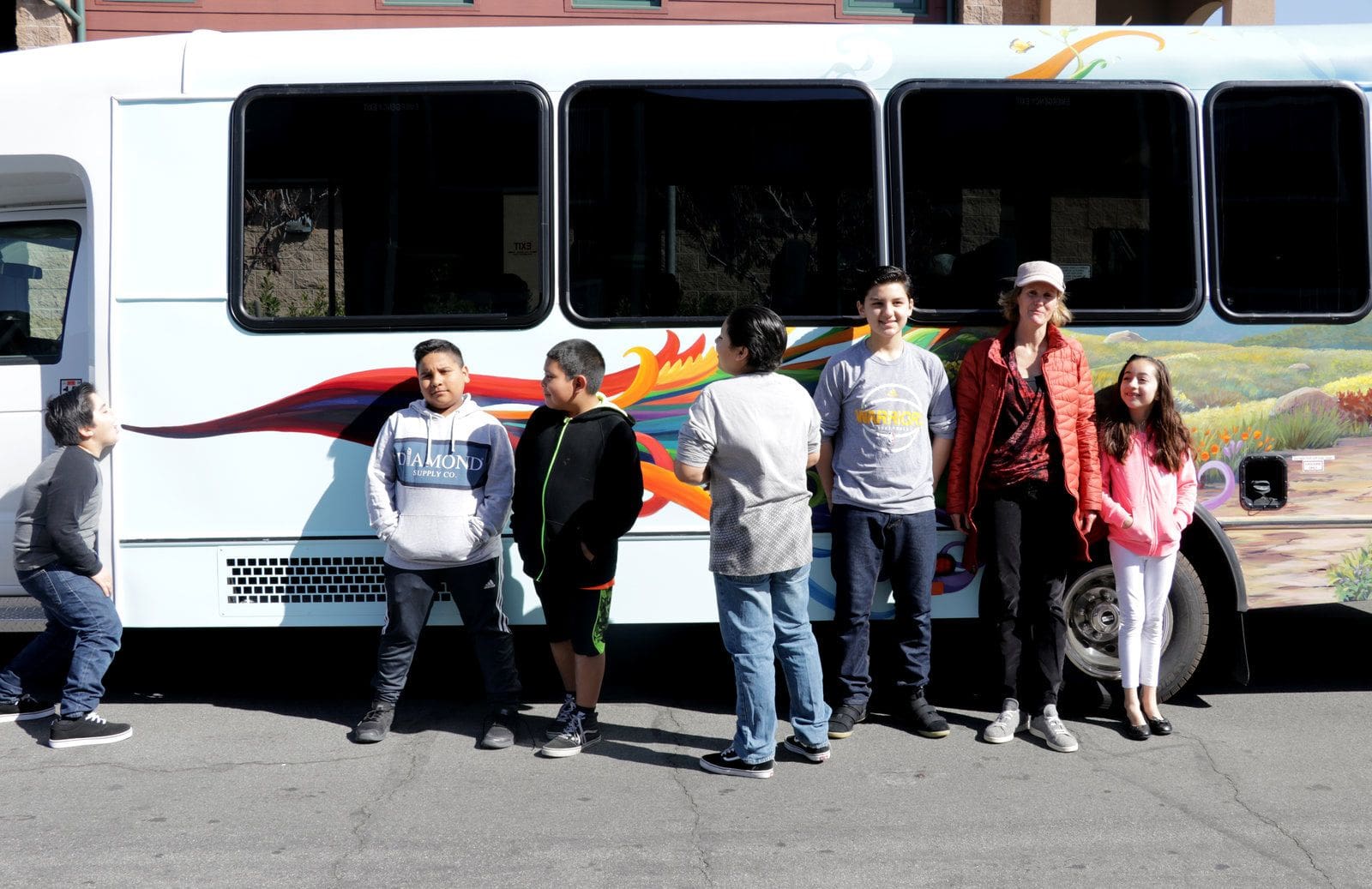 A list, in no particular order, of what I am proud of this year. I am weaving together work and life and art milestones because it is all one continuous inhale and exhale to me.
1. Running my first Kickstarter campaign. We raised $9500 in 4 days to fund painting a bus for Siena Youth Center in an economically challenged neighborhood on Redwood City. These kids can now go on field trips and nature adventures, and in style.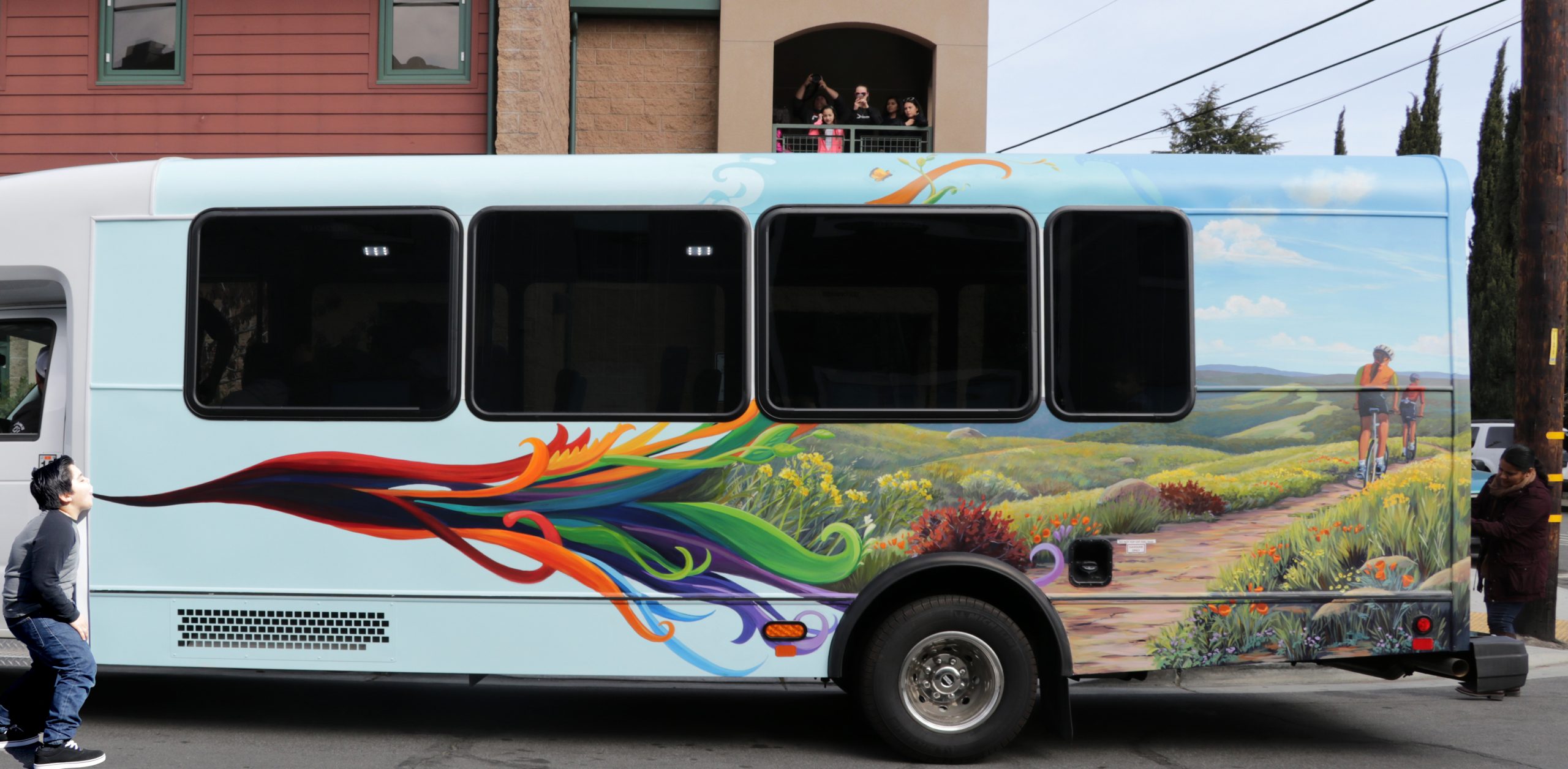 2. My dad was a major donor to the fundraising effort, and his campaign award was a portrait with wife, Terry. These two people mean the world to me, and I loved painting them.

3. I started a podcast If These Walls Could Talk to connect and support the mural art community in the bay area.
4. I was awarded the biggest commission of my career with the City of San Jose, a 160' long wall that will face a community park. I am looking forward to painting that in 2019.

5. I was invited to be a teaching assistant for a meditation retreat at Esalen, in Big Sur with my teacher, Roma Hammel. This was the equivalent of a paid vacation, which is a rare diamond for a soloprenuer.
6. I incorporated Rumi quotes into my art for the first time, on a series of utility boxes in Fontana Park in San Jose. I love Rumi. I would be happy just to paint Rumi quotes from here on out.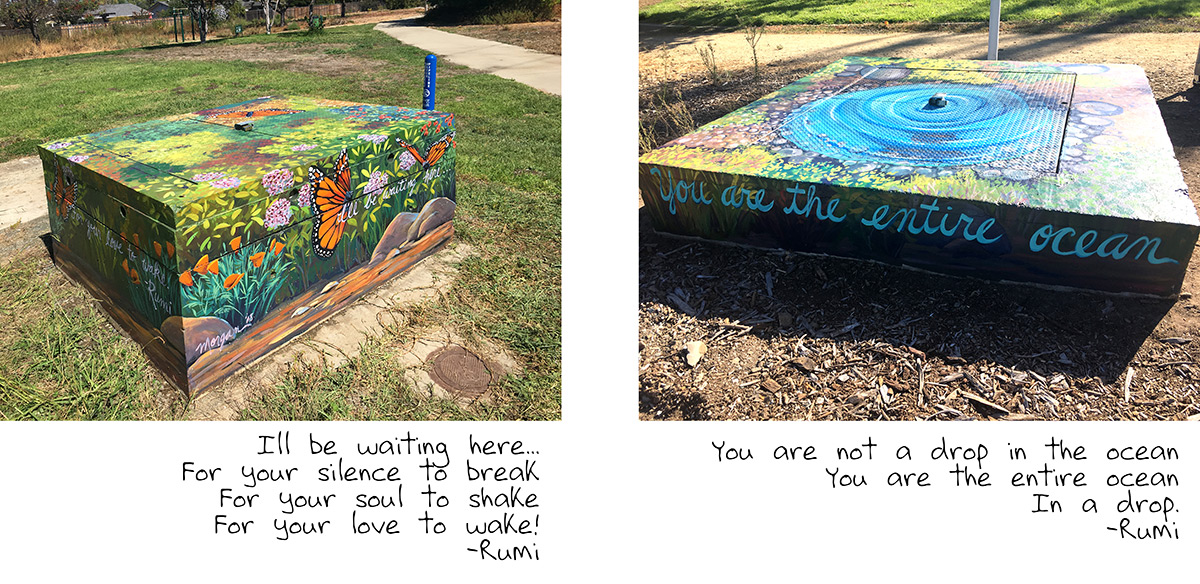 7. I was featured on primetime TV on NBC as part of a "Bay Area Proud" series, a 5 minute, weekly segment at 5 pm that highlights a positive story in the community. I'm grateful I made that time slot over any other. If I was on the 6 o'clock news, it would have been a different kind of story.
8. I loved painting murals for lululemon, with more in the pipeline. The culture of lululemon is, honestly, awesomely pro-female. They support local art through their stores, and they make great stuff. I loved my "hikes as research" and writing 'Breathe Deeply' across this piece, a public service reminder for busy shoppers.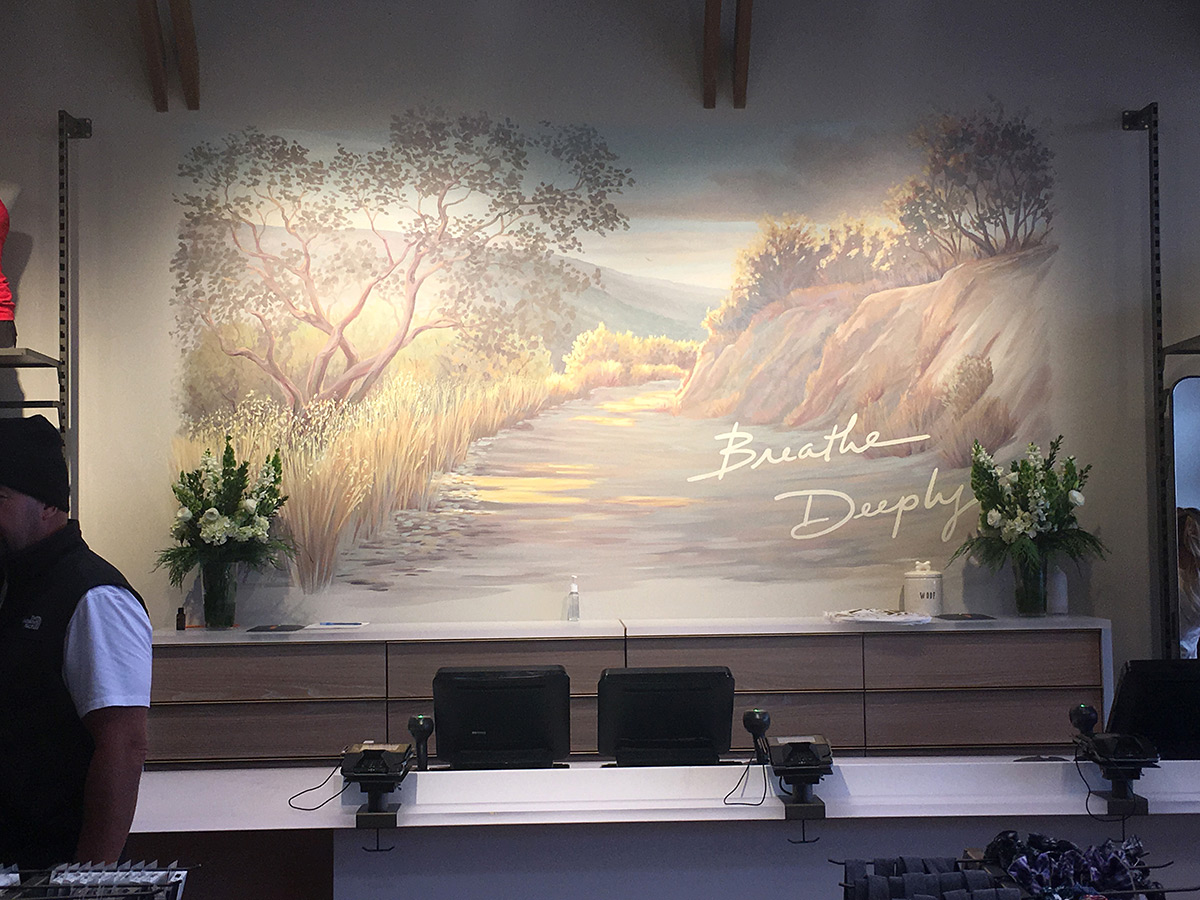 9. I went for a retro challenge and channeled Michelangelo's stamina for a series of ceiling paintings, complete with chubby putti and naked ladies.
10. I learned how to spray paint. I tested out different effects to get a soft, "blurred photograph" feel for the background on a series of 20 bird murals on utility boxes in Pleasanton, CA. I still prefer my brushes, but I'm also glad to have another tool in my toolbox.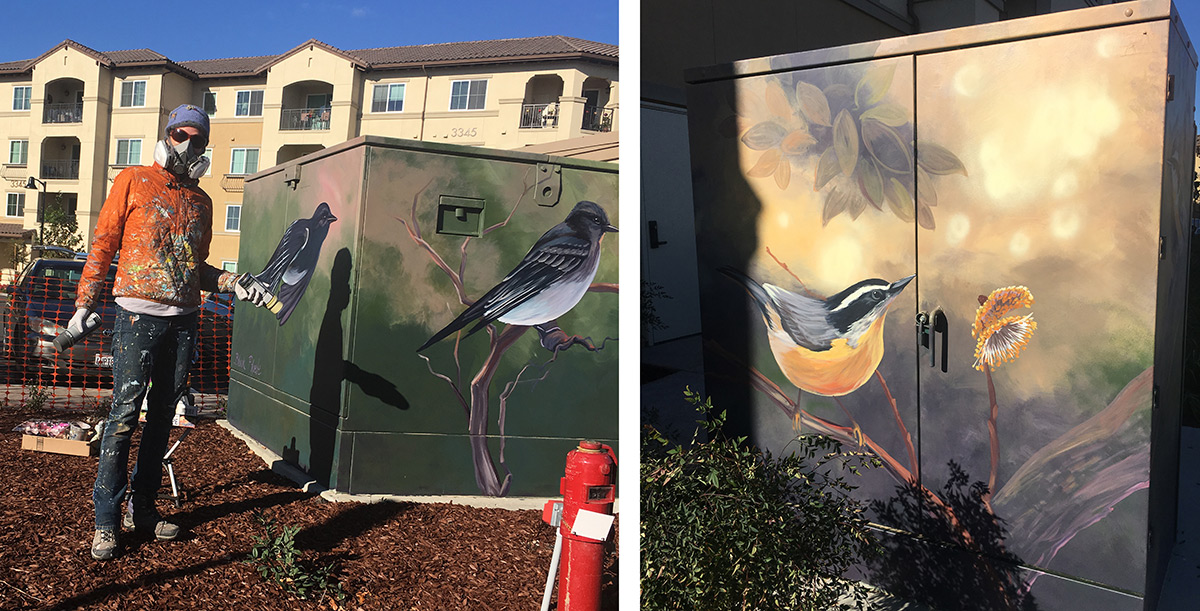 11. I painted my first glitter mural (with a "selfie moment") for a middle school in Los Altos, co-designed with the students.
12. I painted a mural for a friend who has been struggling with a rare and debilitating form of cancer for 8 years. Lisa spends significant chunks of her day in bed. She shared with me last week how much having the murals in her room has meant for her. It touched me deeply and reinforced to me the impact art can have in our lives. Murals are not just for kids.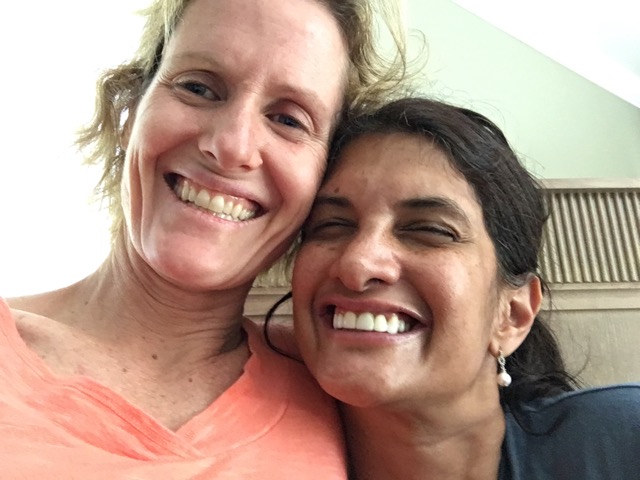 13. Painting my teenagers, Lucas and Allie. Only six months later and these paintings look dated. They are growing up so fast.

14. I took a road trip up to Vancouver with Lucas, during which I painted my van. This has led to requests to paint other people's cars, which I am having fun with.

15. Painting my driveway. Coming home is more fun than ever.
16. Getting stuck on a roof. That's an entertaining story I can beat to death at dinner parties for years to come.
17. My guiding quote this year, that hangs above my desk: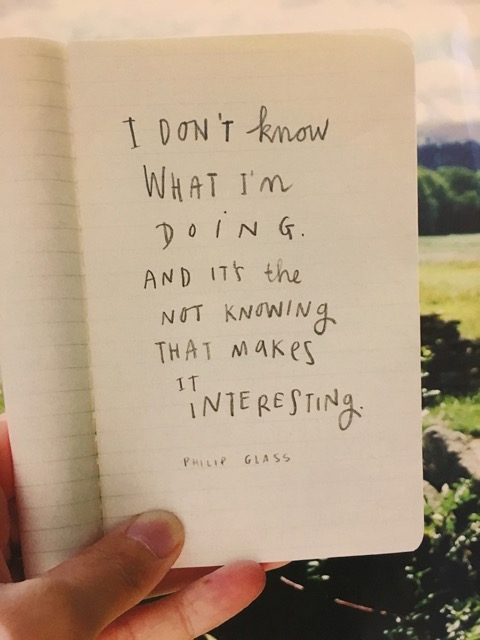 18. My support system. The neighbor who walks my dog. My friend who randomly brings me soup, offers to pick up my kid, joins me on a hike. I might just hide in bed all day without the many people who offer so much kindness and support. I am able to do what I do what I do because of the people in my life. I am grateful. With all my ambitious plans for 2019, I am going to need every bowl of hot soup I am offered.
Thank you for being part of my year. I wish you many big blessings for 2019.
With love,