Painting Hope – The Wellness Center Mural @ Greene Middle School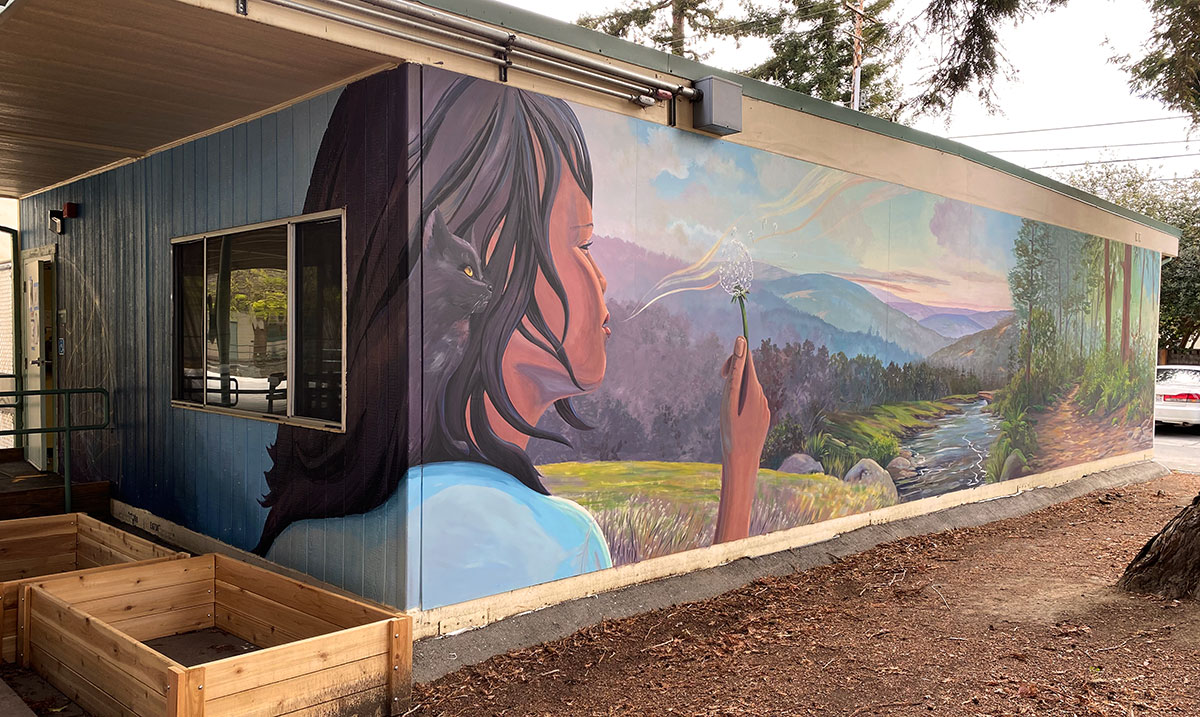 Welcome to spring!
The weather is warming up, and I am beginning to thaw out from what feels like a very long winter. The birds are chirping, the news is promising, I'm starting to imagine a world where I can again enjoy the smile of a stranger. The pandemic will certainly trigger a reordering of my life, but as things are reopening slowly, I continue to let life unfold slowly – at what a year ago would have felt like third gear, but now feels juuuust right.
I was approached by Greene Middle School to paint a mural on a portable classroom that was to become a mental health support center on campus. A much-beloved teacher had passed away unexpectedly, and her family donated this mural in her honor. The family requested the mural should include a black cat and a bridge, but beyond that the school gave me creative license. The wall is well situated near the middle of the campus, surrounded by three mature redwoods and a massive oak tree. Painting under these big trees was a highlight of the project, the birds making a ruckus amid the hundred-year-old specimens. The trees also inspired the artwork, which extends the natural setting into a landscape echoing the local Santa Cruz mountains. Due to the purpose of the building as a wellness support center, and the season of life I was in, I decided the feeling I wanted to capture with this mural was hope.
Around the door of the entrance to the Wellness Center, I painted over the putty wall color with a blue ombre fade, and painted an interstellar-inspired dreamcatcher. To me, the dreamcatcher is an icon of connectedness, the linking together of various threads. The butterfly that emerges, the idea, becomes the dream and subsequent manifestation of the young dreamer.
Last month I received feedback from a reader that for me made the effort of writing the book all worth the while. Unlike 90% of my readership, I am not related to her. In fact, I've never met her in my life, so the unsolicited feedback warmed my heart. People are so nice. 
"I feel like this book was written just for me! What a blessing it actually exists! It is phenomenal.
When I first caught on to your murals and tutorial videos, I was like, Arrrrgh! IF ONLY I could fly to California and buy this woman a cup of coffee and just pick her brain. I had SO many questions, and you are literally answering them all with the book! It is so uplifting and encouraging. I've actually cried twice so far and laughed out loud about eight times.
A couple of years ago I reached out to you with mural questions. You were so encouraging and supportive. You helped me imagine that this COULD actually work. That even as a single mom, I could really make it on just…art. Covid actually helped (shoved?) me to take that leap of faith when I lost my two waitressing jobs and night cleaning job. I always wanted more time to focus on art and really grow my business, but I was too tired juggling work and my daughter.  Anyway, here I am, a year later, still afloat. Like wow. This could actually be possible!
Thank you for sharing such valuable information. (That nobody talks about.) Also, perfect size to hold in one hand reading in bed, and AMAZING soft cover feel! Love love love it!
This book is just what I needed to hear. Thank you.
Take care,
Anya Aubertin"
(Check out the giant (5′) coloring pages Anya is creating at smellslikecrayons.com.  Adorable.)