Farmworkers of Napa Valley Mural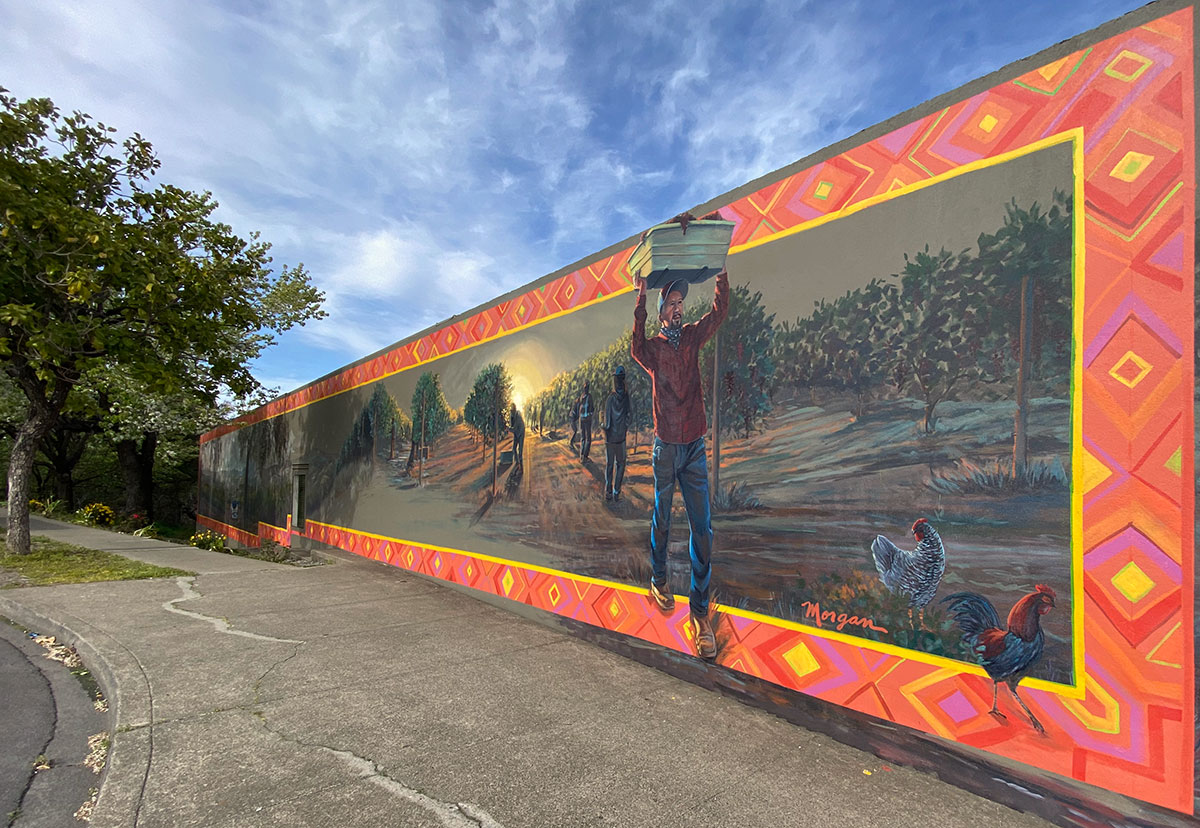 As an artist, it is a great privilege to highlight less visible stories. When I first searched for images that would inspire a farmworkers mural (using keywords like Napa Valley harvest, grape pickers, etc.) most of the images Google returned were some version of this: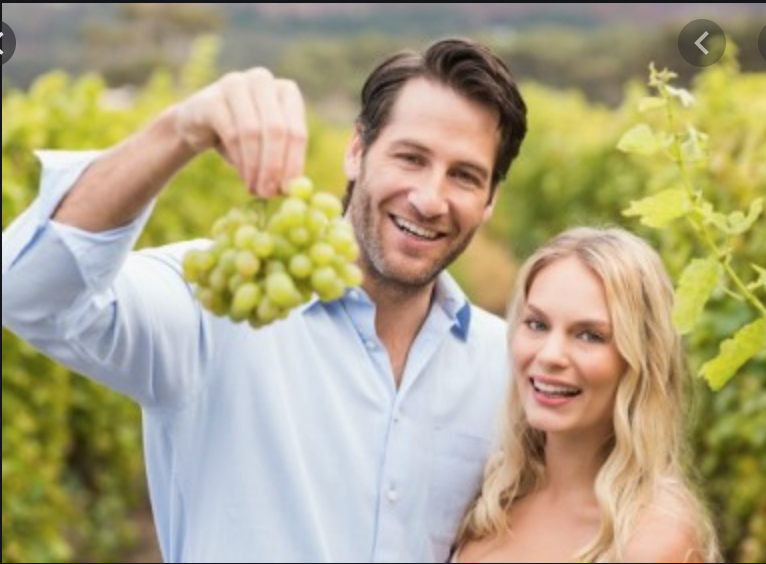 Google suggested staged photos with vineyard owners against beautiful sunsets or silly photos of grape stomps and other tourism gimmicks. It took detective skills to find any images of the "real" field workers bringing in the harvest. The lack of quality source images for grape picking might be due to the hurdle of luring a photojournalist out of bed at 3 am to capture photos that won't sell well, rank high on search engines, or grace the cover of a glossy magazine. If Google or Instagram is any indication, it is safe to say 50 years after Cesar Chavez the field workers in California remain mostly invisible to mainstream culture.
Wine grapes are harvested before the sun comes up, so the grapes can be delivered before the sun starts to heat up and alter the sugar levels of the picked grapes. I started the mural with a dark wall base so that I could build a high-contrast night scene. I transitioned the colors and light to daybreak as the artwork progressed down the wall because I couldn't miss an opportunity to paint the Napa landscape in its best light.
For the main subject, I photographed Ricardo Varelas, who works on my friend's vineyard in Rancho Chimeles in Napa Valley. I created a simple grid over the photo so I can map out the proportions on a large scale on the wall.
I imagined the border as a Mayan patterned belt, lovingly hand-embroidered by the generations of mothers from Mexico and Central America who want the best for their children, wherever life takes them.
Michael Holcomb is the building owner who commissioned this mural and it was Michael's idea to make sure the farmworkers were celebrated on this huge wall in the heart of Napa. This project was my first attempt at painting a mural partially on canvas. It turns out installing a 50′ horizontal section of canvas 20′ above a sloping dirt hill is challenging for a beginner wallpaper installer, even with the stellar team of four workers Michael provided. It was humbling to have a project not go as smoothly-literally and figuratively- as I would have liked. I cannot thank Michael enough for both his vision and his steadfast support throughout the project. I was discussing this project at dinner with my family and my daughter said, "You should just work for Michael Holcomb on every project." Yes, sweetie, that would be super fun.
If you happen to be Napa (lucky you) you can see the mural on the northeast corner of Soscol Blvd and Third Avenue, across from Stone Brewing. While you are there, you can check out my previous collaboration with Michael titled Tuesday Morning, 1720 that celebrates the indigenous Mishewal-Wappo tribe. That mural is located on Second Street, between School St. and Franklin St.
Happy Cinco de Mayo! Today is the best excuse of the year to drink a margarita. It is also the perfect moment to appreciate the contributions that the first generation (and second, and third, and fourth and… wait, oh right, California was originally part of Mexico) of Mexicans and Mexican-Americans bring to our economy and culture, especially here in California. Muchísimas gracias a todos.
With love,