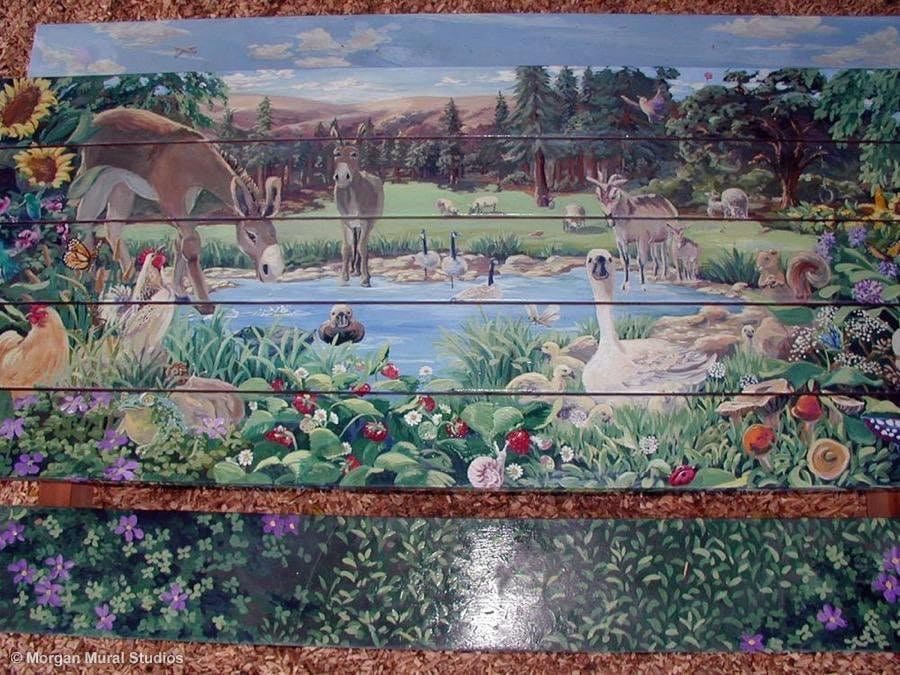 I first got to know Joey when I painted his bathroom. This three-and-a-half-year-old chatted away with me while he perched on the edge of the sink, watching me paint. He was funny, confident, and full of ideas of what I should include in the mural. His dad was so impressed with the bathroom painting they had me back two months later to paint a Tuscan landscape in their dining room. In a shock that brought grief to the whole community, in November of 2005, Joey caught an unknown virus his body did not know how to fight off, and practically overnight, he died.
Shortly afterwards, the Barron Park Mothers Group donated a picnic table in honor of Joey at Bol Park, one of his favorite destinations. I donated the artwork for the table, a nature scene full of animals that young children could point out, many inspired by animals on the urban farm adjacent to the park, and of course the famous Barron Park donkeys take center stage. "The Waterhole" theme came from Graham Base's book of the same title, which was one of Joey's favorites.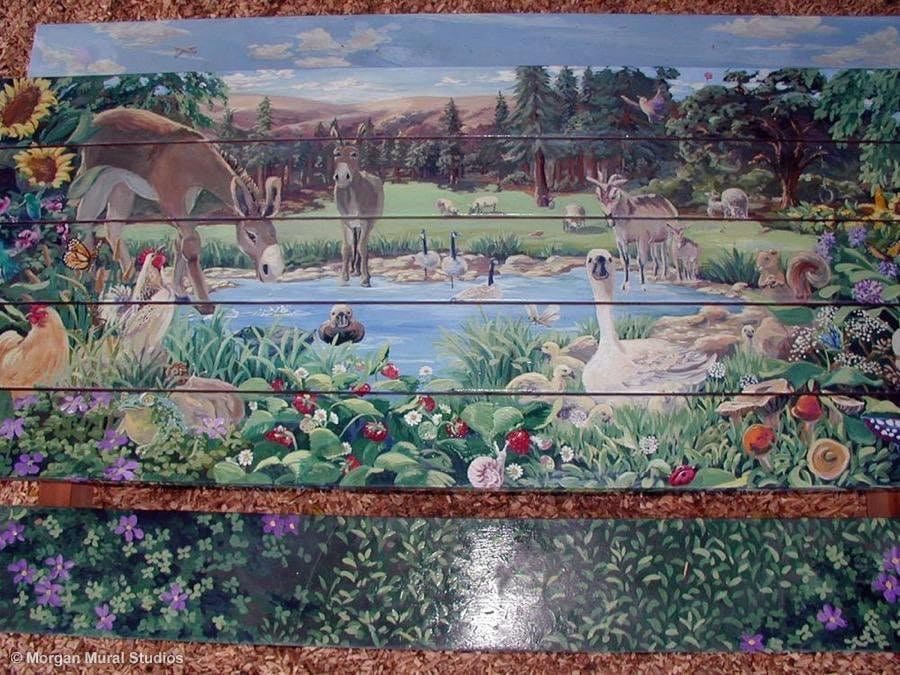 I painted a quote from another one of his favorite books, "I am a Bunny" around the perimeter of the table.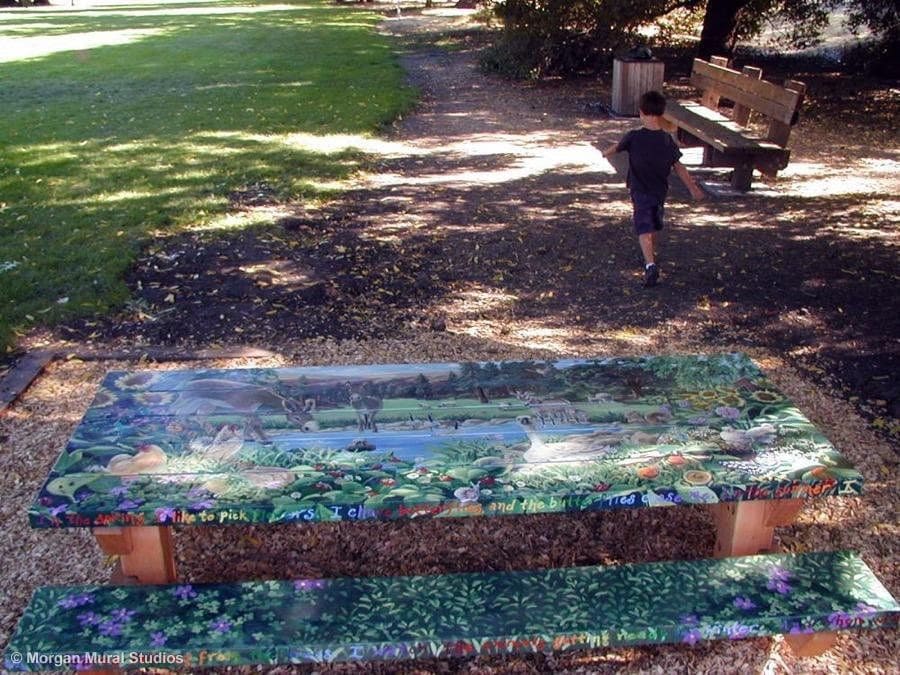 In 2006, when I painted the bench at Bol Park, I also created a companion piece, very similar to the bench mural, painted on a panel installed on Kim and Ken's back porch. I have never painted "two of the same" in my whole career; the distinguishing difference was that this one included Joey in the mural.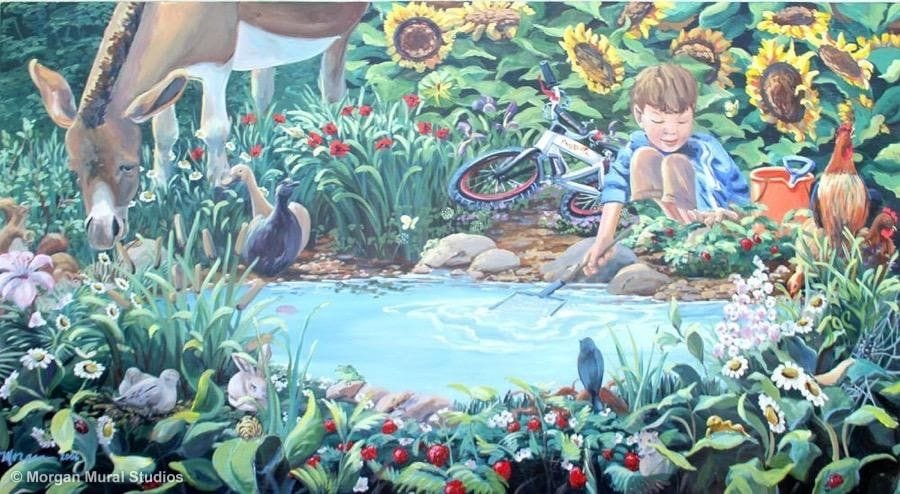 In one of the more humbling learning experiences in my career as a mural artist, the memorial mural I painted on the horizontal surface of the Bol Park picnic table was destroyed in less than 3 years. The picnic table was installed under a beautiful walnut tree. Soon after I completed the mural, I learned that walnut tannins are the most corrosive and staining of all tannins, and they did quick work on my mural despite multiple repaints and thick coats of industrial grade marine varnish. Ugh.
The Reading Garden Concept Grows
Later that year we tackled a bigger project: A reading garden at Juana Briones, where Joey would have started kindergarten. I painted a 100′ long landscape of the rancho of Juana Briones, a heroic early landowner, healer and successful rancher. The mural captured what the landscape of the Palo Alto area would have looked like 200 years ago. Kim created a reading and learning space in front of the mural with benches and tables, rocks, and a garden. This is a space that used to be dirt and a bare wall in front of the library! We collaborated on a similar reading garden/mural combination at Gunn High School in 2010, three years later. (Check out more closeups of this project here.)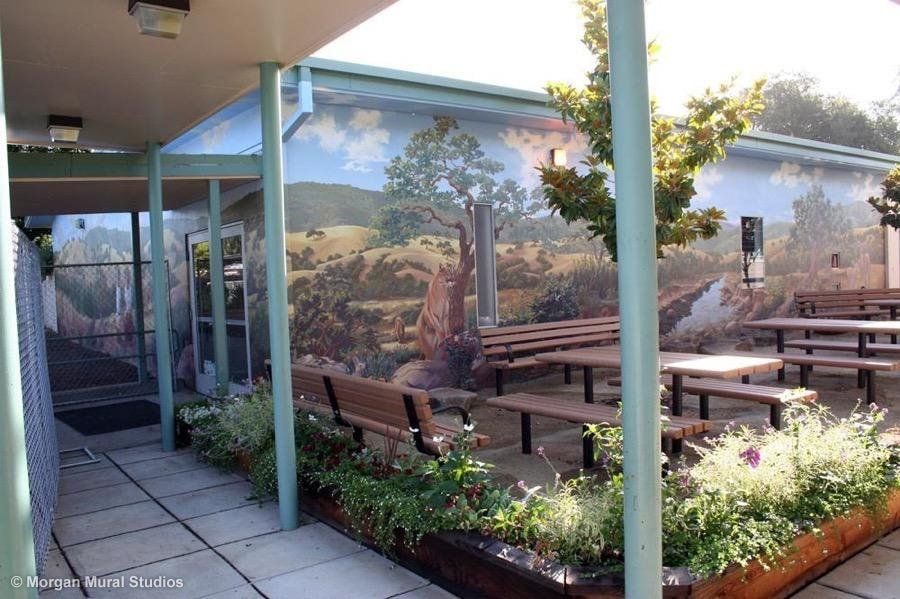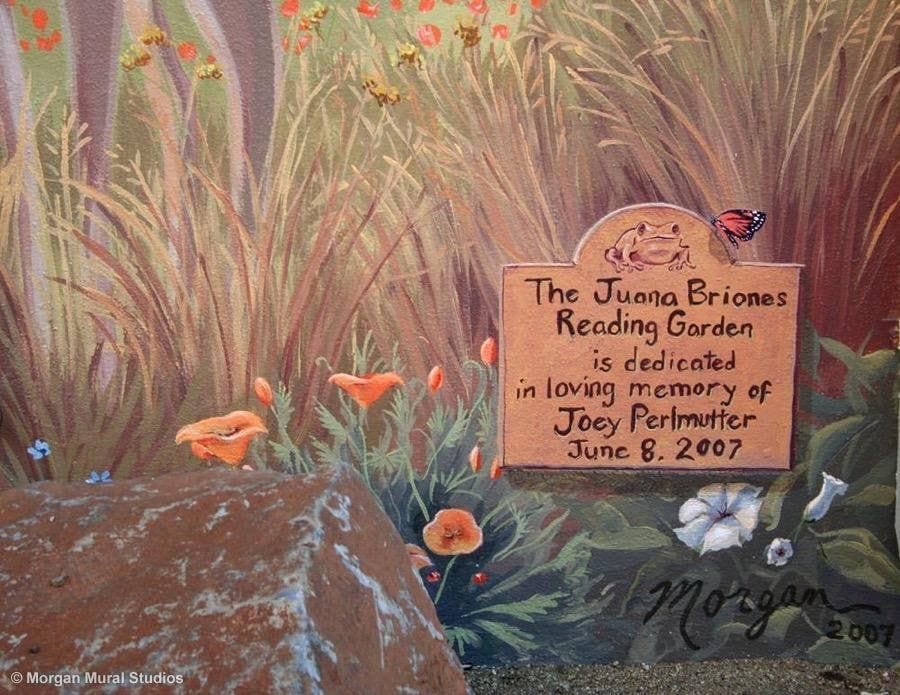 The Final Piece
This is a long story, but gives you the context for the unfolding of our final Joey-Kim-Morgan collaboration. Yes, Joey has been showing up as a magic thread through it all.
About a month ago, Kim and Ken called me because they were ready to let go of the "companion piece" to the Bol Park Waterhole Mural that I had installed on their porch almost nine years earlier.
During my meeting with them, I remembered that Barron Park Elementary School asked me to bid on a mural project on a small shed at the front of the school about a year earlier. I didn't know if they had found another artist or solution since I met with them last year, but they had wanted a "donkey mural", and there was, after all, a donkey in this piece. I suggested to Kim and Ken that the school might be interested in "The Waterhole Mural". It gives me chills to think about how this project became a perfect match. The school responded with an enthusiastic yes, the shed was still unadorned. Kim and Ken came with me to look at the space the mural would be placed and pointed out to me that the shed was placed right next to the preschool that Joey went to. It was the perfect spot.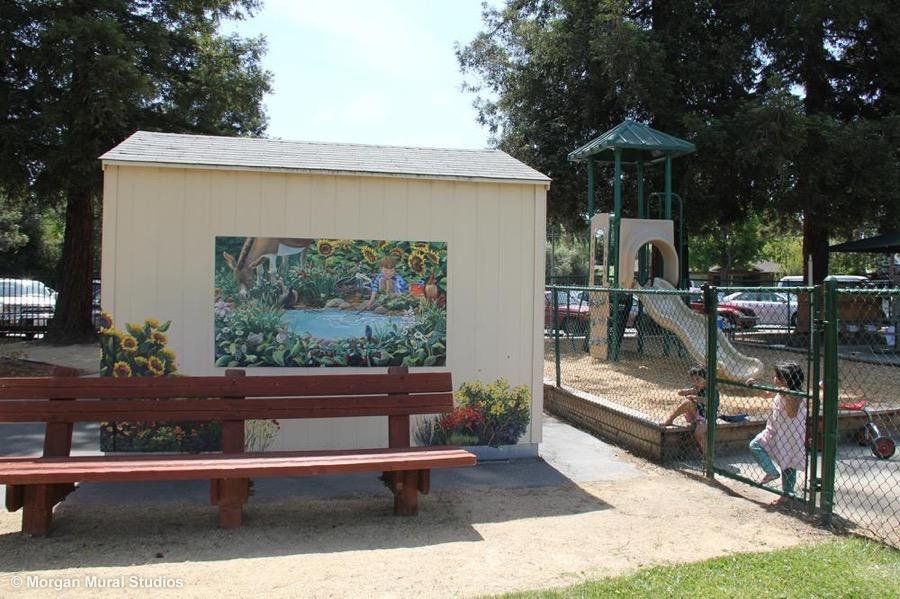 Kim and Ken wanted to donate "The Waterhole Mural" as a work of art on it's own, not as a memorial. No plaque or need to publicly tie it to Joey. Though I feel compelled to share the backstory here, for the school, it was simply a gift of joy from generous donors.
The graduating class of 2014 got in on the action and hired me to paint additional flowers that wrap around the wall as their parting 5th grade gift. It finishes off the shed and the space with floral abundance. The Waterhole Mural has a new, permanent home at Barron Park Elementary School in Palo Alto.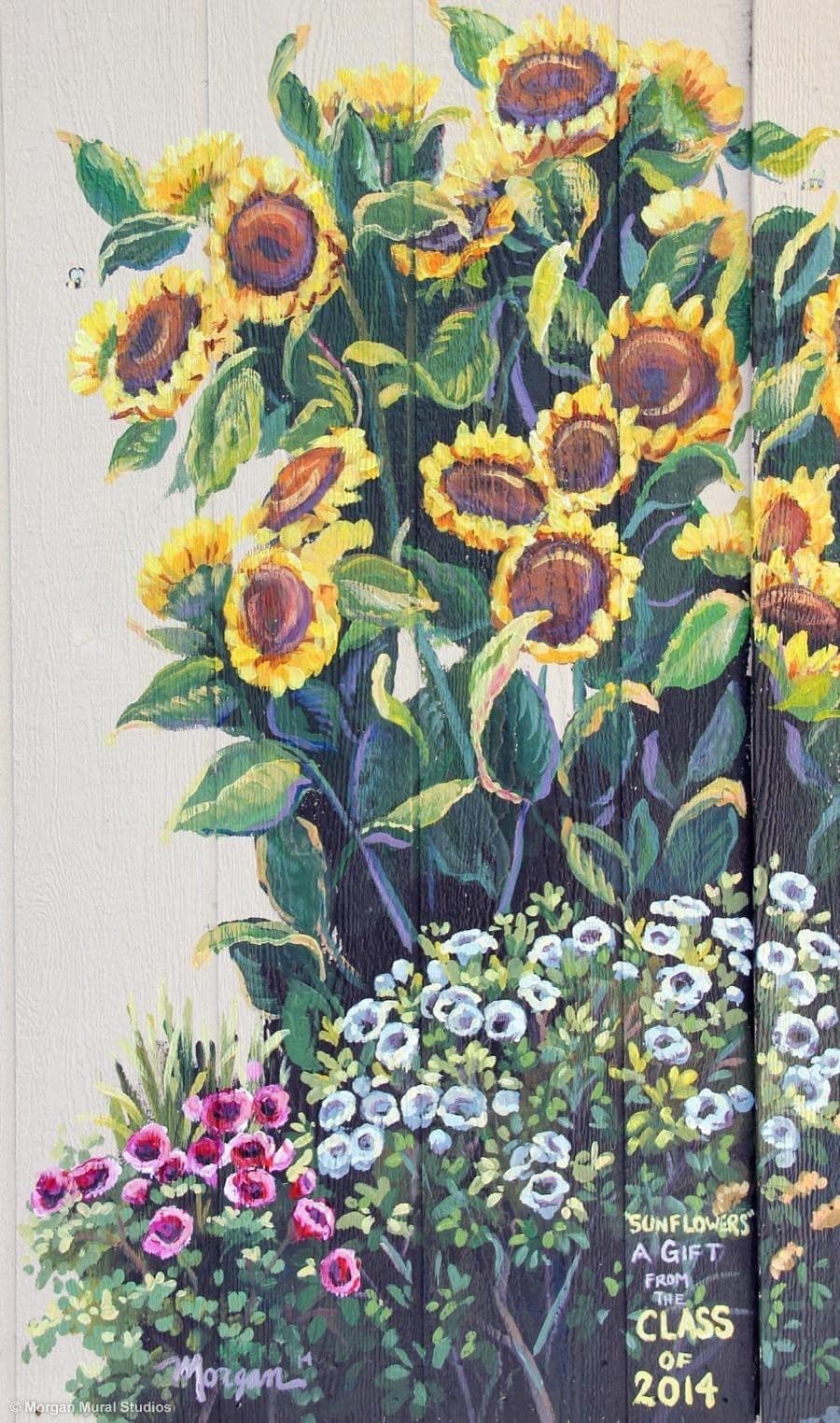 Kim's love of the garden has been a huge part of her healing process. She started her own landscaping business, Inviting Spaces by Kim. Today she thrives: engaged, happy, and elbow deep in her clients flowerbeds. She works, as I do, to bring beauty into the world one project at a time. Our collaborations have led to other mural projects for me, including murals at Duvenek Elementary, Gamble Gardens, and a second reading garden and a whole series of murals in the primary grades area at Juana Briones elementary, all in Palo Alto.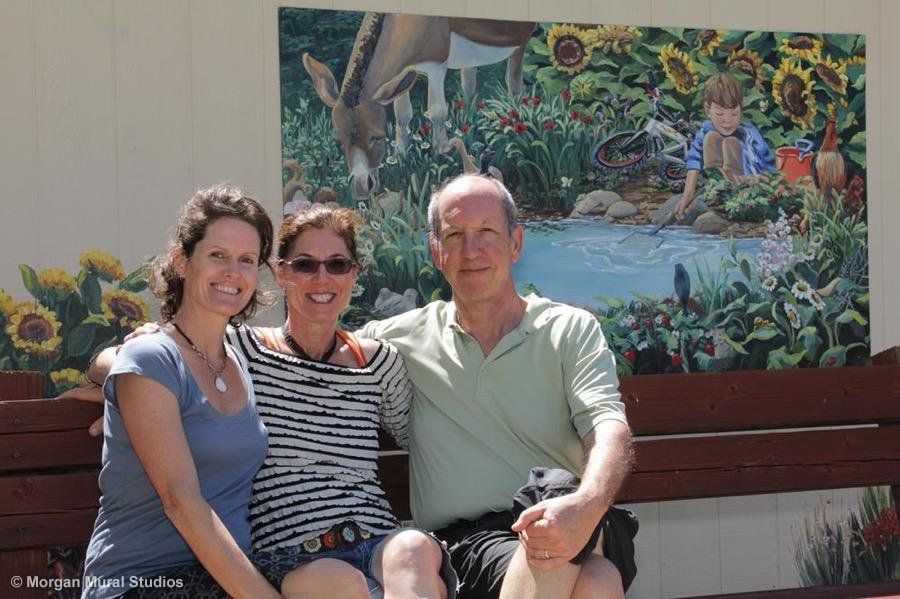 I owe a deep gratitude to Kim and Ken for including me on this profound journey. As Kim would say, "You can't script this". Thank you, Joey, for inspiring Kim, Ken and I to bring beauty into the world. You have inspired a beautiful, bountiful legacy!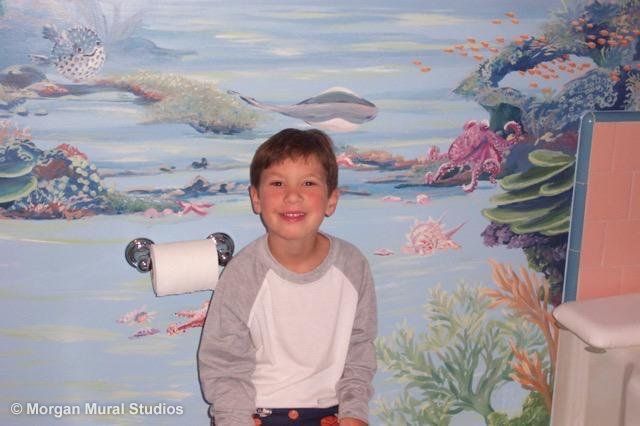 Happy Birthday, Joey!
With love,