How's Your Zoom Background? – Give it a Mural Makeover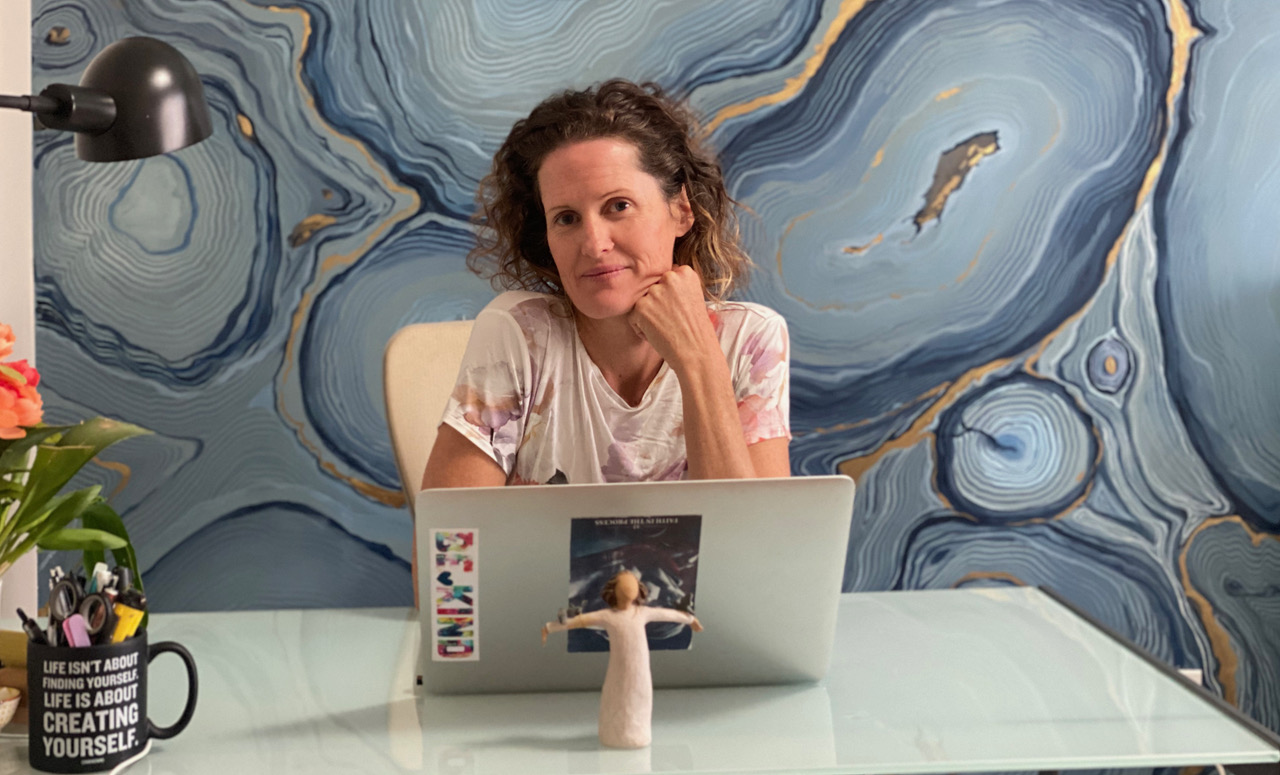 How's Your Zoom Background?
At this point, we are all too familiar with the Zoom drill: turn off your background music, turn on the lights, close the door so the dogs and kids don't disrupt your meeting. Some of your more creative colleagues use zoom virtual backgrounds, except that their hands and hair disappear in an odd way into the scene when they move. In other squares, you can see only the corners of framed artwork, creating odd geometric patterns above the participants head, looking vaguely threatening. In a time of fires, pandemic, and economic chaos, I would like to take a moment to discuss the subtle art of Zoom feng shui.
Tip #1: Lower your paintings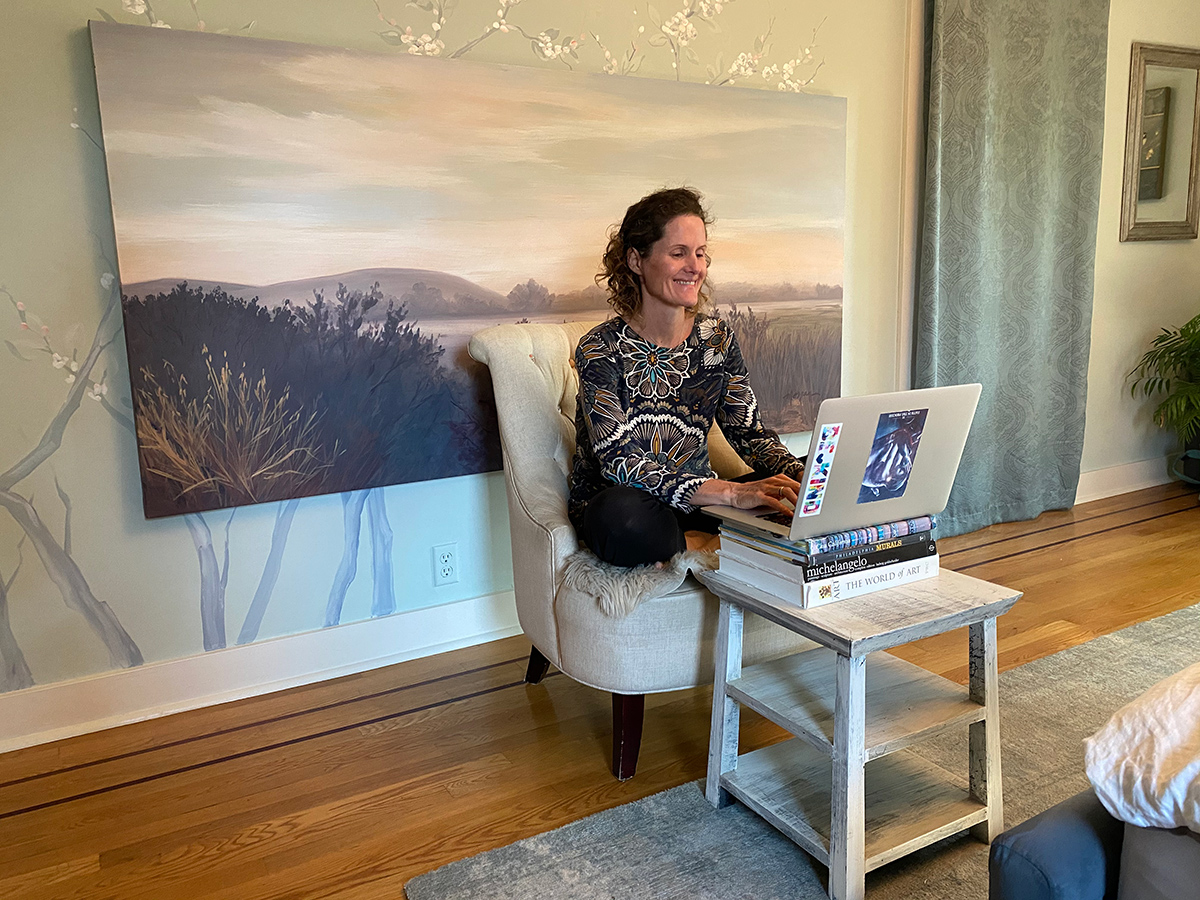 When pandemic started my weekly meditation group went online. My meditation teacher, Roma Hammel, had been teaching classes online already, so was already well-equipped for the medium. Her setup included a large painting hung low that filled the screen behind her. (Yes, a Morgan original.) The rest of us in the group were not videoconferencing regulars. Our backgrounds were mostly an unfiltered display of the relative disarray of daily life, or the bottom corners of a work of art that was probably lovely, but I could only make out the bottom six inches. We were just meditating, so the background didn't really matter, right? Except that Roma's curational efforts amplified the impact of her presence. Her square was the undeniable lighthouse of presence and peace in our gallery.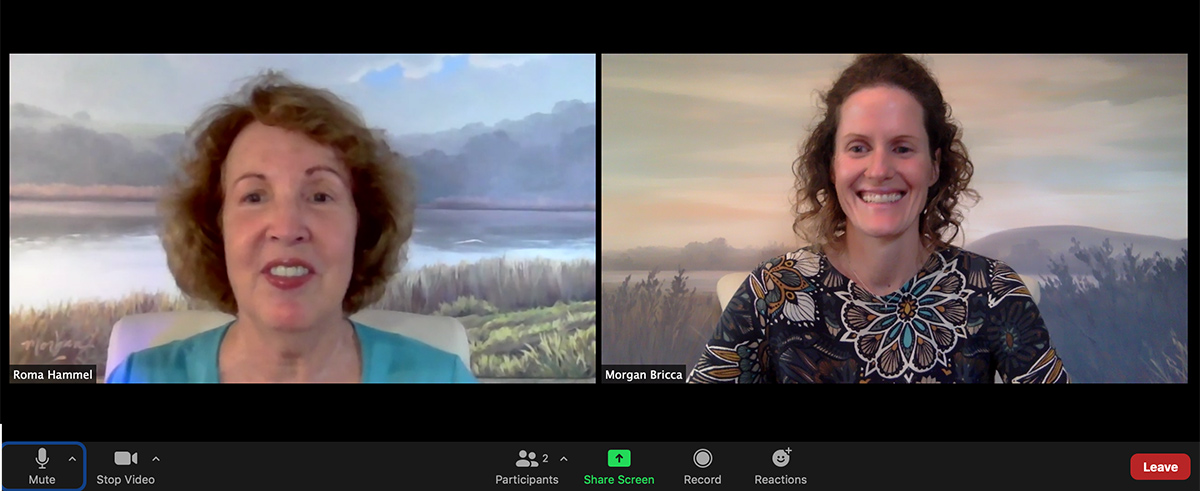 After a dozen zoom calls, I decided to copy her. I moved my own oversized landscape painting lower, so when I am on a video call the 3' x 5' painting entirely fills the screen.
Tip #2: Consider wallpaper or a mural
Mid quarantine, and eager to be heading off college, my son moved out of his bedroom and took over my studio. I distracted myself from both eviction and the inevitable departure of my son by turning my attention to the blank canvas that was his old room. Since we don't get out much these days and need a bit of novelty, I turned it into a think space/ hotel room for anyone needing a break. There is no official reservation system but it gets plenty of use as an escape from the monotony and clutter of our well-worn personal spaces. I set the desk up to capitalize on the agate-inspired mural; it is a great conversation piece in zoom calls. Is that inspired by the surface of water? Tree rings? Where are you, Morgan? Oh, my "in-house" hotel room.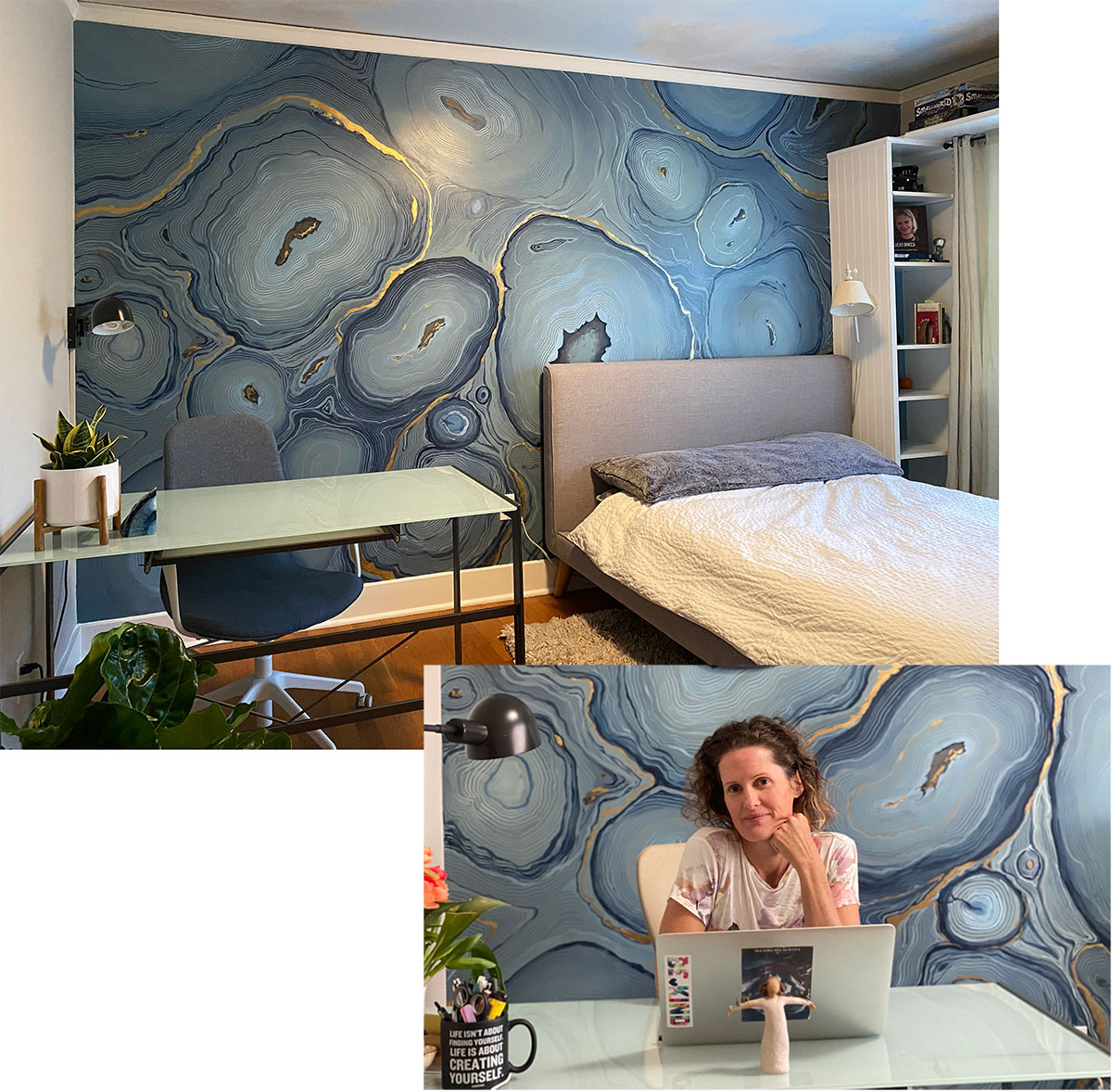 While I am a big fan of the immediacy and energy of an original work of art, not everybody can afford a custom mural. Here are some mural wallpaper designs I found online that would make super cool Zoom backgrounds: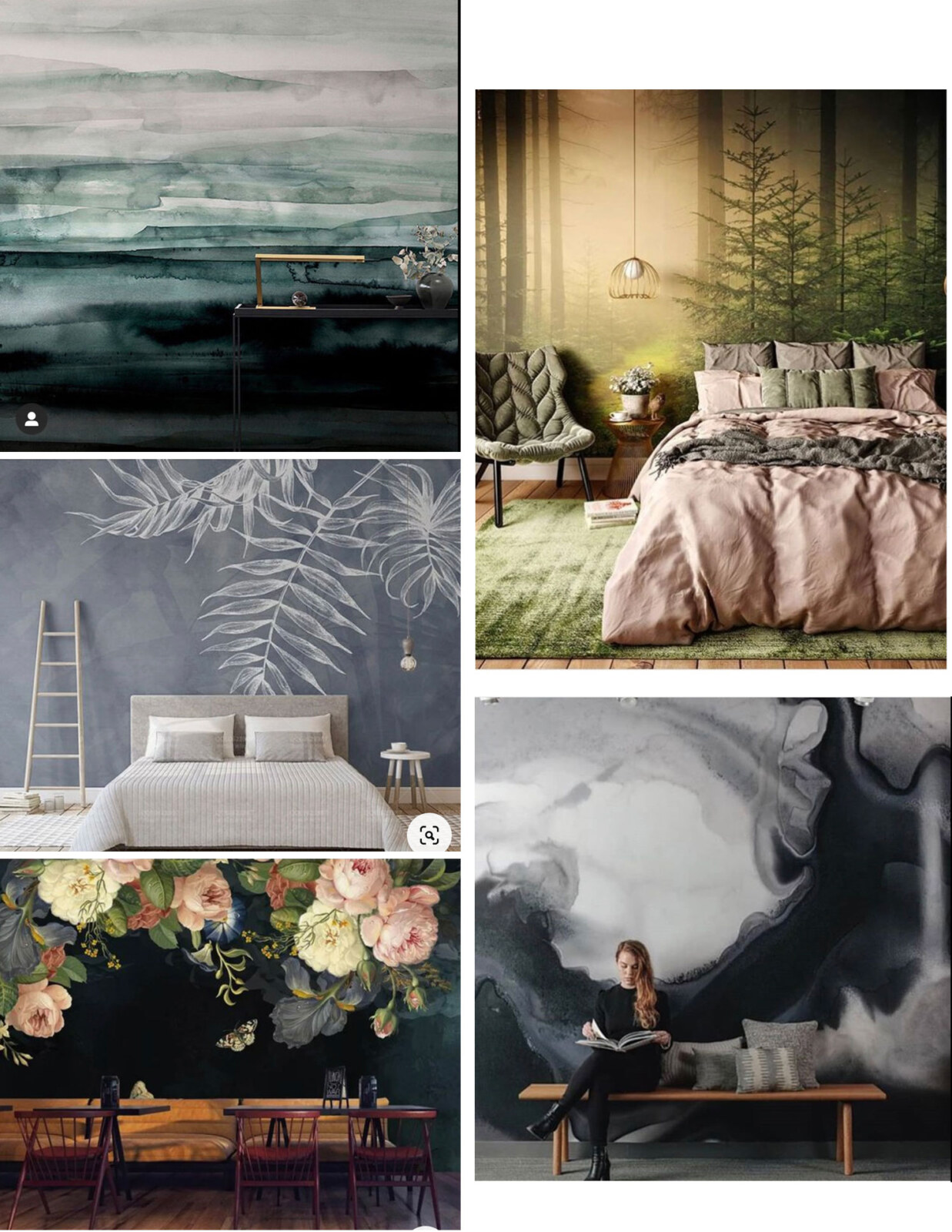 In my effort to find wallpaper suggestions, I was reminded of why I love the power of the brush in my own hand. Some images that I found, like the forest image above, were just CGI mock-ups posted as click-bait. Some of the images, like the two on the bottom right, were great designs, but super cheap products. I started thinking about this stinky toxicity of the glues and materials, and decided to include it as design inspiration, but would not recommend that whole wrangle with gluing a cheap plasitc product on your wall. I use non-toxic paints for my murals, and the paint integrates with any irregularities on the wall. Also, easy to paint over when you change your style. I tweak the design, colors, and sheen onsite so they fit like a glove in the space. After a two hour click/scroll journey to find the images above I realized in that same amount of time I could be halfway to a finished mural. Personally, I'd rather be painting than scrolling. However, I did make one discovery: I am obsessed with the watercolor-inspired wallpapers, especially this series from Black Crow Studios. (Bottom right in the image above. No guarantees it would be any less expensive than a hand-painted mural.)
#3 Have some fun
Okay, life has gotten a little heavy. Rembrandt showed us how the predominance of dark in a painting enables the fragments of light to hold incredible warmth and promise. Perhaps the universe is simply preparing the canvas right now for the magic of the light. In the meantime, I recommend slicing through that doom and gloom with a little levity.
I head to bed on the early side, but I like to watch the "Best of Late Night" highlight reel the next morning. It's easier than starting my day with situps; I'm so out of shape my abs start to burn after just a few chuckles. When the pandemic first hit, Seth Meyers filmed his show from his all-white stairwell landing, odd angles behind him, and sunlight casting a glare over half his body every time he leaned forward. On a more recent segment, I noticed the background had been artfully staged, and the producers had hilariously integrated the painting and bric-a-brac into the script. Super funny. Integrating the environment creatively into the humor was far more interesting than his pre-pandemic studio background. Attention to background details: success.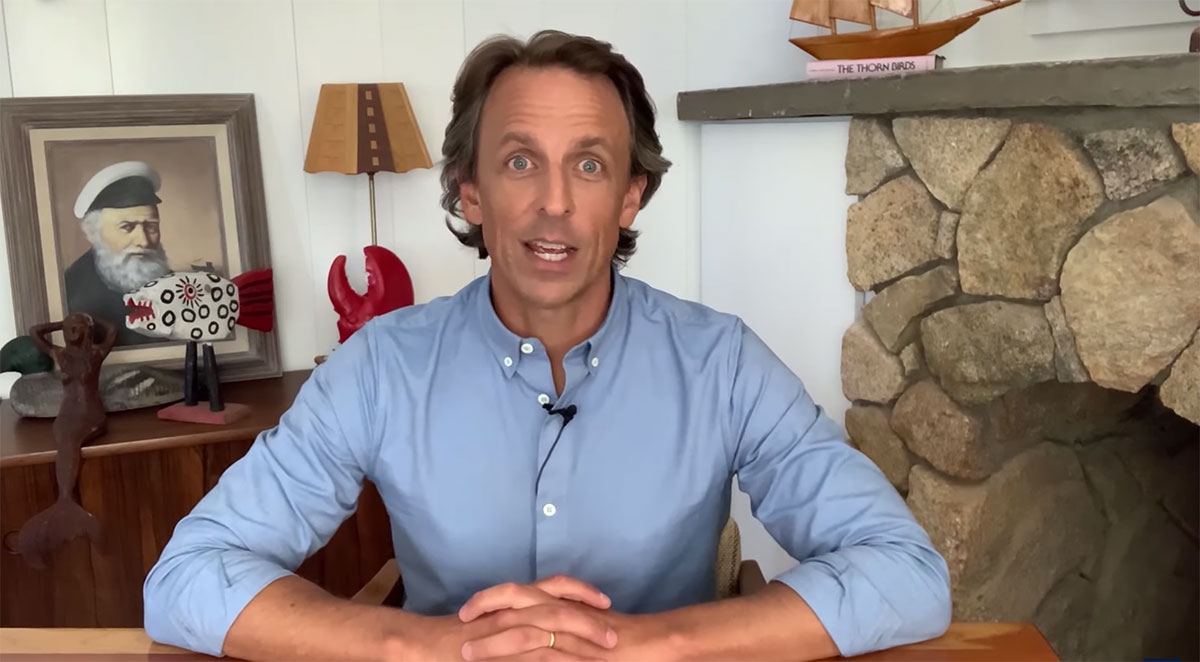 A client recently commissioned me to paint Koi in her powder room. While I am not recommending she take videoconferencing calls in her bathroom, wouldn't this make a fun zoom background? This playful background would really throw your colleagues a curveball: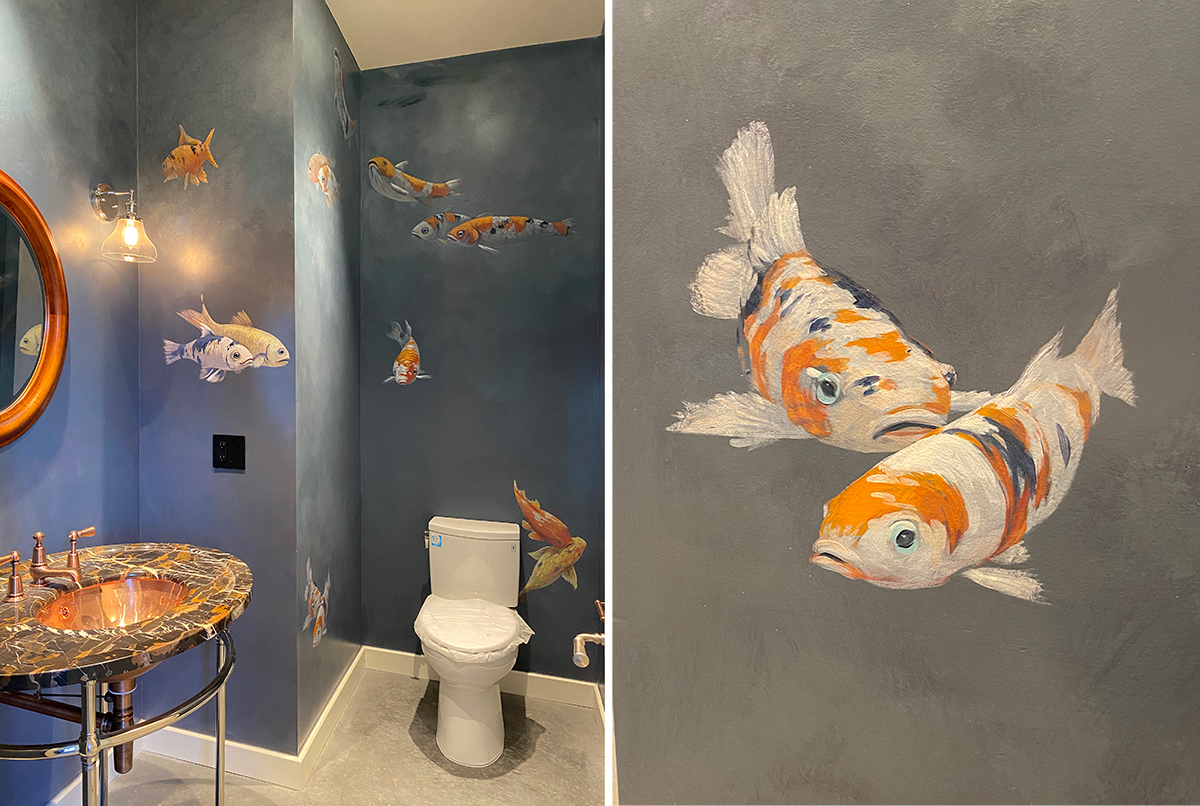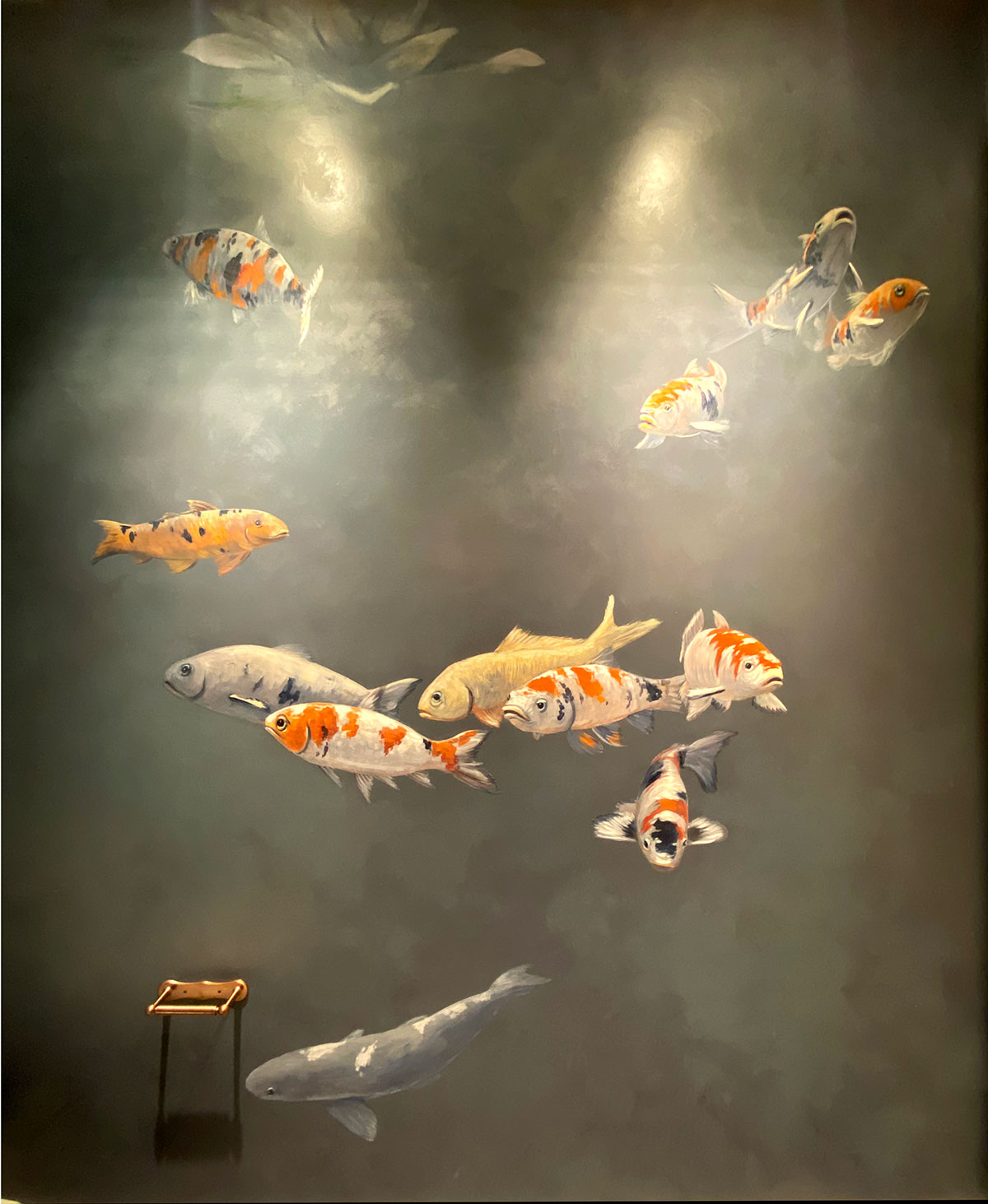 Things have been pretty quiet at Morgan Mural Studios World Headquarters. Now is the perfect time to commission a work of art that will serve you during the pandemic and well beyond. I just finished up a website redesign, so I invite you to peruse the latest and greatest at www.morganmurals.com. You won't find photoshopped clickbait- I suppose I am a bit old fashioned on that- but I am proud of the collaborations, the transformation, and success stories each work of art represents. You can also just give me a call at (650) 814-1490 and we can chat about your Big Idea, and how we might have some fun with it.
Warm regards,

© Morgan Mural Studios. All rights reserved.
Subscribe | Unsubscribe | Forward to a friend | View in browser | Contact us