Transformation Time – A Commercial Building Mural to Make the Neighbors Happy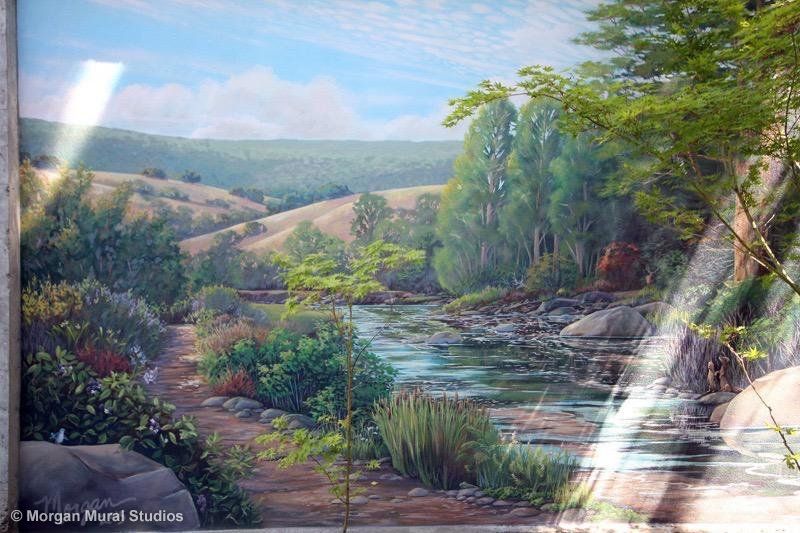 I am sure when the street was named, View Street it offered a lovely view of the hills. 109 years after it was built, the home of George Henry and Denise McNamara home's only view was onto the back of a sixty-foot long commercial building. The previous owners had mitigated they eyesore with a big wall of ivy. This past winter, a storm took down the 30-year-old massive wall of ivy, and it collapsed over onto itself like a tidal wave. When they had me over to assess the scene, I felt like Mary discovering the secret garden. George and Denise had no idea the potential boon this wall could be for their house! I was looking at the mess but I could hear the angel's choir, a cinematic moment where great beauty will soon rise up from the ashes of the devastation…

I have been assessing the merit of blank walls for fifteen years, and in that time I have developed a keen eye for spotting potential. However, sometimes it takes a bit of careful negotiation to get all parties on the same page. When we first met, I could tell the landscape mural idea was George's; Denise was decidedly wary. She was concerned she would tire of looking at the same scene, or that the colors might be garish. They told me they were considering a nature mural on one – or maybe two – of the panels. I was aware it might seem like I was simply "up-selling" them, but I suggested they consider at least three. I try to build trust with my clients by understanding what their core fears in a project are, and then responding authentically, to give them accurate information from my experience. I hear time and again how past clients become more, not less attached to their murals. I sympathize completely that color preferences are really a personal choice; one persons happy orange is another's icky orange. Denise shared her concerns, but also told me what she did like. We found points of common interest in terms of plants, colors, and subject that might be interesting for this landscape painting.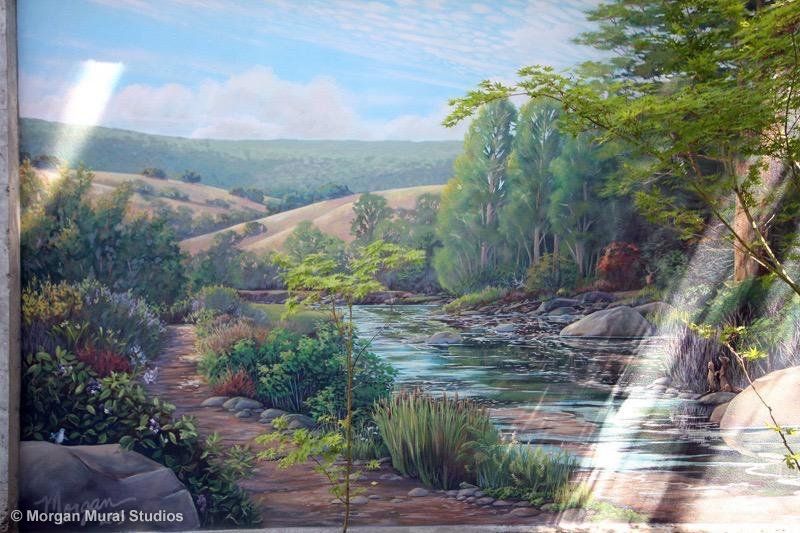 Even though the direction from Denise and Henry was for a bid to paint one or two panels, I took a risk and sent a concept design that covered four panels with my bid. As I said, the angel's choir had sung to me, and their song was clear: the right way to do this residential project is to paint the whole stretch!
When they let me know they were going to move forward with all four panels I was thrilled. I felt honored that I was going to be working with clients who both trusted me and wanted things done right, the first time. That is an ideal combination I look for in clients. I knew this was going to be a blockbuster collaboration.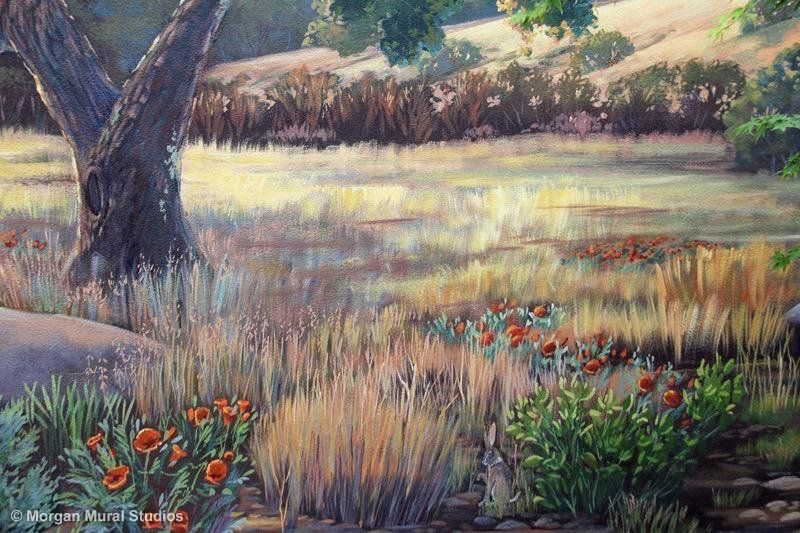 As the project developed, Denise became more involved with the developing content and wildlife in the mural. She gave me a Laws pocket guide set to all the plants and animals of the Bay Area, so I picked out a few birds and animals and incorporated them into the scene. People walking by on View Street were enjoying spotting animals in the scene. With Denise's encouragement we added more wildlife to the mural: a frog and a turtle, river otters, a red-shouldered hawk, grazing deer, and a blue heron all emerged out of the landscape.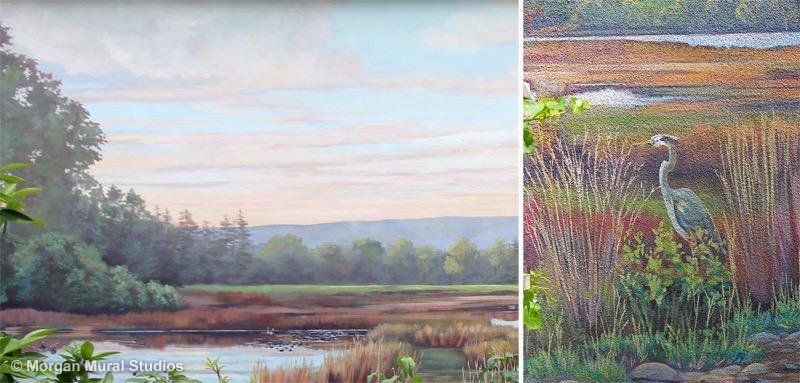 The angel's choir sang not only at the beginning of the project. My soundtrack of choice during this project was the music of Hans Zimmer. If you have ever been to the movies, you have heard his music. He has composed music for over 150 films; many movies become blockbusters with the help of his music. If the truth be told, it is not particularly glamorous work being up on a scaffold, painting in the wind and direct sun on a Tuesday afternoon. That all changes when I put on the title soundtrack to The Gladiator, Pearl Harbor or the Da Vinci Code: suddenly I am transported. Every brushstroke feels like a masterpiece and I am handpainting the heavens with driven focus, experiencing an all-encompassing cinematic moment that can last the whole afternoon. Even the bunnies have a bit more gravitas with the Thelma and Louise soundtrack playing. On cue, the choir breaks through and I step back and even the artwork looks better. Go ahead, put on Hans Zimmer's music and then come back and read this newsletter. Better, right?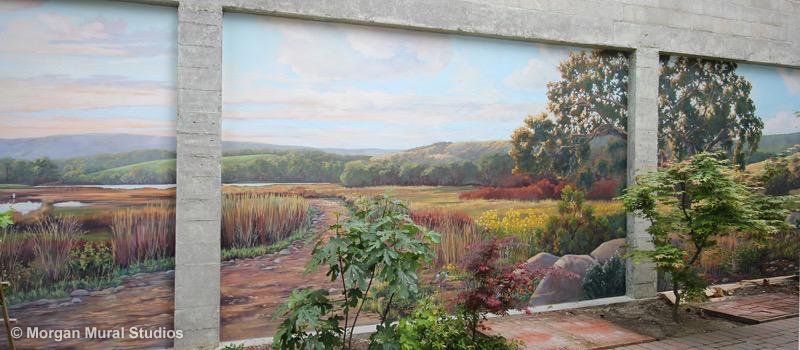 This is the view from my client's home office. After just a few days of painting, George asked me, "Is there a word that means the opposite of buyers remorse? That is how I feel." I miss my new friend already!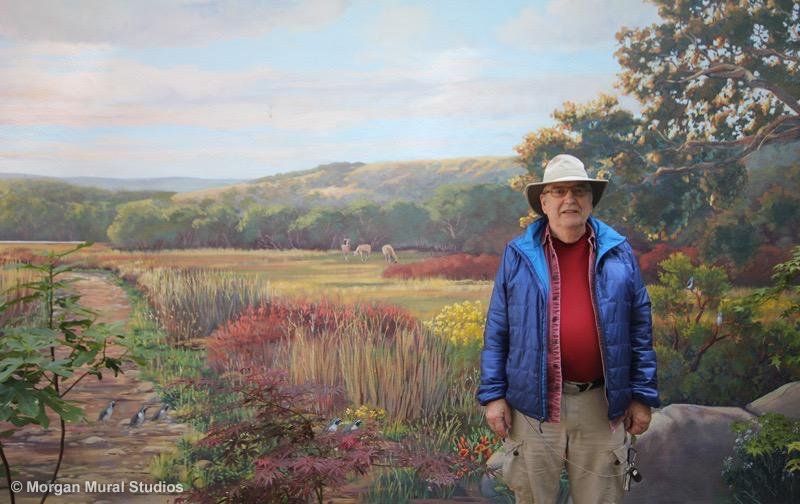 My friend Cindy Handler pointed out that I say this about every project these days, but this was really a dream job! The size! The subject! It was fun to be around the corner from Castro Street and all the deliciously tempting places to eat or take a cappuccino break. On most days, the lovely garden setting with a rock fountain flowing into a fishpond was all I needed during my lunch break. I enjoyed the feedback from people walking by and the fast 10 minute commute. I feel especially grateful for such kind and trusting clients. If they happened to read the comments on my website about how fast I paint, they must have assumed it to be a false rumor. It was more like, "Why is Morgan taking so long to finish?" "Finished" isn't the right word; it was more that I could no longer justify showing up in their backyard every day without at least paying an entrance fee to the Henry McNamara Nature Preserve.
Thank you for reading and letting me share my joy with you!
Warm Regards,

P. S. Thursday May 7 is the National Day of Prayer. To me, gratitude, service and just plain old happiness are all worthwhile forms of prayer. Pass it on!