Celebrating Forests with Leafy Green Murals in Portland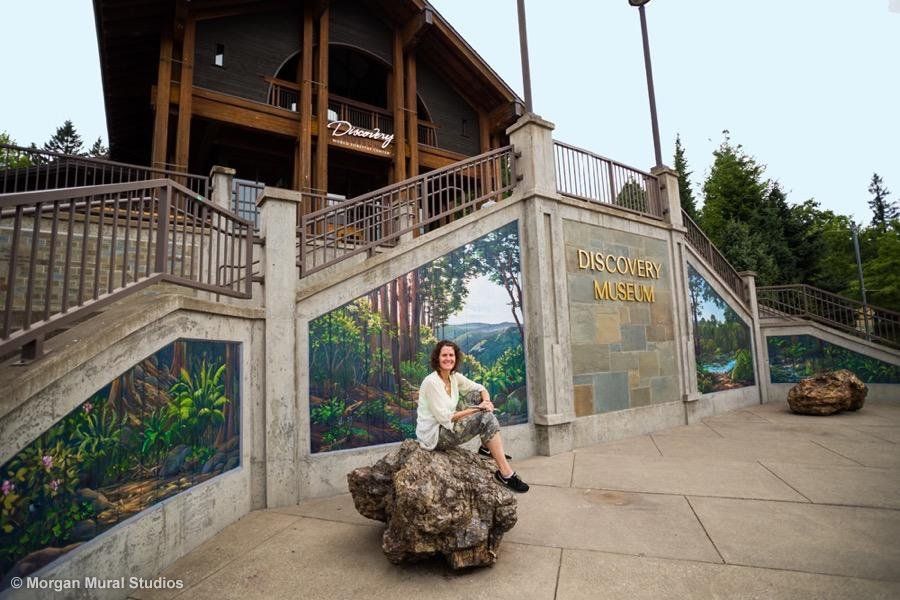 The reason I went to Portland, Oregon to paint a mural at the World Forestry Center Discover Museum was because of Eric Vines. Eric is the Executive Director of the World Forestry Center. I met him at a conference in Portland last year, and was immediately impressed with his thoughtfulness and integrity as he navigated a complex path at an organization in flux. The tone of the organization has evolved dramatically in the last year from status quo to sustainability gung-ho. The center is using their space to host dialogue and collaboration from forestry non-profit organizations world-wide and has become a vocal proponent for global cooperation and sustainability in the forestry industry.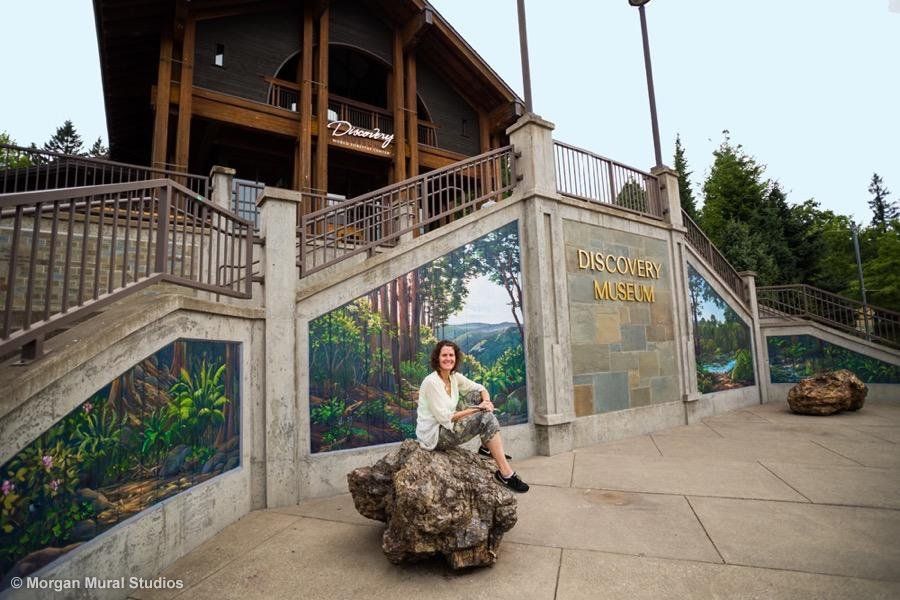 Every time I paint a mural, I learn something new about the world. On this project, I learned about forestry. I learned that forestry is "agnostic", forestry can optimize for recreation, timber, watershed, etc. I also learned that achieving a balanced and sustainable use and management of forests in the U.S. is a narrow solution to a global problem. Demand for land (for cattle, palm oil, etc.) and wood to sell to first world countries is depleting our forests worldwide, and is creating a hot mess of social justice and environmental issues for the planet.
I majored in Economics in college because I was interested in how economic models could integrate public goods. How could we integrate the intrinsic, environmental and economic value of intact ecosystems of forests or ocean resources as justification for better management and preservation? As a budding pragmatic optimist, I thought, "If we could just get the calculations right, humanity would make better decisions and our problems would all be solved, right?" I am probably not the first disillusioned young economist to jump ship from trying to define the world through a supply and demand curve. I was realy good at drawing those graphs, though.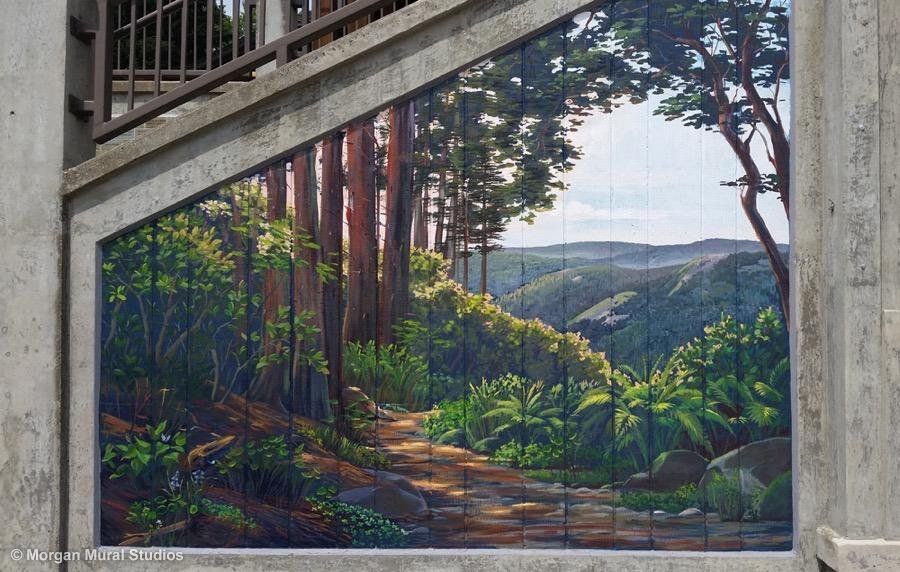 Eric wrote in a recent article "Faced with an uncertain future, we can no longer afford to regard forest management as anything less than profoundly important and highly complex, wrestling with the multilayered issues for the betterment of our planet today as well as 100 years from today. We need to turn our ecological and economic dilemmas into a respectful celebration of our capacity to hear the calls of competing interests and make rational choices for broad social benefit. " Eric is a renaissance guy who is involved in the details of shaping better policy as well as understanding the value of art and storytelling to communicate a wider perspective. His efforts benefit the rest of us that go about our lives taking taking things like wood floors and oxygen for granted.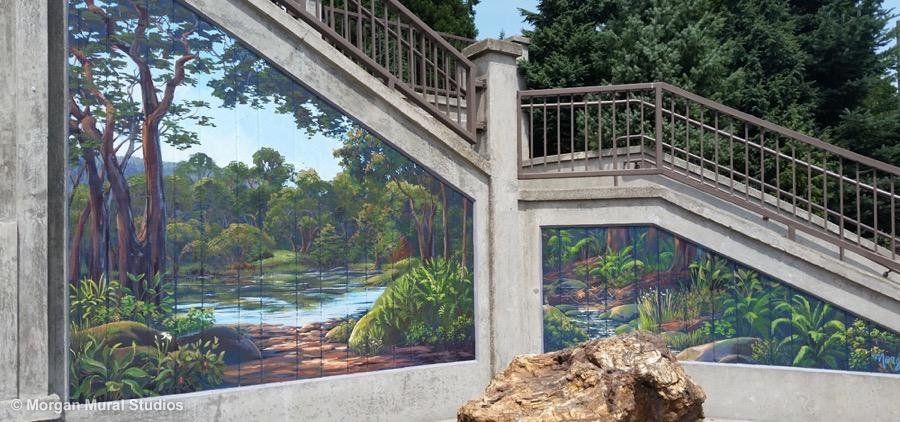 I am so blessed to live in the abundant time and place I do, and for the privilege to do work I love. I have been an enthusiastic recipient of all the abundance of natural resources we enjoy in our first world lives. I am so grateful. I am also willing to do what I can, with what I have, to amplify through art the beauty of our planet. "In the end, we will only conserve what we love." – Baba Dioum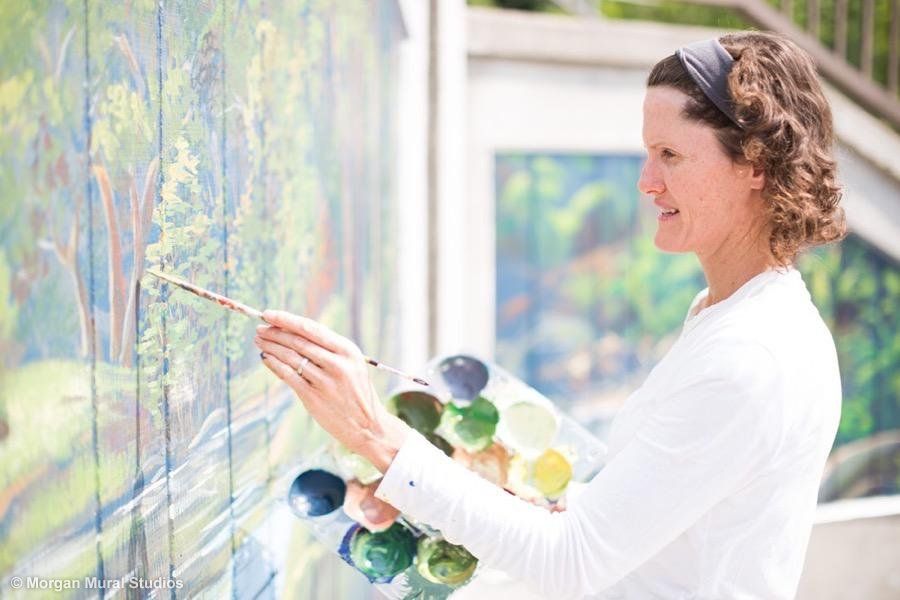 Two years ago, I became involved in an organization called the Pachamama Alliance. What they do really well is help individuals figure out their next steps in making positive difference in the specific environmental issue that matters to them. It was from a symposium I attended sponsored by this organization that I decided to focus my mural work on celebrating the beauty of our natural environment. We all have talents to share in service of a greater good, but sometimes it is hard to know where to start! If this is you, check out their website or better yet, join me for their annual luncheon in San Francisco November 19. Let me know if you are coming, so we can sit together.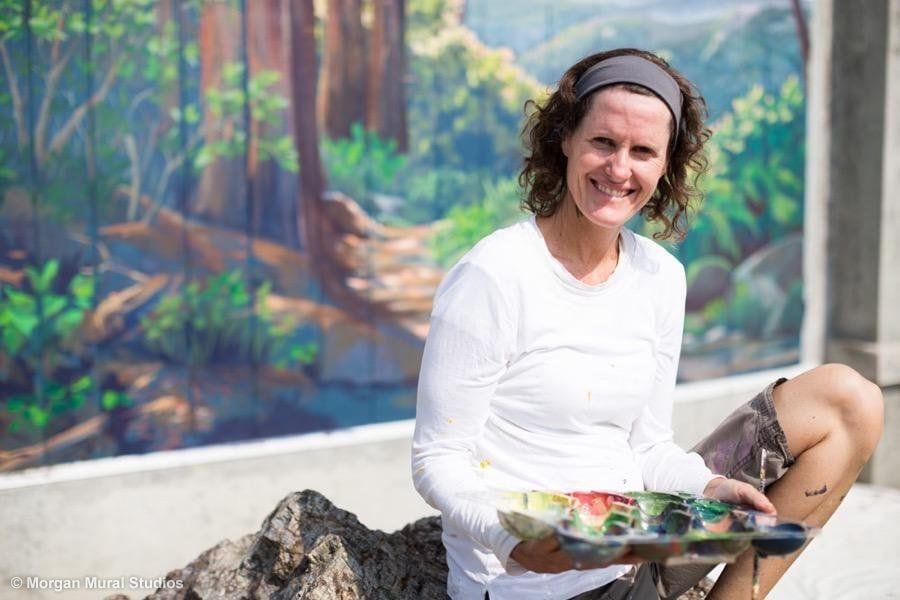 I am grateful to the World Forestry Center for providing the incredibly talented Fritz Liedtke to photograph this forest mural's progress. I am also thankful to the WFC for trusting me with their prominent canvas to celebrate the beauty of our forests. This new cement wall painting faces the metro stop for Washington Park, which receives about 3 million visitors each year. Someday, when you visit the Oregon Zoo, Japanese gardens or to hike at Hoyt Arboretum, you, too, will pass this wall. You can say, "Hey! I know who painted that! That's my friend who paints murals of nature all over the world…"
Can we share that dream?
Warm regards,