Murals of Peace and Transformation at Hua Quan Village, China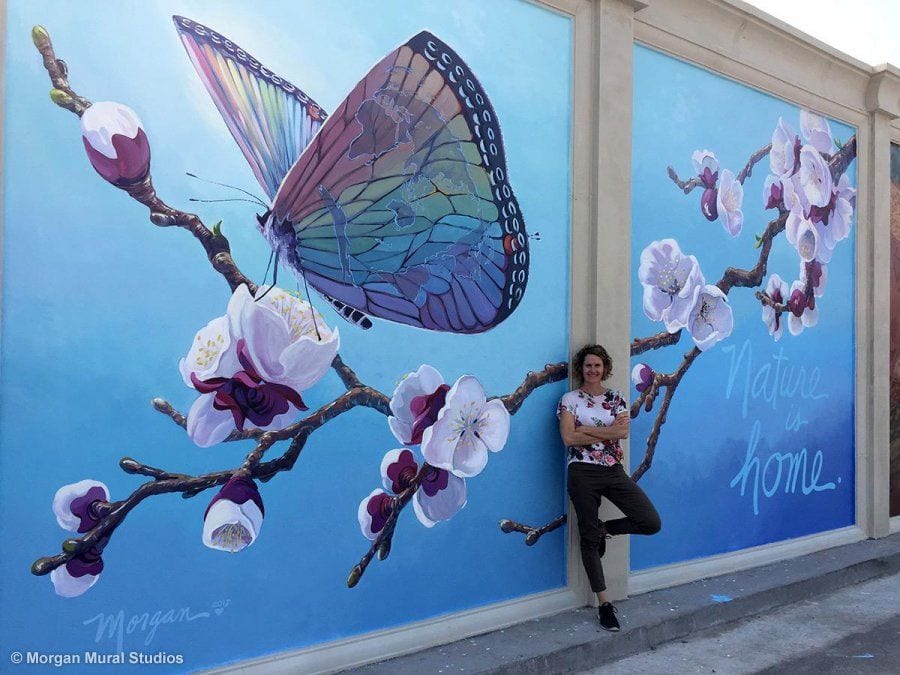 Last month, I was invited to China to join sixty other artists from around the world to paint on the subject of peace and transformation. The Miracle Mural project was located in Hua Quan Village, in the Jianxi province, in one of the largest art and cultural centers in the world. The village features stunning views of Dragon Tiger Mountain, which is a World Heritage Site recognized as the birthplace of Taoism. I was honored to be included in the ranks of the other world-class artists that participated in the creation of what will be a total of 100 murals around the village, 80 of which are now complete.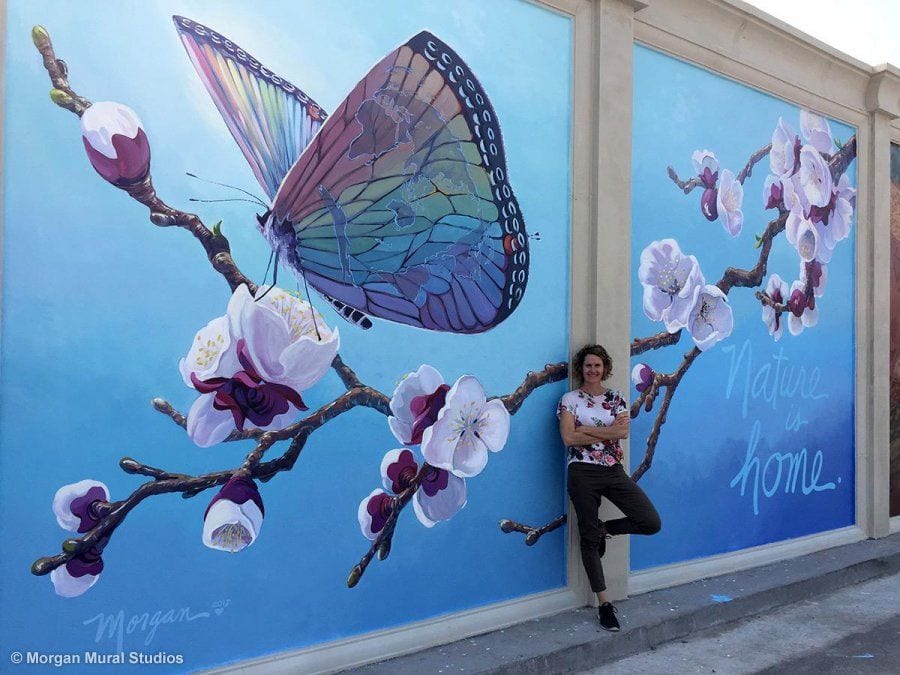 The plaque for my mural reads:
Nature is Home

Living in harmony – both with nature and each other – nourishes our well-being. The butterfly serves as a visual allegory as to how small, tender actions have a ripple effect that can transform the world. The blossoms symbolize the fragility of our human existence – and the power of love.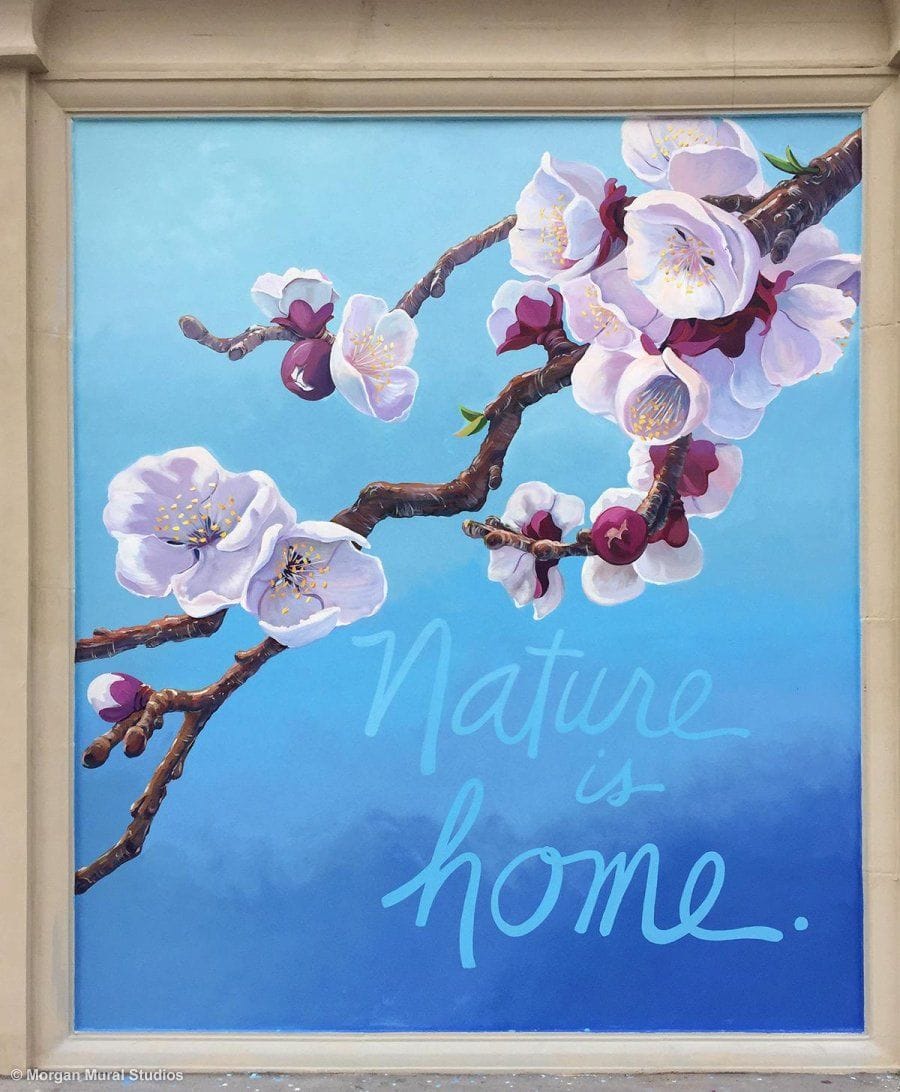 From the moment I was invited, I hoped that my meditation teacher, Roma Hammel, would join me on the adventure. It seemed fitting that an art project about peace and transformation should include my own unfolding towards peace and transformation as well.
I first connected with Roma about four years ago. I was flipping through an Esalen catalog when a particular embodiment meditation course caught my eye. In researching the teacher I discovered that we lived in the same town and that she was hosting a Satsang that week. It was the beginning of a regular practice in a community of committed meditators that has led to a profound deepening of a felt sense of myself in my own being and as connected to fundamental consciousness.
In every sense of the word, Roma is a great teacher. As in, literally, "Teacher of the Year" great. She spent 30 years as a teacher at Los Altos High and developed an English program curriculum for the department that is still in use. Because of her years spent in the classroom, Roma makes me feel like there are no dumb questions. Trust me, I have plenty. She keeps the pace just right so that there is neither boredom nor giving up. She is skillful at facilitating deep inquiry. Roma teaches a form of embodiment meditation based on Judith Blackstone's Realization Process. I am so grateful that Roma agreed to take this adventure to China with me.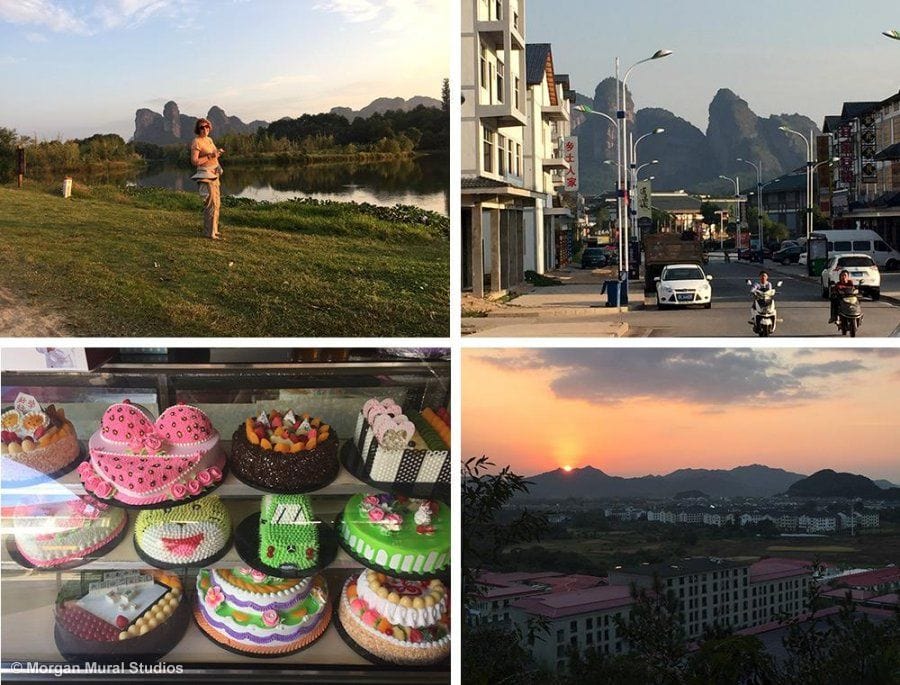 Together we danced in the town square, a nightly village tradition. We meditated in sacred pagodas. I got sage advice on supporting my teenagers while walking a footbridge that ran along the sheer cliff faces of Dragon Tiger Mountain. We giggled at our Chinese host's attempts to serve a proper western-style breakfast. And my artwork benefitted from her savvy contributions.
One evening after painting, after I'd had a hot shower and a full belly, she broached the subject maps.
"Morgan, maps are quite interesting. Did you know the map we typically use is distorted so the Northern countries all look larger? Here, look at this, this is what the world actually looks like."
"Hmmm. That is interesting. But that map looks weird. Africa and South America look huge and misshapen because I am accustomed to the "Europe Central" map."
"Morgan look at this, here is a map of the world from over the North Pole. This is an interesting perspective."
"Yes, very interesting, Roma. But it's kind of disorienting. I mean, it takes a bit longer for me to understand what I am looking at. I feel most comfortable with the map I am most familiar with."
"Take a look at this map, Morgan. When I look up New Zealand, it shows how our world map would look if China and the west coast of the U.S are at the center, instead of Europe."
"Wow. Hey Roma, that is so cool! I'm having this great idea that maybe I should repaint my map tomorrow and put China and the U.S. at the center. I could even skew the U.S. and China a little closer, to enhance the perception of being neighbors. This would really improve the concept. Wow, I have the best ideas."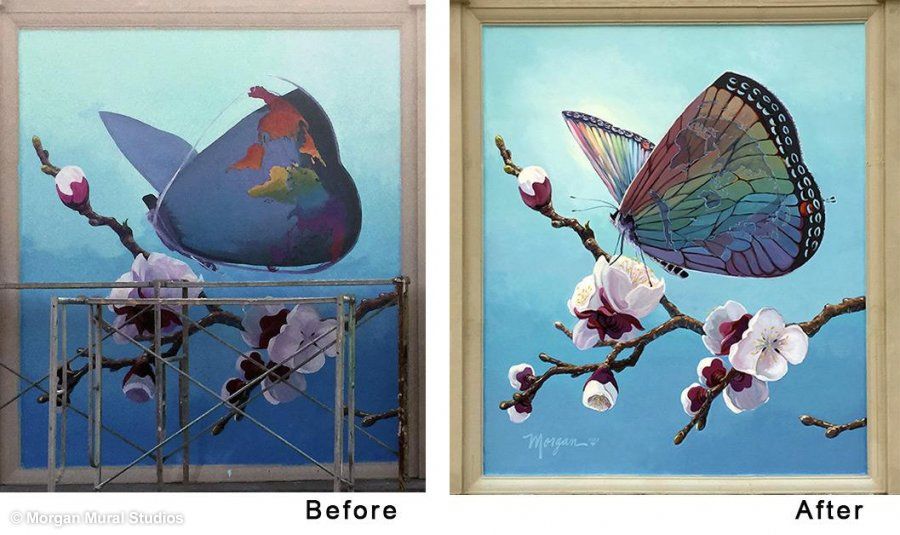 I am grateful to Hua Quan Village founders for their mission and efforts to create a cultural destination celebrating art and inner transformation in such a sacred place. The village was co-founded by the legendary music and film director Liu Jia Chang. Mr. Liu has composed over 2,000 songs and directed almost 100 films in the past 50 years. He has received lifetime achievement awards in China, Taiwan, and Hong Kong. Despite years of resistance to get the project approved, the project sin ow receiving accolades and attention. The local government even offered walls of its own buildings to artists in support of the Miracle Mural Gallery project. The wall I painted on is actually the side of a government building. It faces the busiest intersection in the region. I love happy endings.
My favorite mural of the whole project might be the mural adjacent to my own, painted by a team of two women from Puerto Rico that call themselves Morivivi. The artwork communicates both vulnerability and power, and nails it on allegory, color, and feel. It embodies both peace and transformation. It was a tough act to follow. The white panels to the right of the "Art Capital of the World" signage are being painted this week by an artist from the U.K.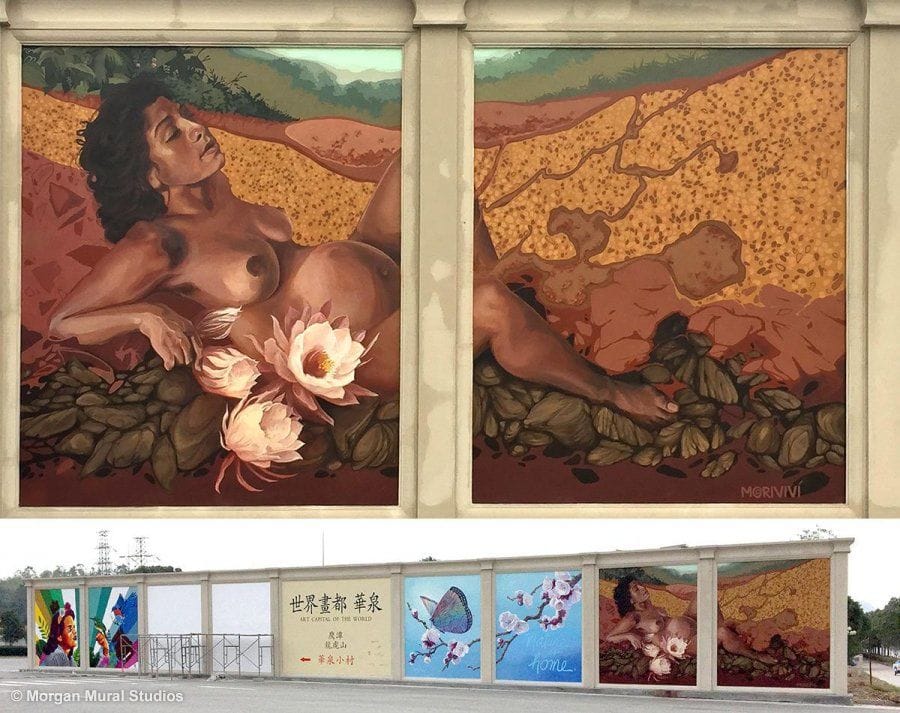 I am truly grateful to Mr. Liu for his art advocacy, and for his efforts to bring all these mural artists together. I also feel gratitude to the other artists who used their creative talents to share their own vision of peace and transformation with the rest of us.
With love,

More about the Murals
"The Miracle Mural Gallery aims to remind us that countless miracles occur in our everyday lives. It is only when we are able to stop in our tracks and appreciate the simplest things and the smallest gestures that we are able to find inner peace. When all our international artists came to this rustic countryside to complete this gallery, a true miracle occurred. It is our wish that these murals will inspire you to stop in the midst of your busy lives and take a moment to listen to your heart's call. We believe that this single moment of resonance will have a deep and long lasting impact on you. Perhaps one day, miracles might begin to appear before your very eyes. It is when we experience this total transformation of the heart that we can come together as family and friends to make this world a better place."
Here are some of my personal favorites from the Miracle Mural Gallery: