Penguins in the Bedroom and a Submarine in the Playhouse – Imaginative Home Murals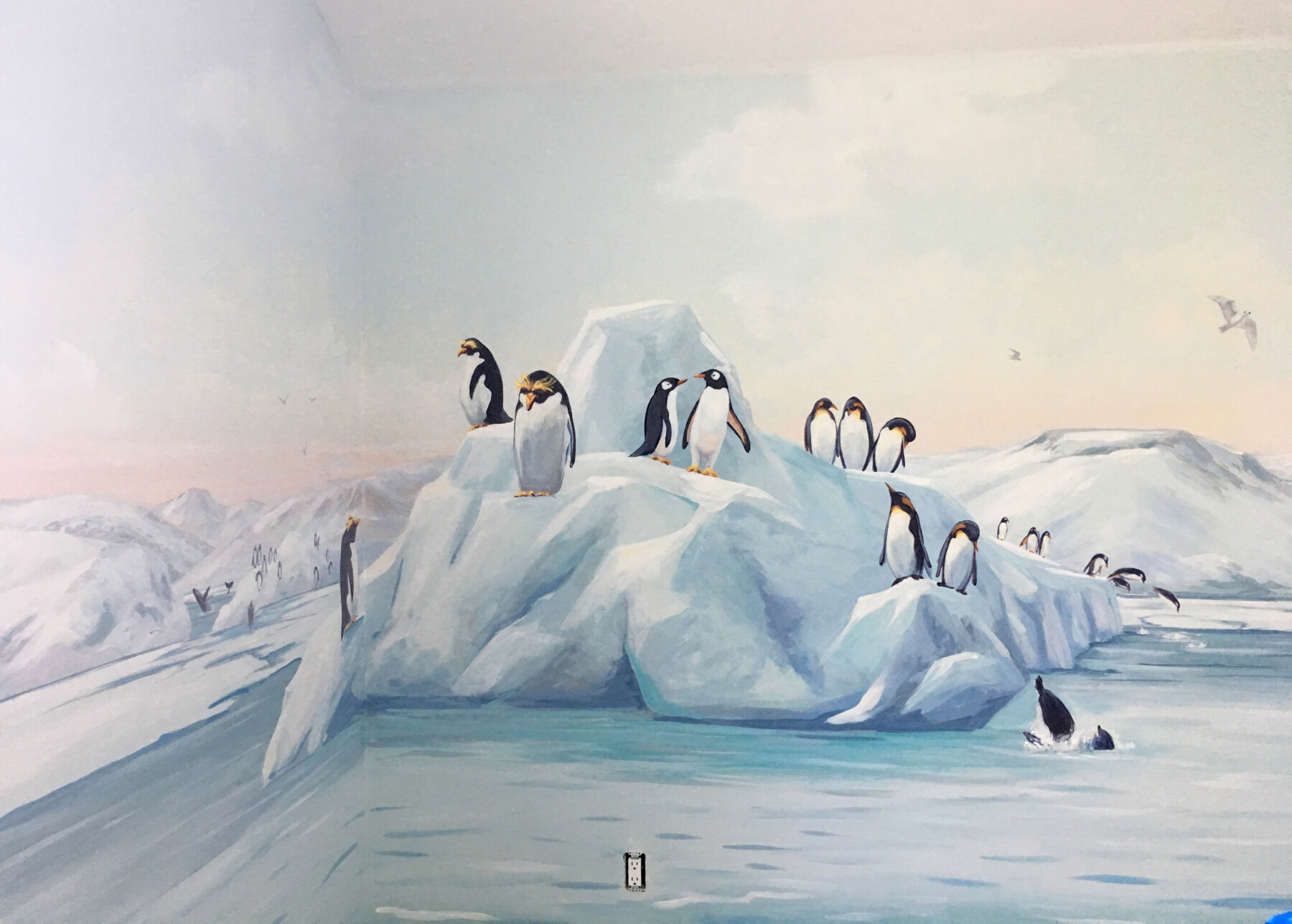 My summer painting adventure included painting several four-wall bedroom murals.
I didn't go to Antarctica, but my clients did! They had the trip of a lifetime, so when it was time to choose a theme for the nursery for their first child, they broke out all their honeymoon photos and made a list of all the animals they saw on their trip. The result was this Antarctica mural with a colony of penguins gathered on the icebergs and a pod of humpback whales enjoying a leisurely swim.
Alpine Meadows
I've never been backpacking with llamas through alpine meadows, but my clients have! This alpine meadow mural painting alongside the family pool was inspired by their gorgeous vacation photos. Now they can remember their favorite vacation from their bedroom window. It's always spring somewhere.
The same adventurous family had me back to paint their workout room with a forest path. If you want to know how I create light in a forest, you can watch this video. If you don't really care how I did it, you can skip to this video of the painting from start to finish to the soundtrack of some chill music.
Coral Reef Adventure
It's been hot out lately, so I thought you might enjoy this refreshing coral reef adventure as much as I did. No SCUBA certificate is required to enjoy this submarine mural.
I painted this in a playhouse in Saratoga. I created a magnetic chalkboard in the corner; the sign is for a fundraiser they were hosting in their garden. I tried something I have never done before with this project: I printed sea life animals from past murals onto magnetic vinyl, and cut them out. The fish, whales, and species you see in the coral below are peel and stick, so Kiernan can move the pieces around to create new art – and new stories – to his hearts content.
As you can see, even though I only took one airplane ride this summer, I had many adventures. The best adventures are the least expected.
Warm regards,