Anchored by Trees – Leafy Green Murals that Keep Us Rooted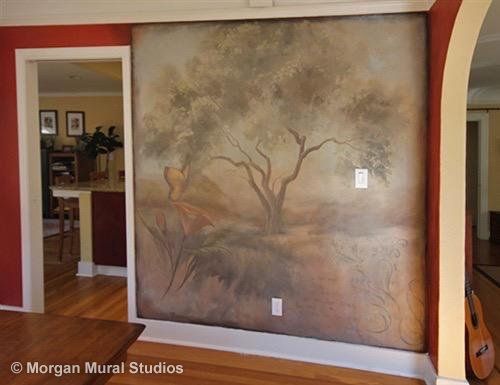 I love to paint tree murals. From a decorating perspective they serve as great anchors to a room because they introduce a strong unifying element. They can transform a bare corner and are a nice way to add color and life to a room. But they also add a lot of "psychic" nourishment. Trees are living models of being anchors, rooted, full of beauty, grace. Each one is unique, and has it's own character. I have been painting a lot of trees and also have received lots of inquiries from my website about trees. If it is a trend, I think it is a good one.
Here is a "dream tree" that I painted in my own dining room. (View more images from the project here). I painted the wall first with a magnetic primer so that I can easily collage images and text over the top with the help of magnets instead of more permanent adhesive. The idea is to create a "family dream collage" where everyone contributes to mapping out our dreams for our life.
The quote on the bottom right reads, "There is no end to the adventures we can have if only we seek them with our eyes open." -Nehru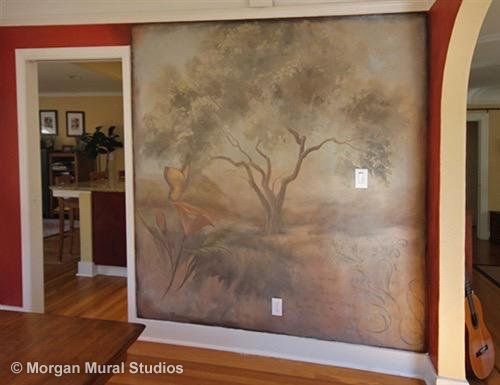 The Original Dream Tree
It is a fantastic idea, but like most great ideas it came to me through a client. Molly Naughton called me with her "crazy" idea, and I said "Wait, that is not crazy, that is AWESOME!" and, the idea has been expanding and morphing ever since. Here is the tree I painted for Molly. She ordered photos printed on magnetic paper to put on the bottom area of the wall to represent what members of her family wanted to accomplish (trips and fun stuff, I think), and then will order photos to put in the branches of the mural when they have a photo of themselves successfully completing their dreams.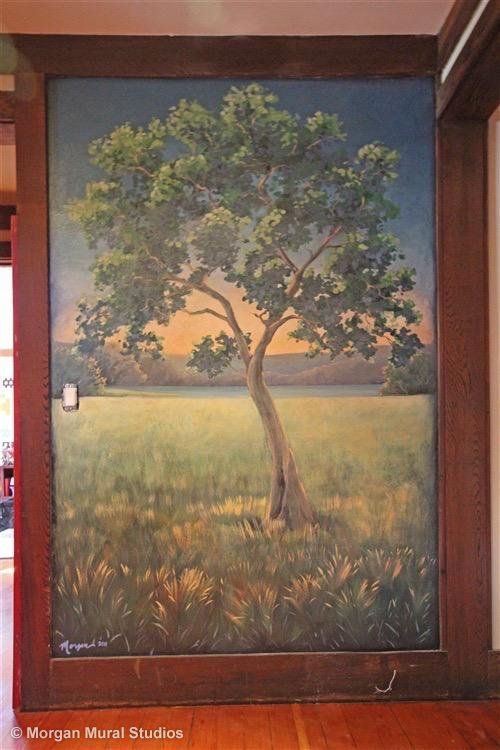 Cherry Blossoms
I painted this cherry blossom tree for a 6 year old girls room. Honestly, I think it is appropriate for any age. (Can I have one in my room?) Spring is epitomized by cherry blossoms. Delicate, full of promise, and termporary. Cherry blossoms are simultaneously elegant and inviting. I painted this tree with a great abundance of flowers, instead of the restrained Zen style. I hope Emma enjoys it until she is off to college! Click here to see more images of this mural.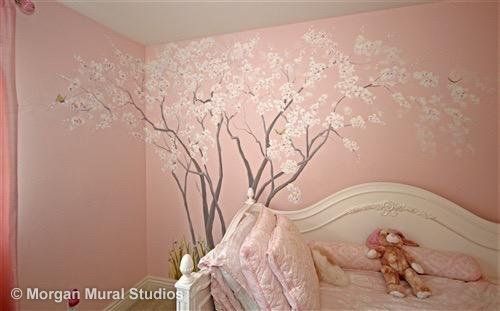 Cherries and Fairies
One more cool twist on the theme. Another young girl wanted cherry blossoms and fairies. We created a secret hideout at the base of the tree (under the bunkbed) for her as well. Click here to see more images of this mural.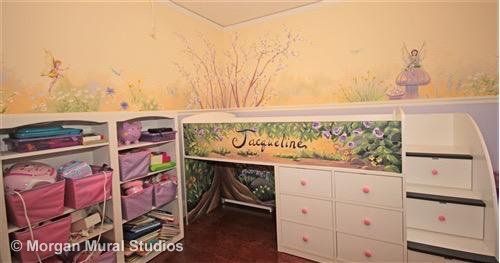 The Art of Living
I have one last quote from James Michner's autobiography, that I just wanted to share with all the very special people on my newsletter list:
"The master in the art of living makes little distinction between his work and his play, his labor and his leisure, his mind and his body, his information and his recreation, his love and his religion. He hardly knows which is which. He simply pursues his vision of excellence at whatever he does, leaving others to decide whether he is working or playing. To him, he is always doing both."
Thank you to all of you for being a part of my creative adventure!
Blessings to you!
Morgan Bricca
Morgan Mural Studios