A Bay Area Muralist Gives Soul to Peninsula Spaces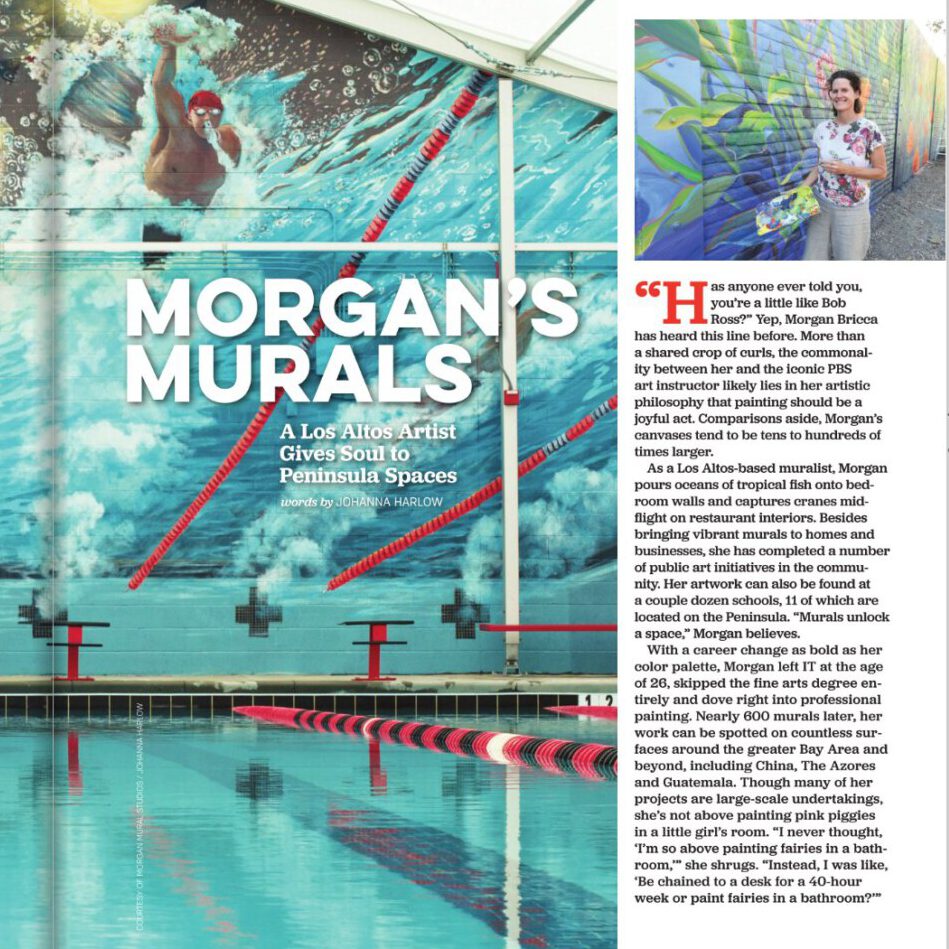 I am humbled and thrilled to share this article written by the incredibly talented writer Johanna Harlow in this month's Punch magazine. Enjoy!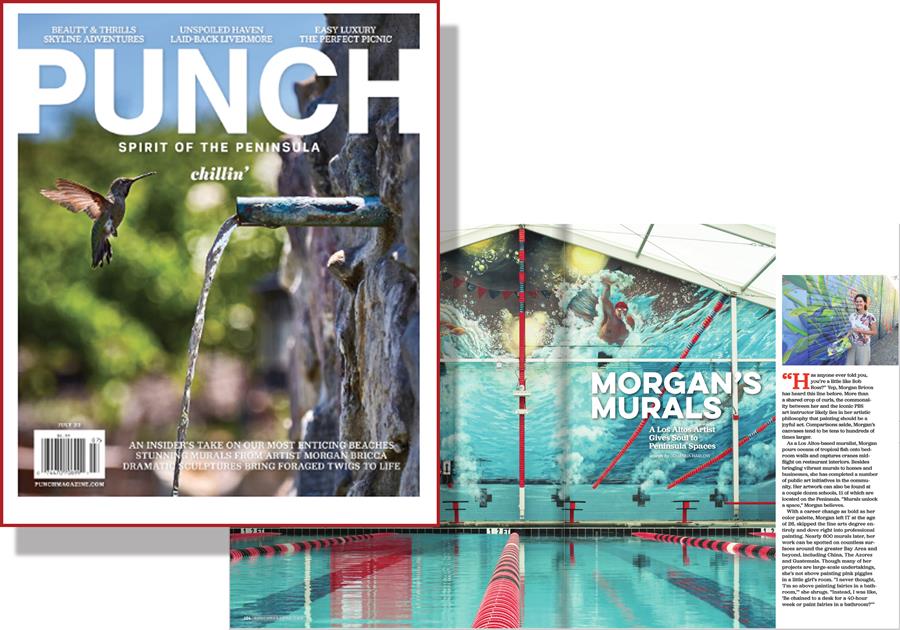 by Johanna Harlow for Punch Magazine, July 2022
"Has anyone ever told you, you're a little like Bob Ross?" Yep, Morgan Bricca has heard this line before. More than a shared crop of curls, the commonality between her and the iconic PBS art instructor likely lies in her artistic philosophy that painting should be a joyful act. Comparisons aside, Morgan's canvases tend to be tens to hundreds of times larger.
As a Los Altos-based muralist, Morgan pours oceans of tropical fish onto bedroom walls and captures cranes mid-flight on restaurant interiors. Besides bringing vibrant murals to homes and businesses, she has completed a number of public art initiatives in the community. Her artwork can also be found at a couple dozen schools, 11 of which are located on the Peninsula. "Murals unlock a space," Morgan believes.
With a career change as bold as her color palette, Morgan left IT at the age of 26, skipped the fine arts degree entirely and dove right into professional painting. Nearly 600 murals later, her work can be spotted on countless surfaces around the greater Bay Area and beyond, including China, The Azores and Guatemala. Though many of her projects are large-scale undertakings, she's not above painting pink piggies in a little girl's room. "I never thought, 'I'm so above painting fairies in a bathroom,'" she shrugs. "Instead, I was like, 'Be chained to a desk for a 40-hour week or paint fairies in a bathroom?'"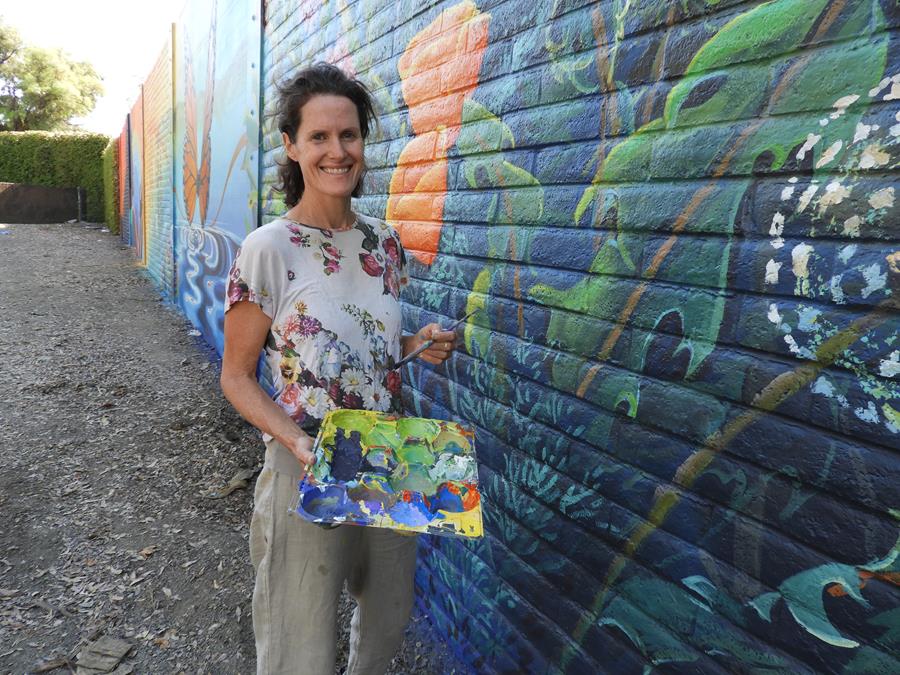 Unlike many in her field, Morgan prefers brushes to spray cans in order to achieve "that sort of painterly expressiveness." She has a penchant for designing wildlife and landscape scenes. "Images of nature pull us out of the everyday business of our domestic lives and invite us to slow down," she explains. "They transcend tribe or personal identity and help us appreciate a broader perspective of life and the place we live."
Morgan is also fond of designs that defy boundaries with details flowing around corners or spilling off the wall entirely. "Murals aren't contained, that's the point, you know?" Her consideration of the space shows in other ways too. "You're working with how the light is hitting, how people see it when they walk in the room, which way to slant the flower," she observes. "Where is balance needed?"
When Morgan visits a pristine, white-walled home, she's already putting a paintbrush to its rooms in her mind's eye. "If they just put up a painting, it would still be so predictable. But if they had a mural, it would change the whole energy—finish it off in a way," she notes. "It needs a little bit of chaos in it to make it interesting."
"A little bit of chaos" is true of Morgan in the best possible way. Approach her on a job site and you'll find paint splattering her clothes and car, a smudge of purple on her cheek, a streak of orange in her hair. And she likes to bring a touch of spontaneity to her projects when she gets to the detailing work. "I can't always come up with my best ideas in my studio on my little iPad. The space inspires," she explains.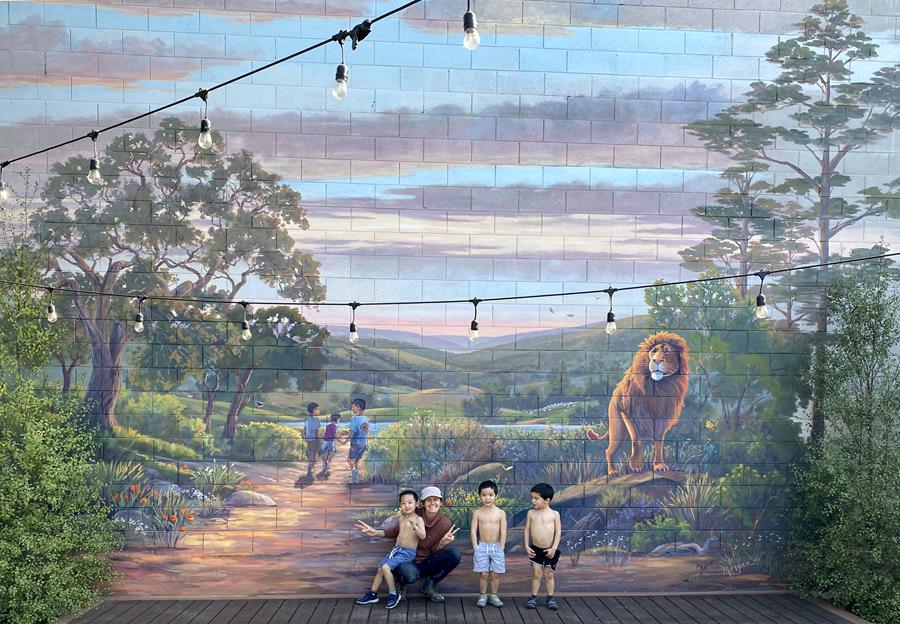 Morgan is also an embodiment of the Bob Ross mantra: "We don't make mistakes, just happy little accidents." When challenges come her way, she tries to go with the flow. "It's that attitude that makes life more fun: to just roll with it." During one school project, Morgan recalls trying to load a gallon of paint into her car—only to spill cheery yellow across the parking lot. After a moment of stunned silence, Morgan hatched a plan. "I extended it out and I made it into a beautiful sun," she recollects. This unexpected feature became a favorite among the teachers. "They thought it was art—like an add-on," she chuckles.
With all her murals—be they public or private, commercial or communal—Morgan hopes to heighten the value of the space. "A mural is an identity statement that becomes part of the fabric of the environment," she shares. Applying this kind of "space-making" to public art, for example, gives people a greater pride in place (at the same time deterring tagging). "How is this place different from everywhere else that has a Starbucks on the corner and an Old Navy next door and then a Safeway on the other corner?" Morgan asks.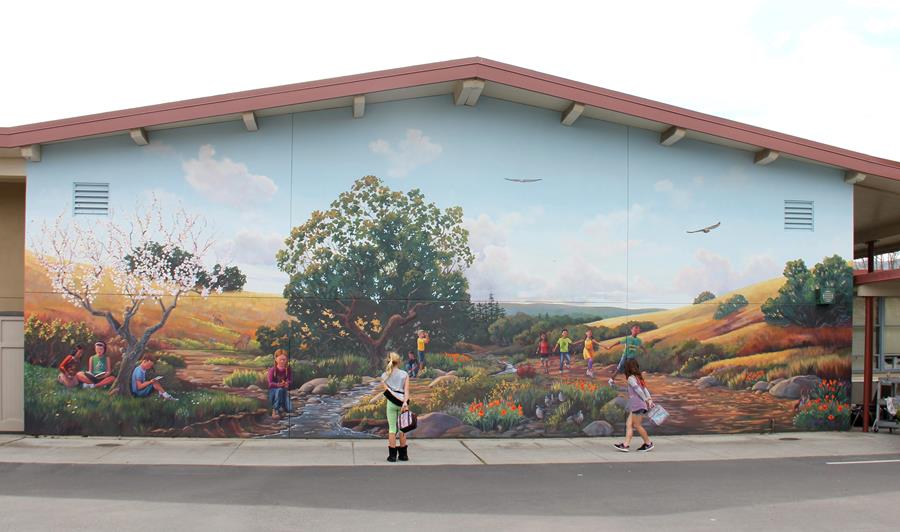 "Sometimes art can be that distinguishing thing. Many times it's also the natural environment, but then sometimes art plays into that. So it's giving a place a hook for humans." Expanding on this, she adds, "I kind of like the thought that somehow mural art gives a space a soul … It's the jewelry on the perfect black dress."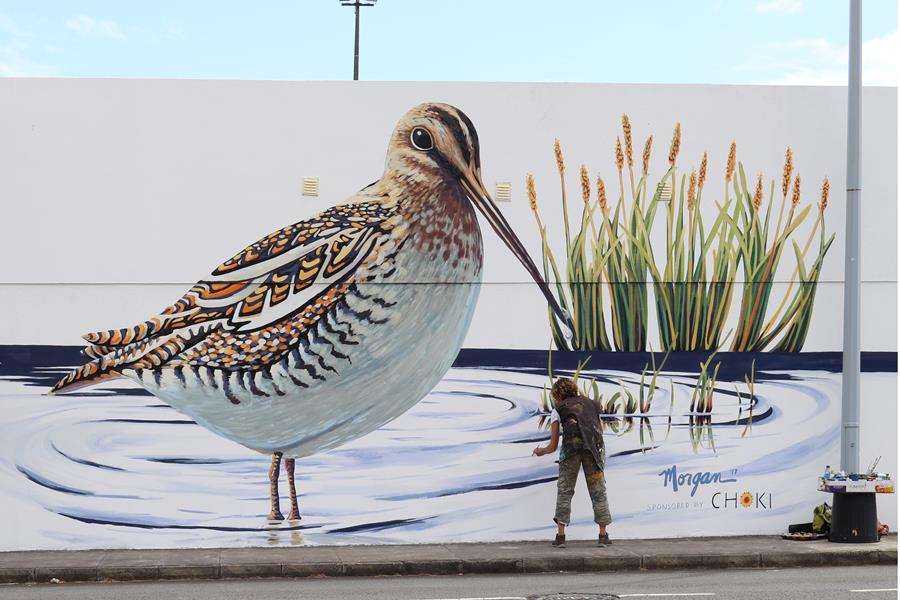 Her largest mural to-date is a testament to this. Last summer, Morgan was hired to beautify a 140-foot-long retaining wall on the corner of Midfield and Havana Roads in a San Jose neighborhood. "It was a complete dead zone before," Morgan notes, describing the area as an unofficial dumping zone. "Trash was piled two-thirds of the way up that wall!" After the mural's creation, the area became a playful, safe hangout for kids, with drivers slowing down as they turned the corner to look.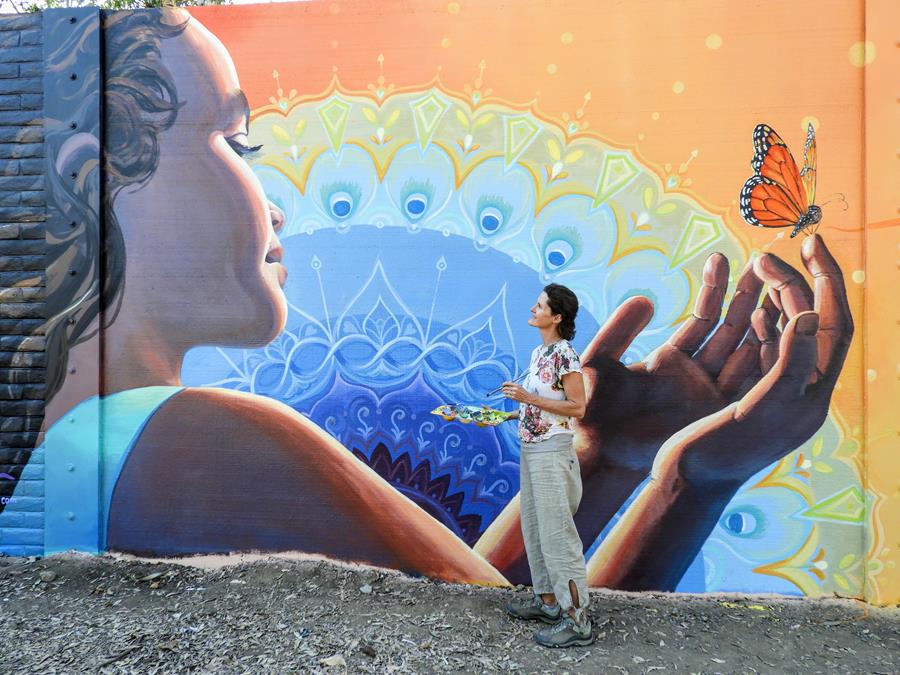 When she isn't up to her elbows in paint, Morgan serves as a resource for budding artists. Her podcast If These Walls Could Talk demystifies successful mural projects and explores the nuts and bolts of the process by interviewing fellow artists, art advocates and public art planners as well as sharing her own observations.
In a similar vein, Morgan published a book called The Mural Artist's Handbook. Available on Amazon, it acts as an exceedingly practical guide to navigating the muralist profession—everything from how to protect paint from sun damage and finding funding to establishing a fair and competitive price metric with clients and investing time in promotional strategies.
A firm believer that creative careers can also be lucrative ones, Morgan doesn't buy into the assumption that market-savvy artists are sellouts. "If you believe that what you're doing is creating really beautiful, dramatic transformations, then helping people find you is a nice thing to do," Morgan remarks. "I'm excited about what I do and I'm going to share that." Plus, she's pretty tired of the starving artist trope. "Who says artists have to be broke? That they have to be tortured? Let's get some healthy artists going!"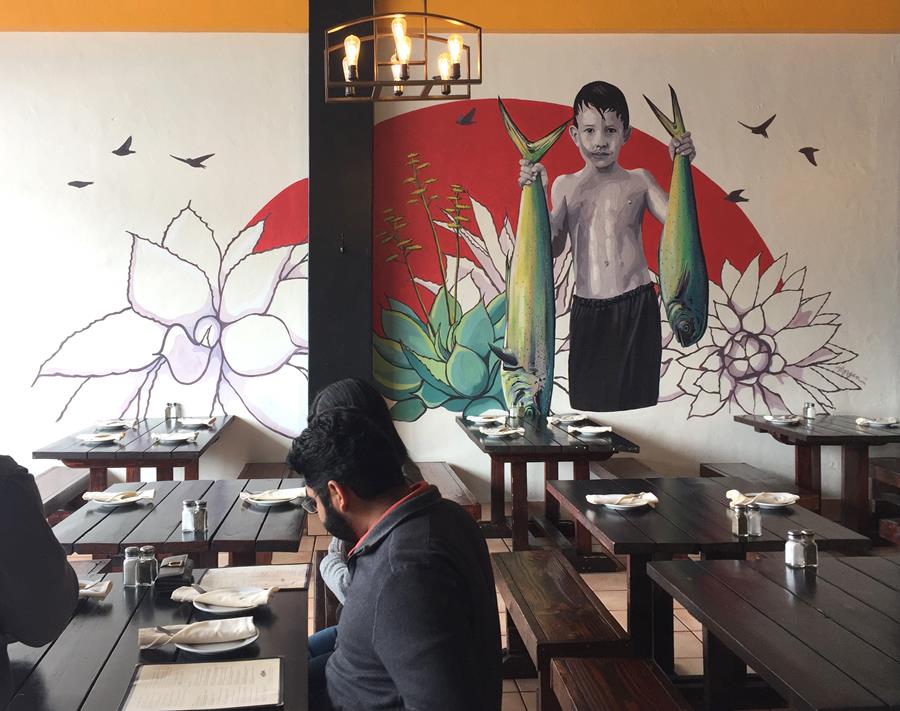 Another piece of advice for young artists? "Start to place your art in the world," Morgan encourages. "Start making art for people." Creating in a vacuum limits your perspective, while feedback serves as an invaluable teacher. "It needs to resonate with other people besides you to have wings," she points out.
As Morgan's murals continue to sweep across the Peninsula, one never knows what delightful discovery lies around the next bend.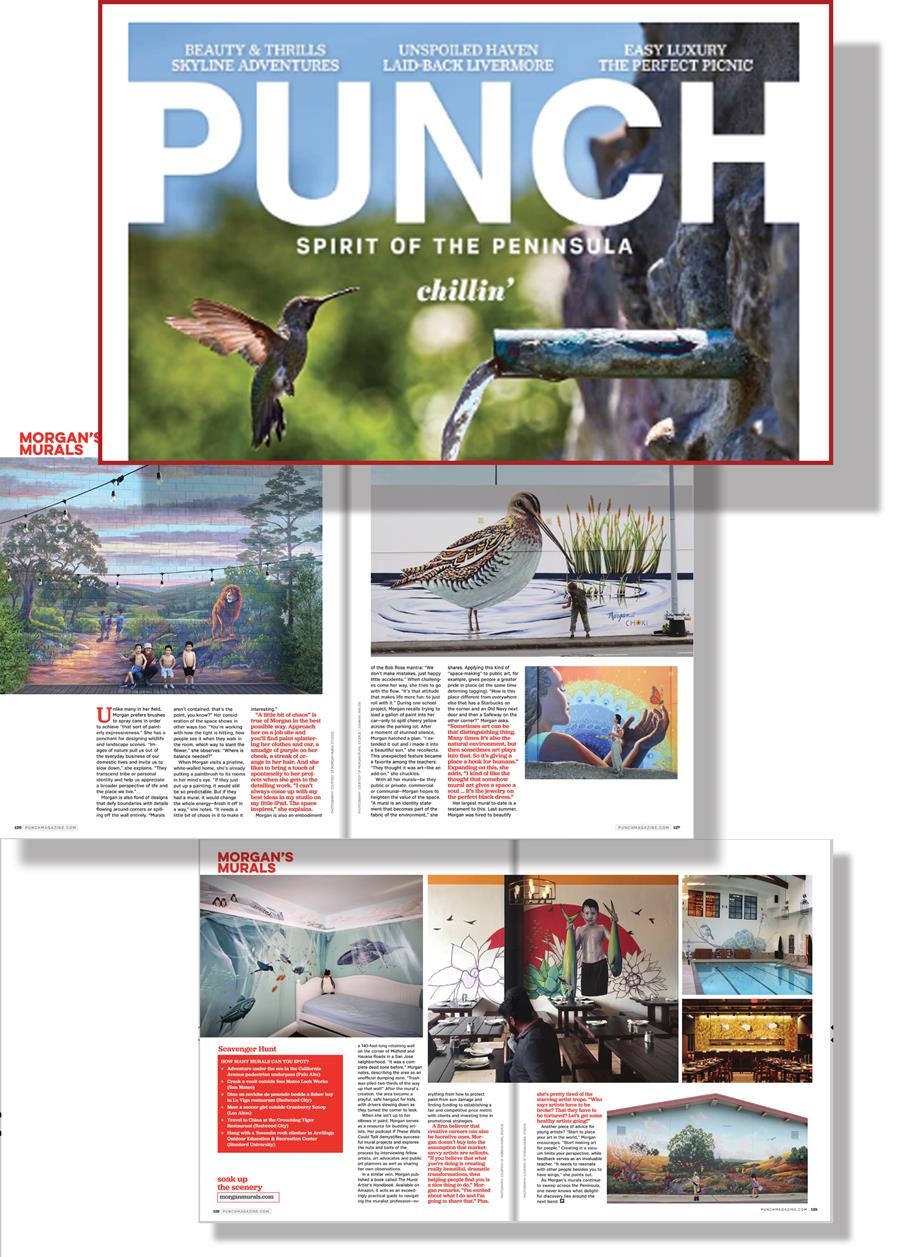 You can find the magazine online here (the article starts on page 125.)