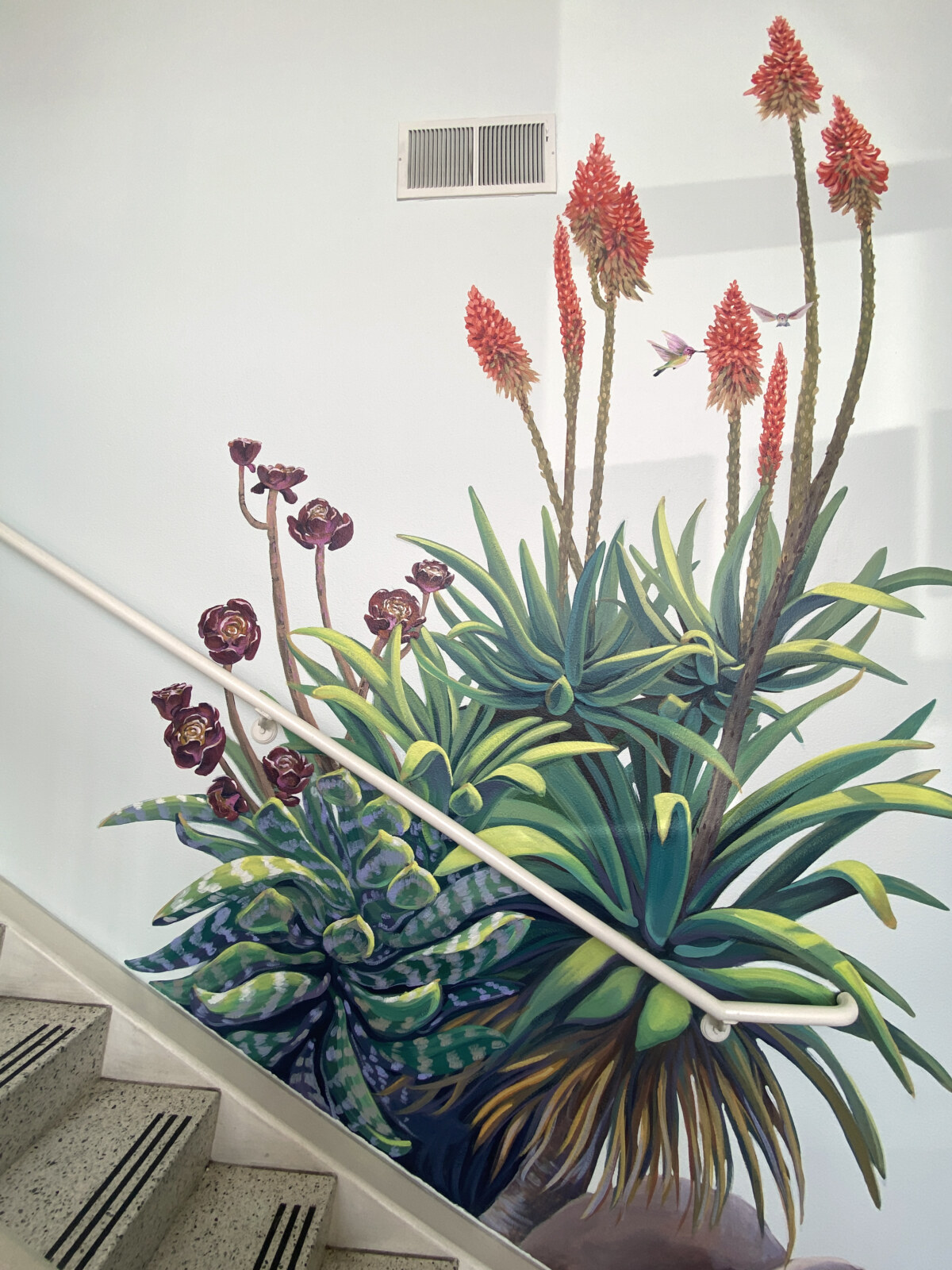 Many wonderful species in our natural world are tragically named, and could use a bit of rebranding. Succulents, however, are an exception. The name says it all! Their sturdy, varied beauty is always a hit in sunny California gardens. They come in a wild range of structure and color and lend themselves easily to surprising and delightful compositions. See for yourself…
The John King Community Center in San Francisco – Lobby Renovation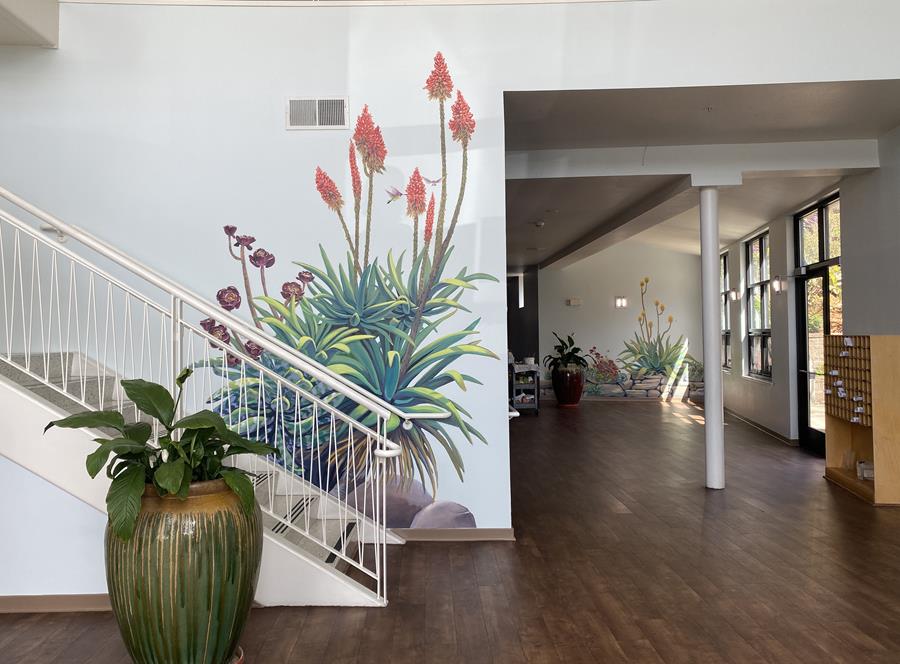 I worked with interior designer Nancy Ostrow to include succulent art in the main entrance lobby of the John King Community Center, a senior living residence in San Francisco. The artwork will provide a fresh and colorful backdrop to two seating areas in the lobby. I wanted to capitalize on using the wall space in a dynamic way, with arching florals and depth that simply does not come through in framed artwork.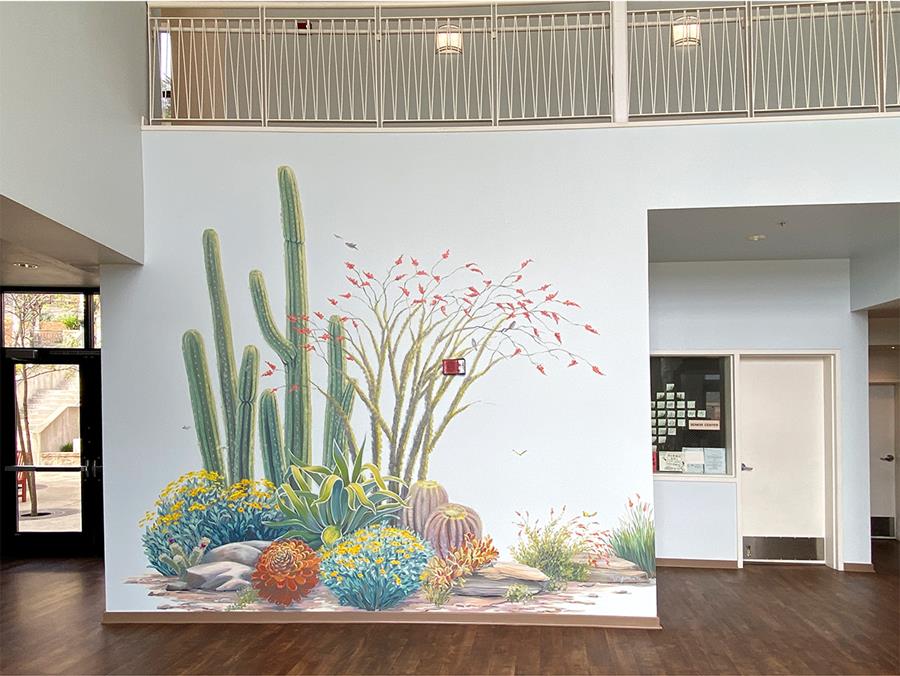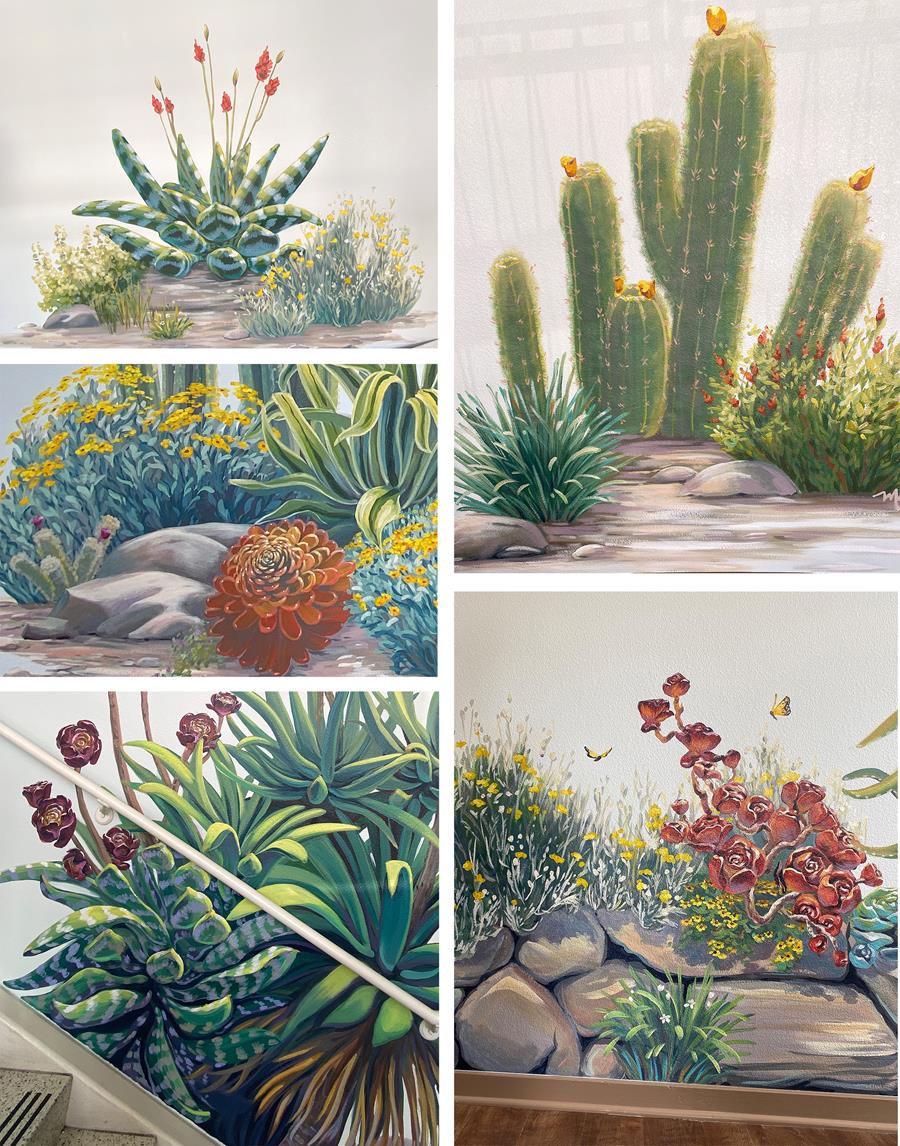 Shortly before I was to paint a landscape in the lightwells of my client's house, she called me and said she had a much better idea: Huge succulents! Like I always say, my clients have the best ideas, and I was happy to bring this one to life. These oversized succulents are dancing the tango in the basement rec room – dramatic and strong, but also unpredictable and, well, succulent. The client also added lighting so that the succulents can be part of the rec room nightlife.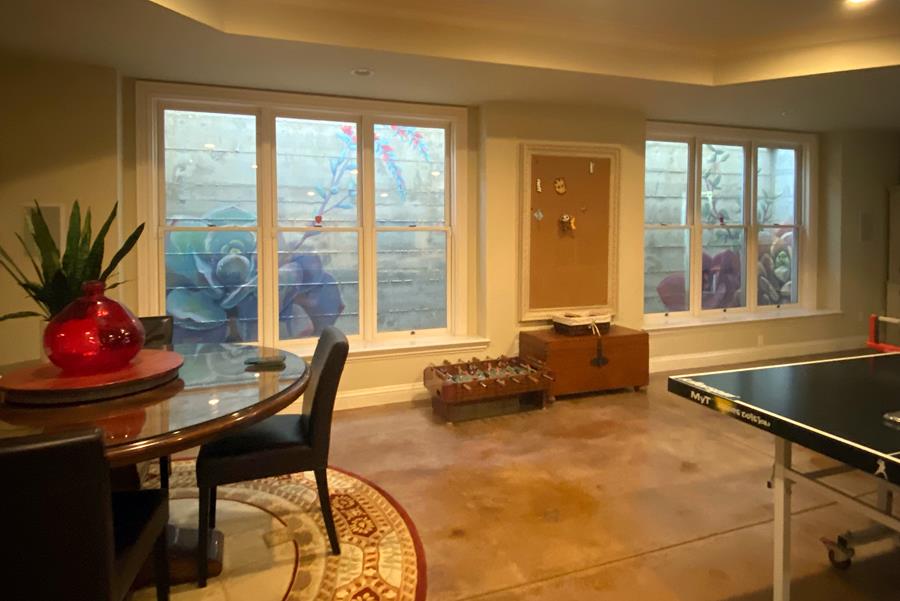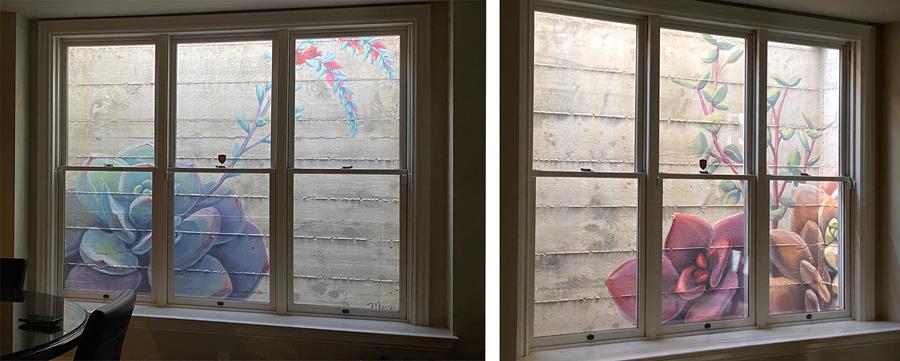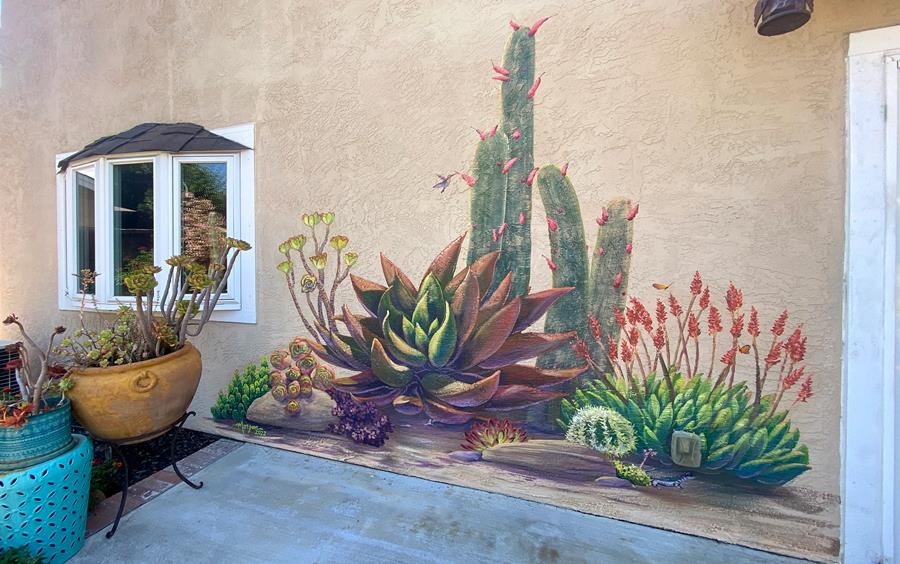 Carlos is a skillful and prodigious succulent gardner. After a stroll through his garden, with paths and pots containing perhaps 50 different species, it became obvious that this was a serious creative outlet for him. His wife Beryl coordinated the mural as a very special gift to Carlos (I suspect that humans were her garden: she was a careful and creative gardener of goodwill and kindness). They both gave me free creative reign with the composition. I walked around the yard throughout my painting day, taking photos of the plants with a color and size that suited me, and then back to my canvas (the patio wall) to paint it.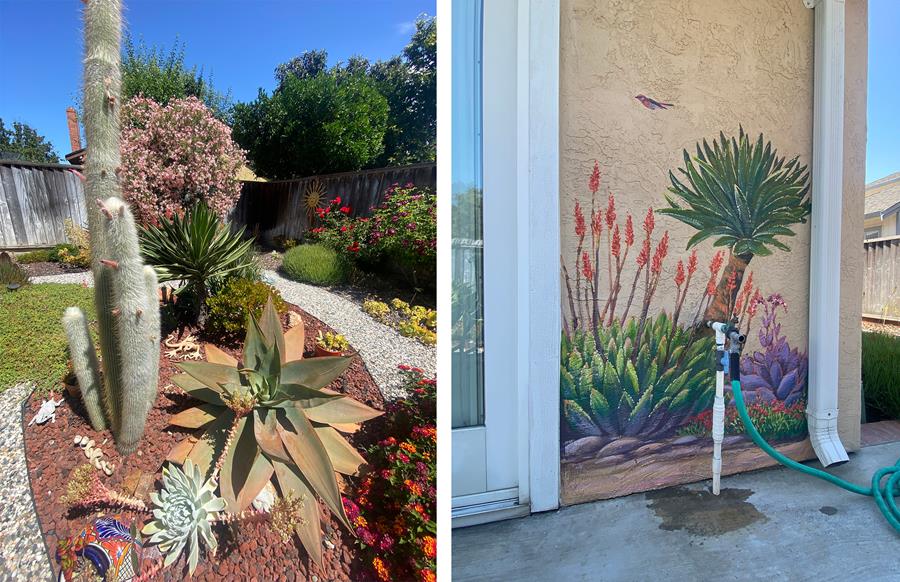 Two Great Things That Go Together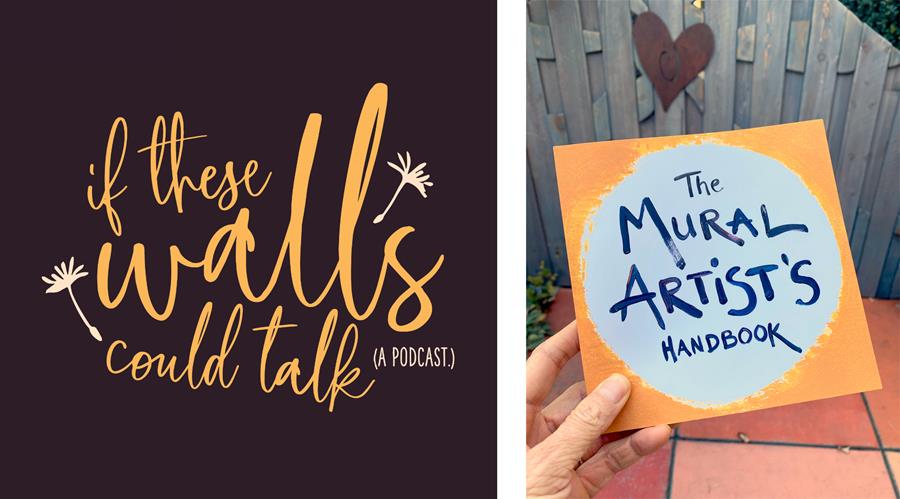 I am excited to announce the launch of Season 3 of my podcast If These Walls Could Talk. The purpose of the podcast is to speak with – and share best practices among – mural artists. I have some fabulous interviews coming down the pike I can't wait to share with you. However, I am starting the season off with six episodes that comprise an audiobook. Two years ago, I published The Mural Artist's Handbook, a guide to painting murals as a business. The disappointing takeaway from the book publishing industry is that the only entity earning a profit (among the many creatives who contribute to the ecosystem) is Amazon. My book and my podcast serve the same purpose: to be of service to the artist's community. I feel deeply blessed to be able to support myself with my creative efforts, so blessed it feels natural to help others who are on a similar path. In this spirit, I decided to kick off season three by reading my book on my podcast, so that artists who don't want to buy the book or prefer to be read to (storytime!) can enjoy and benefit from the content. You can listen to the audiobook episode on any web browser here (or here if you prefer Spotify.)
Most of my wildest painting stories seem to be behind me. With 20 years of experience under my belt, I find fewer surprises as I set myself up on each project. But, as the wise, sturdy, and blossoming succulent reminds me, there's always more room for enjoyment of the whole process. And that feels…succulent.
Enjoy,