A New View at the Sequoias


Last month I painted the landscape of one of my favorite hiking areas, Windy Hill in Portola Valley. I was commissioned by The Sequoias, a senior living community nestled next to the trailhead for the Windy Hill recreation area to create a view of the local landscape for the residents in memory care. The Sequoias expanded a few years back and the new building blocked the view for the memory care residents. What is awesome about a mural is that it not only turns a flat wall into "an extra hundred acres", you can also pick your favorite season, blooms, and wildlife. In this case, with the chronic drought weighing on our minds, we chose to imagine and embrace a perennial spring.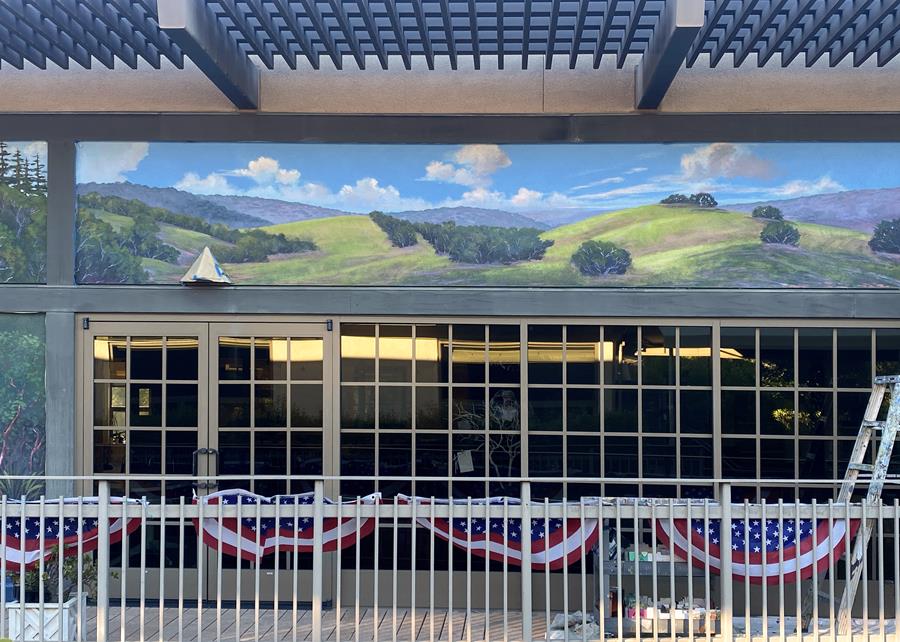 The hills only look this green for a couple of months of the year, but when they do it is spectacular. The poppies bloom and the rabbits are out in full force as well as the watchful hawk. I love that you can see the landscape I am painting in the top left corner of this image.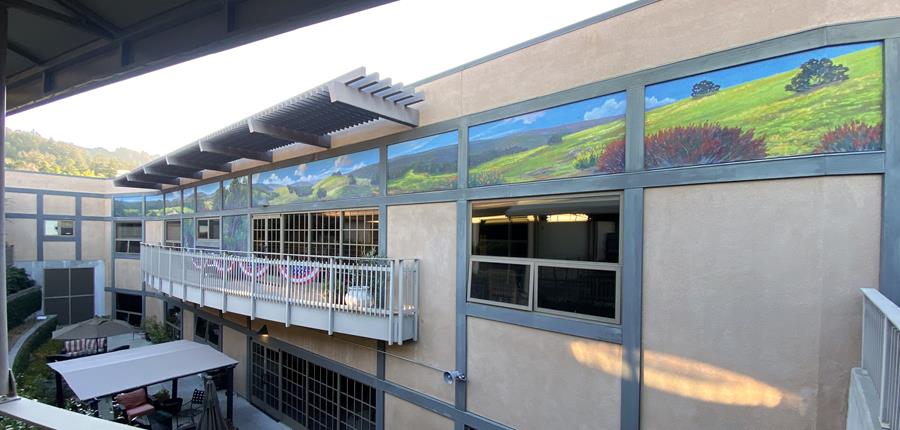 My son Lucas worked for me for six weeks this summer, mostly developing and editing podcast episodes. I am super excited about the TEN new episodes I released with fabulous artists from around the bay area (and one from Minneapolis). I also shared my book in audio format (who doesn't love storytime?) on the podcast. Lucas came "out in the field" with me a handful of times, including on this project at the Sequoias, helping me to base coat and varnish the mural. After one of our painting days he told me, "I am so beat. I can't imagine having to go home and cook dinner for a family now." I have never felt so seen in my life. I love this photo because he's borrowing my apron and bandana, and those could be my curls up there on the lift, but they are not mine, it's Lucas! He adjusted quickly to learning the tricks of the trade while 20′ off the ground.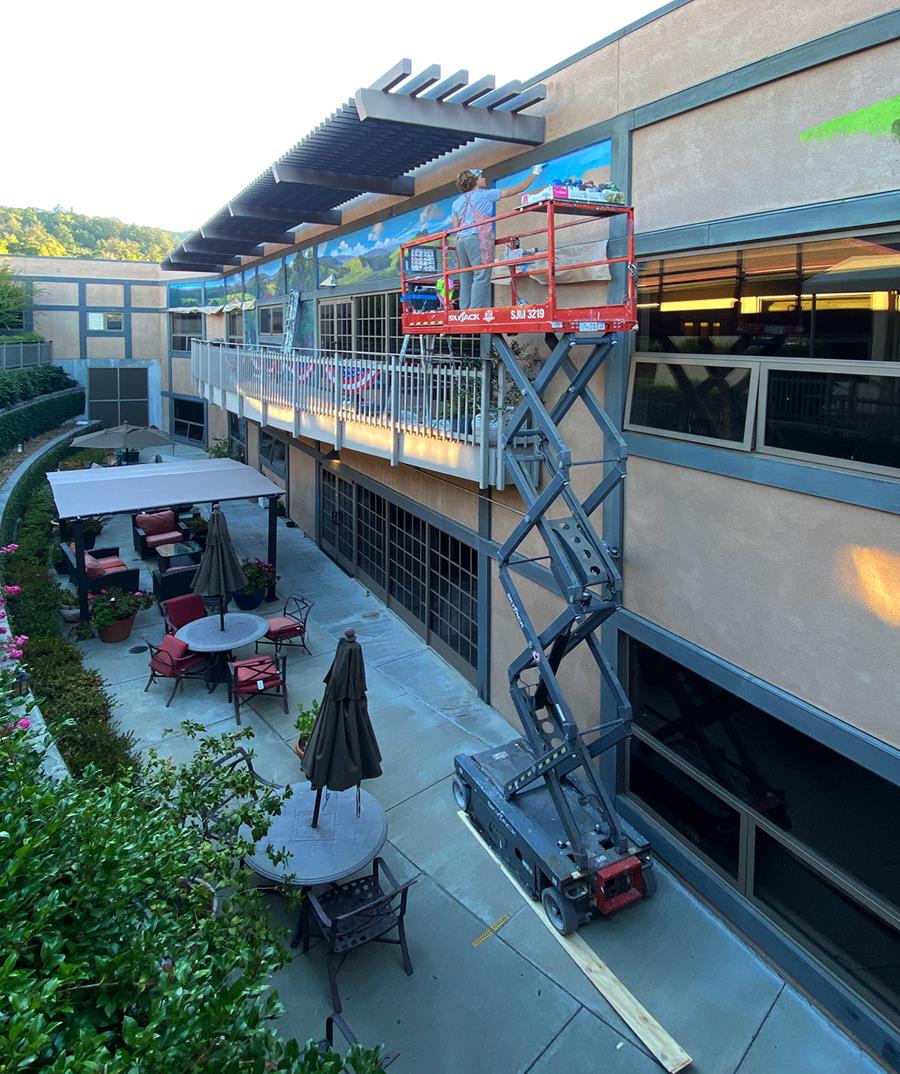 Sitting by the creek for a cup of tea is an inspiring improvement.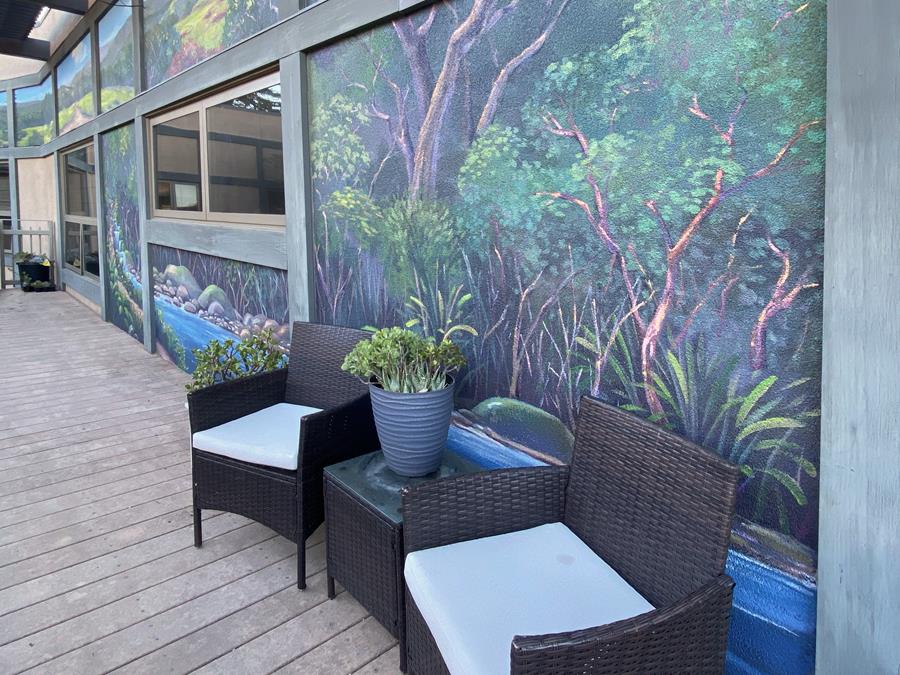 My big announcement this month is that I am now available for travel gigs! In two weeks my youngest daughter will be starting a new life as a freshman at UC Davis which means I will be less home-bound and ready for new adventures. Being a mom has been my primary job for the last 20 years – the mural-making has fit into the hours I had available once the kids were set. Their rooms and schools had murals and their birthday cakes and Halloween costumes were always one-of-a-kind works of art. I wasbeat at the end of a painting day but still made the effort at home because both painting and parenting always felt like a privilege. I have truly loved this chapter of my life. I also love that the beautiful blessings continue forward: First of all, that my daughter got accepted to a college – not to be taken for granted. The second blessing is she chose a relatively affordable option (If you don't count 30 years of paying taxes in California.) The third big blessing is that now I can put all that attention that used to go to my babies towards my art! I am excited to putter and deep dive and expand into the new time to both develop my business and explore my creative impulses in new directions, including beyond the bay area. I look forward to sharing my next beautiful adventure with you through this blog. Thank you for coming along on the journey with me!
With love,