My Year in Murals – The 2016 Rap Up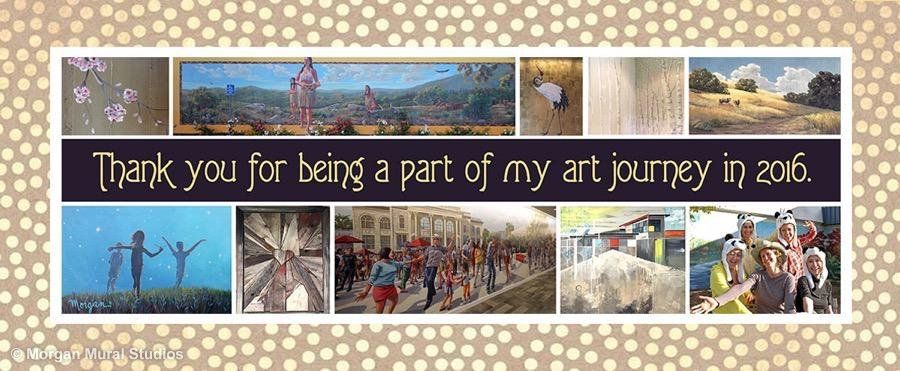 Another trip around the sun and here we are again
A chance to assess our year with equanimity and zenWhether you are Bahá'í or nudist, scorpio or cancer
What we do with our time is our own question to answer
For me it is art; the bigger the better
Each mural I paint is another love letter
In 2016 my skills were broadened and stretched
I aimed for something singular with each design I sketched
In the beginning there is a moment of greatness to which I do attest
It's the moment the client comes forward to give the project a bold "yes"
Let's take this ugly wall and let's make it amazing
Let's tell a story that earns community praising
Let celebrate what is beautiful- but before we begin
Let's figure out how to do it in a way that's a win-win-win
I am grateful for the teamwork each project did coalesce
"I" becomes a "we" and then the project becomes a success
Is there a secret sauce? Well, let me be frank
The trust I get from my clients is gas in the tank
They are architects, CEO's, principals and mavericks
The thing they have in common is that they're anything but average
I am humbled and grateful to participate in this calling
To paint beauty on walls that are blank and sprawling
I wish you all the best in the New Year that's fresh and clean
And thank you for being part of my art journey in 2016.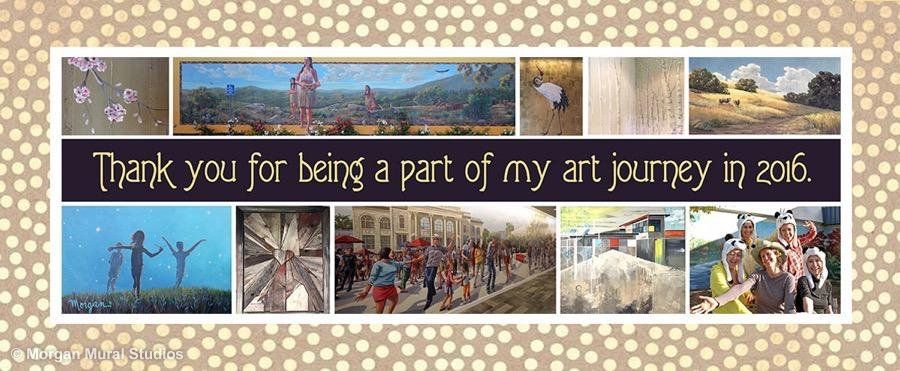 If you like my poetry, or are an enthusiastic fan
I'll share the play by play adventures of me and my trusty vanOur first project, right out of the gate
Was to set the ugly storage space in my backyard straight
I transformed it into an artist's studio that's both functional and inviting
Having this creative escape pod is both reassuring and exciting
In January I painted for Isabel, the sunset in all its glory
(In October I hiked the Adirondacks with her mom, but that's another story)
Then San Mateo Lock Works, with 89 years in the same location
Commissioned a steam-punk inspired safe to amplify their vocation
Security Public Storage went next with a curb appeal renovation
They chose a collage style mural to celebrate San Pablo, a historical narration
I painted at Juvenile Hall, four murals with student participation
The kids became rock stars among their peers and received great ovation
I painted both beams and a bedroom wall for one longtime fan
It was 10 years ago that we hatched our first collaborative plan
I travelled to Murphy's to paint a landscape at gorgeous Courtwood Inn
And to San Diego for live painting at the conference booth of Amgen
I gave Napa residents a pause from the rat race
To consider indigenous peoples and their peaceful daily pace
The Great Highway became greater, with more cars on the lot
Guests can now hang out at Mel's Diner while they fox trot
In August I created paintings for the architecture/design firm TRG
Where I expanded my repertoire into the abstract and contemporary
There were a handful of private clients, a welcome change to paint inside
And with fewer committee decisions my creative berth is wide
Soft birches, sweet willows, a few cows and a grape vine
A street scene in Italy that's the perfect backdrop for sipping wine
I always love to work at schools, the students are well deserving
At Springer kids explore the painted garden without realizing they're learning
The sixth graders donated to Almond a sweet firefly concoction
A painting of tree branches was pledged to the Santa Rita School auction
The murals at Stocklmeir Elementary started with a vison valiant:
To paint four murals at the school with a team of fresh talent
Everyone was dancing at the new San Mateo Credit Union branch
The art scene in Redwood City has the energy of an avalanche
One of my favorite projects of the year was painting at Pabu in Boston
The interior design by Bishop Pass is an experience to get lost in.
My final project of the year, to test my stamina as well as brawn,
Was to paint 750 holiday cards, a fitting denouement.
All my artistic creations of 2016 were intended to inspire or delight
Whether painted in a home or on a building of great height
I want to take this opportunity to thank my rock star family and friends
Whose support and encouragement make the means as good as the ends
If you made it this far you deserve an award
But I think we can all agree it's time to cut the cord
Go enjoy the party, let the new year ring
We'll soon find out what 2017 will bring.
With love,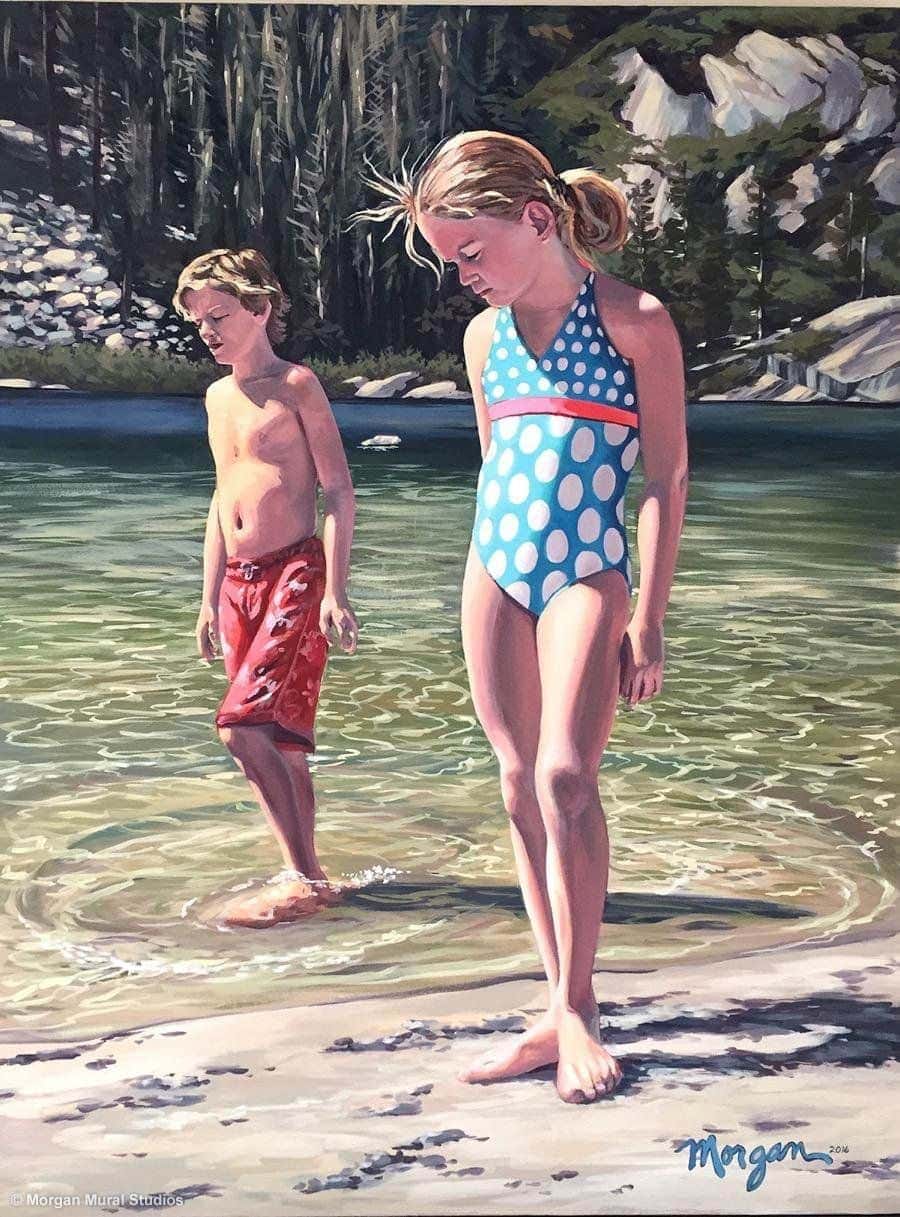 Lucas and Allison at Angora Lake
Summer 2016
Acrylic on canvas