The Mural Movement and Cranes at Pabu Izakaya


PABU Izakaya Mural Painting for Sushi Restaurant in BostonWhen I read that President Obama spent his last day in office painting a mural with his family at a homeless shelter in DC, it hit home for me: Mural art is enjoying a huge renaissance.
For most of the past fifteen years that I have been painting custom murals, they have been, honestly, terribly out of fashion. I experienced firsthand the transformation they could offer a room or public space, but I was swimming in a very small stream of interested clients. (May God bless each and every one of them.) Most of my work was children's room murals and school murals. Unless you hitched your business identity to themed mural art like Fry's or Trader Joes (I painted murals for both) you would definitely stay within the safe confines of framed art and clean beige exterior walls. I remember approaching a restaurant near my house about painting a mural on the street-facing exterior of their building, which featured a massive, windowless, grey wall that faced California Avenue, in the heart of a bustling commercial district. The manager made it absolutely clear to me they would never even consider a mural, free or otherwise, and showed me brusquely to the door. Murals have struggled with the perception of being tacky, just for kids, and not "real" art. Ten years ago, public mural projects being funded by cities were far and few between.
Oh my, have things changed.
Now, murals are hot. They are the "it" public art project, an inexpensive and effective way to celebrate community identity and make public spaces feel more inviting and vibrant. Art matters, and the number of cities passing "percent for art" programs has exploded in the last five years and now includes San Francisco, Oakland, Berkeley, Redwood City, Palo Alto and San Jose among others. Cities are figuring out that painting murals actually curtails unsanctioned graffiti. The fine art community is teaming up with cities to figure out how to bring art out of museums and into public and community spaces. "Creative placemaking" is the new buzzword of urban planning. Why? Because people love to live someplace that feels human, not corporate. Alive, not alienating. Unique, not cookie cutter. Murals are fresh, expressive, and, increasingly, mind-blowingly creative and well executed.
The best part of this mural renaissance is that the quality of the artwork is exponentially improving. The current enthusiasm for public art, and resulting increased funding, means more talented artists can string together enough projects to make a living (instead of taking second jobs) resulting in devoted artists making vastly better art. There are too many to mention, but some notable mural artists that are inspiring me right now include Judy Baca, Faith 47, Ink Dwell, Mona Caron, Kelsey Montague, and Meg Seligman. Yes, I'm rootin' for the ladies because there are fewer of us tackling the big walls.
There are dozens of street art mural festivals in cities all over the world, like Montreal, Canada, Bordeaux, France and Detroit that draw crowds of globe trotters who want to discover fresh voices in art. In Las Vegas, the annual Life is Beautiful festival has a street art component that in a few short years has transformed the ugly buildings throughout the city.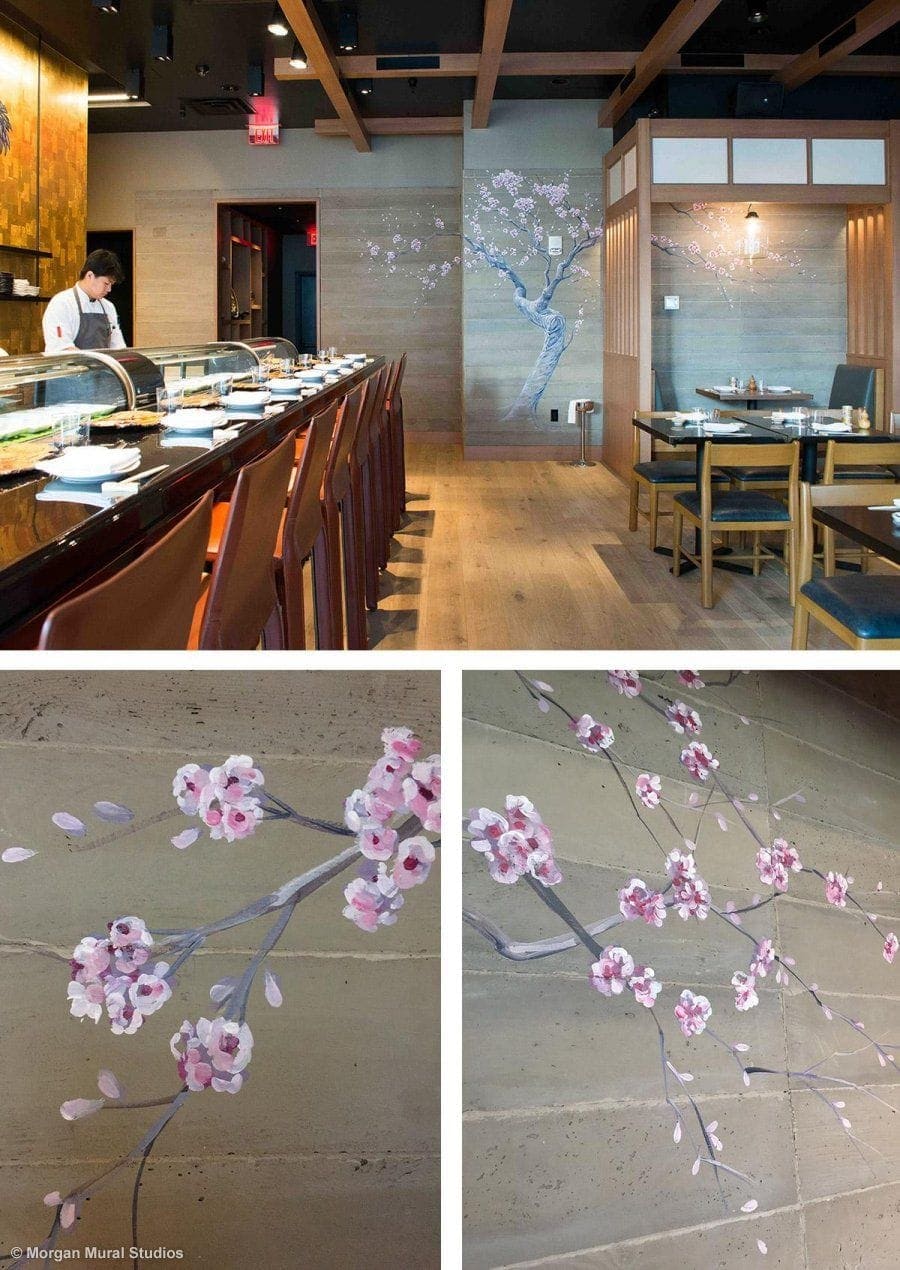 A few more developments in the mural world that I think are cool:
The photos included above are from a project I painted sushi restaurant murals at PABU Izakaya in Boston. The creative vision was provided by the very talented Scott Adams of Bishop Pass; it was an honor to put the finishing touches on this exceptional project. The hand painted elements add sophistication and a feminine element to the strong, modern aesthetic.
Trick Dog, one of SF's premiere cocktail temples, coordinated a citywide mural project that brought together 14 artists to create city-sanctioned murals which they turned into a book which now serves as their new drink menu. Each of their 14 drinks is named after one of the mural artists.
Erin Salazar is helping San Jose develop an Exhibition District, featuring a mural art scene that will rival San Francisco's. "We want to be the Switzerland of art," she says. Yes, we are talking about San Jose.
If you want your Silicon Valley startup to have a hip vibe, you opt to hire a street artist to paint your walls instead of framed artwork. Facebook embraced murals early on and now has an ongoing artist in residence program, a position frequently filled by mural artists.
I am going to bestow upon 2017 the unofficial title "The Year of the Mural." I can't wait to see what this re-emerging art form will bring, and I hope to play a supporting role in the beauty that will unfold.
Have you ever wanted to paint a mural yourself? I made a video just for you. The video is a forty minute deep dive into materials, approach, process, and technique.
How to Paint a Landscape Mural
Oh, and that Greek restaurant I mentioned? They are out of business now. And in the ensuing ten years after my failed beautification effort, California Avenue has birthed three large and noteworthy murals. You can't keep good thing down.
Warm regards,