Ready for the Big Leagues? – A Boy's Bedroom Mural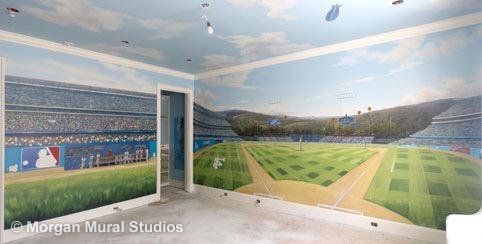 Imagine waking up each morning to a stadium of thundering applause – for YOU! I think we could all use a little bit more daily appreciation, and I hope that through this 4-wall baseball stadium mural, one lucky soul will now receive that daily gift. I had the pleasure of traveling to beautiful Santa Monica, California to paint Dodger Stadium on Gavin Rosenberg's walls. I have the feeling that the little league crowds he will be facing in the coming years won't phase him a bit!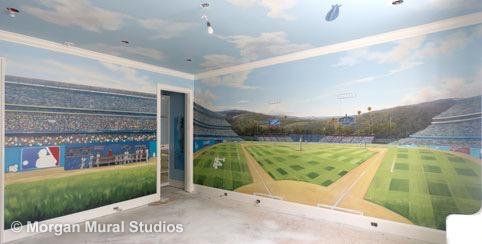 (View more images for this project here.)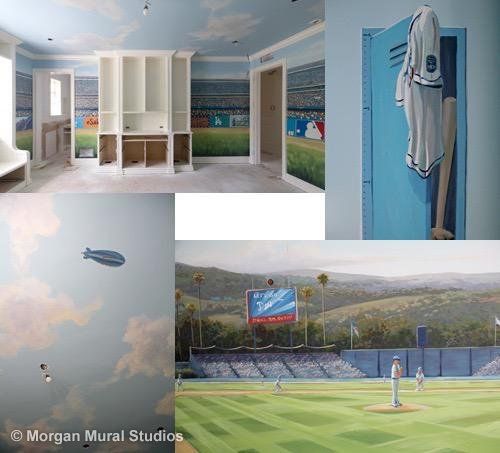 Country Living
This mural is the perfect match for the idyllic environment in which it was painted. Denise lives on a quiet flag lot with a rambling yard full of beautiful sculptures, large oaks, a sunny vegetable garden, and an amazing model train track and city that winds around a pond and waterfall feature, which she design and created herself. It was fun to paint for someone who is so clearly oozing with creative ability through her hands, especially in the form of a green thumb!
The entrance to her house though was dark, and did not hint at the beautiful oasis that lay beyond. The circular driveway passes under a carport, that previously was a dark, drab space. Denise painted the ceiling white, then hired me to paint a mural that would bring spaciousness and color to the area. Now every time she steps out her front door, she is greeted with this beautiful view! (Learn more about this mural here.)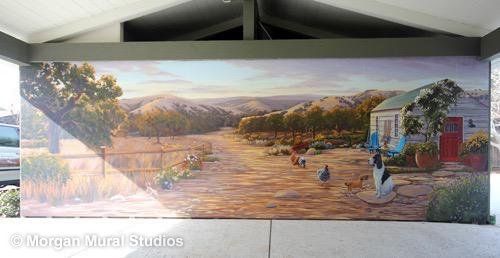 Blessings to you!
Morgan Bricca
Morgan Mural Studios