Dinner with a Nine Foot Tulip! – Decorative Murals with Personality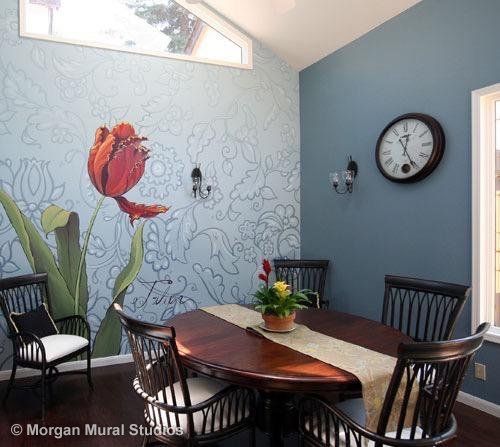 Once upon a time there was an awkward wall that lived in a dining room. This wall was the focal point of the dining room. Unfortunately, the wall was broken up by a misplaced sconce that didn't get along with framed art, and was always arguing with the window that hovered above it. So my client, Melissa Simmons, and I brainstormed. We gathered inspiration from items in her house that she loved. We noticed a floral design in her calendar, rug, and even pillows. The result: a lively and dramatic mural inhe form of a tulip and its leaves, with a monochromatic floral pattern backdrop. It transformed what was once an awkward wall to a strong and balanced wall that highlights their unique style. All the other elements in the room now live together, happily, ever after.
Click here for a close-up image of the tulip.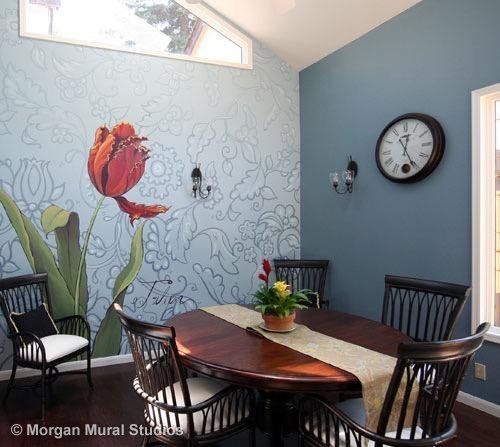 Any Tinkerbell fans out there?
My daughter is a Tinkerbell fan. She has been wanting a tinkerbell mural for a couple years now. Her persistence paid off, and now I have another satisfied customer in my own house! She won't even let me put hooks up over the mural. The fairy wings and fairy dust glow in the dark. Awwwww.
Click here to see a close-up image of this fairy mural.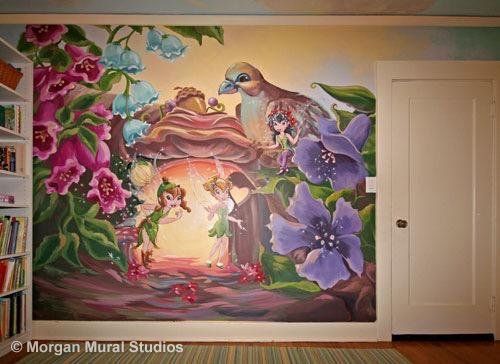 Cherry Blossoms for a Baby Girl
I painted a soft cherry blossom tree and love birds for a girls nursery in San Francisco. It was just the tone the client wanted to set for the sweet nursery she had planned.
Click here to see the whole mural.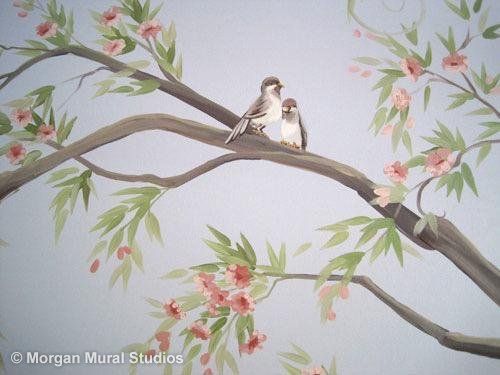 Blessings to you!
Morgan Bricca
Morgan Mural Studios