We did it! – Celebrating the Class of 2020 with a Graduation Mural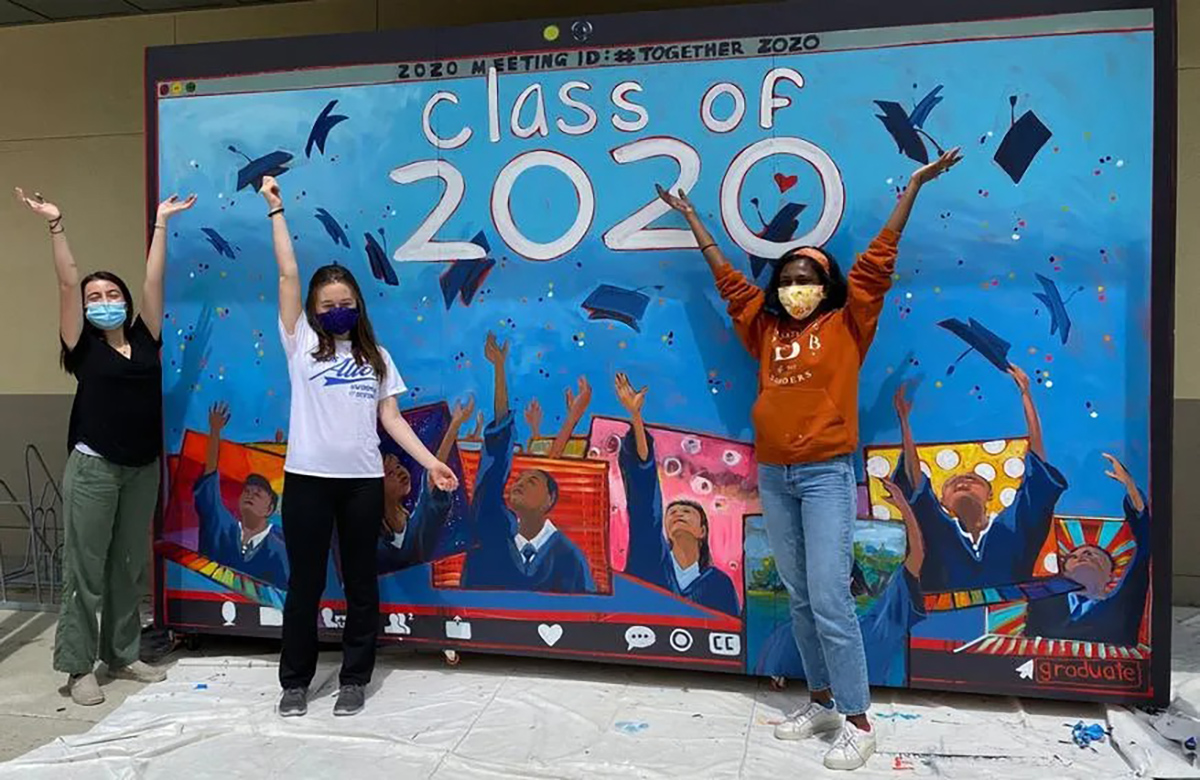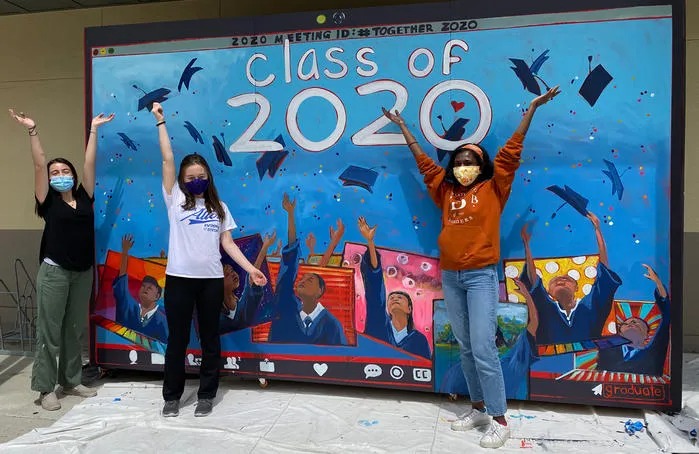 Seniors Amy Chang, Damla Aydin, and Sreoshi Sarkar helped me paint this mural for the Class of 2020My son graduated from high school yesterday. No parents were allowed at the event. He walked on to the platform, had his photo taken, and then walked to his car and drove home, alone. No handshaking, fist-bumping, or whooping. No senior prom, beach party, senior ditch day, or grad night, either. Instead, he's spent the last ten weeks in his room, essentially grounded. Weird times.
We've all suffered losses during this pandemic. My son has been a great sport about it, making the best of his confinement. In "normal" times, we might have celebrated this rite of passage with dinner out as his favorite restaurant and hosted a party with family and friends. Gifts, whether experiences or "things" are either not feasible or feel out of tune right now. How to mark this significant moment? A new pair of pajamas, perhaps? As I pondered what other families might be doing, I realized everyone must be at the same crossroads, creating new traditions by necessity this year. The idea came to me that one way we could celebrate the entire class, as a community, was with a mural. Something they could pose in front of with one or two friends in their cap and gown, to make the online celebration grounded to a physical space and moment. I reached out to the principal on a Friday with the idea, and she approved it on Saturday morning. I assembled a group of artistically-inclined students to help me plan it out on Saturday afternoon, and we started painting the mural on Sunday. By Monday, as the first batch of 50 students graduated, they were able to throw their cap up along with the many thrown caps in the mural as a backdrop. Painting the Class of 2020 mural marks a time and place in a world that has become predominantly virtual. I hope that they will feel, however inadequate the vehicle of expression, more celebrated.

A few years ago, the principal at Santa Rita Elementary School, where both of my kids went, reached out to me about painting a mandala on the kindergarten play yard. I painted the kindergarten shed when my son started school there in 2008 and the artwork began a new school tradition of taking a photo of every kindergartner in front of the "cow shed". However, the mandala pavement art idea never moved forward. I passed the kinder yard almost daily during shelter-in-place, eyeing the bare ground. At the same time, I was spending more time in my home studio, and the extra gallons of pavement paint I had on hand were taking up too much space. Here was how I solved the problem: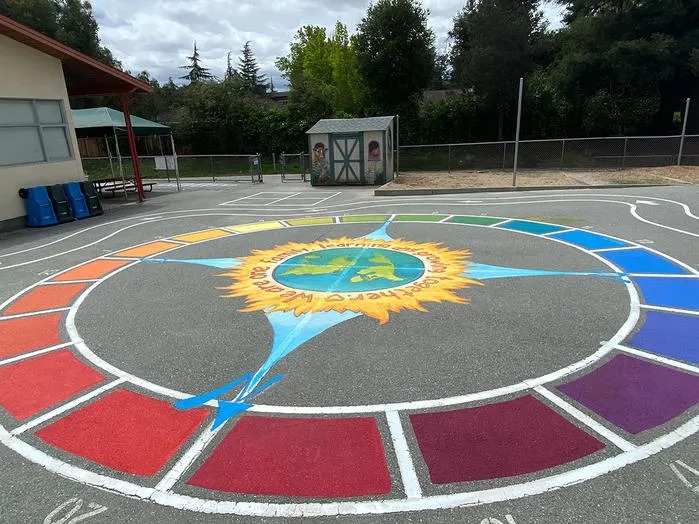 The painting developed intuitively, thinking about what would be delightful for a six-year-old, what message is important for that age, and also this time. Looking at the existing pavement lines, I realized the site had been laid out perfectly for a color wheel, which would work almost like a labyrinth. I can imagine a game like "What color matches how you feel today?" Walking around the color wheel is surprisingly fun.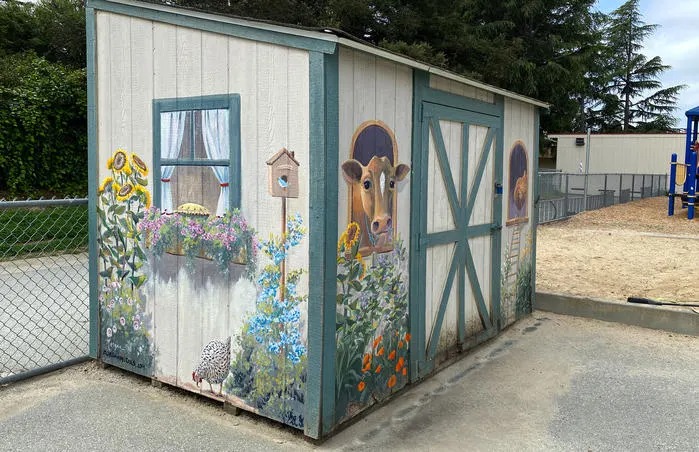 When my son started school it was my dream to paint at every school they attended. Painting a mural at the at the High School last week completed that bucket list. Here is the mural I painted at Egan, where my kids went to middle school. I didn't intend to make it a selfie mural, but realized after I painted it that it makes a great "wings" photo: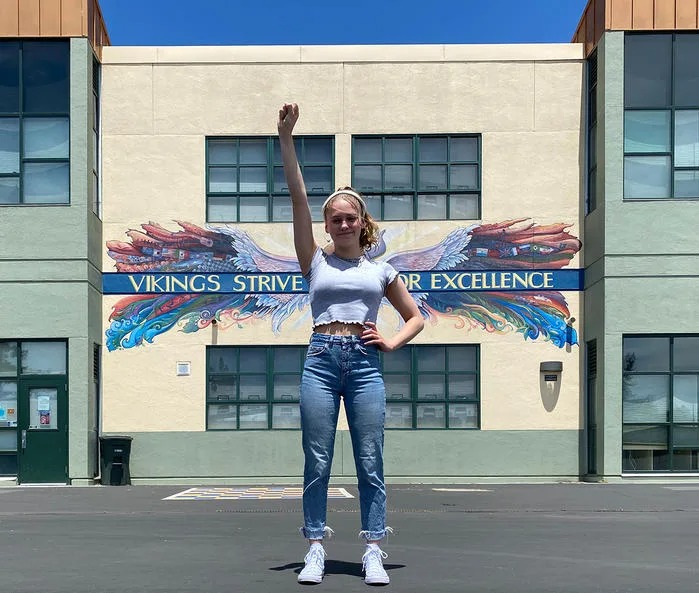 The graduation of my son is also a rite of passage for me: I crossed the finish line, so to speak, on the active parenting phase of my first-born. I am now strictly an "on-call consultant". I still have two more years with my daughter, but… who am I kidding, these days I am more likely to ask either of my kids for advice then they are to ask me. From social media to finance to fashion, these kids, their peer group, are dialed in. Parenting teenagers has been nothing if not humbling.
Work is starting to pick back up. I typically work alone, and six feet apart already (unless you want to get splattered in paint) so some of the projects that were in the pipeline are starting to move forward. In the meantime, the extra family time has been sweet. The uncertainty of life during a pandemic has brought to my life waves of intense gratitude for my family, my community, my work. We don't have summer plans, fall plans are held lightly. My son doesn't know if he is headed to college or has another six months of family life.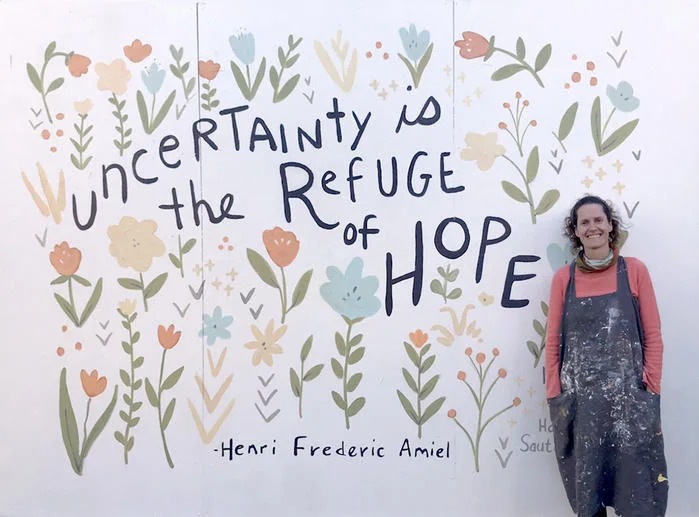 What a difficult time for our country right now. Disruption, both from the pandemic and systemic abuse of power have created this moment: a tremendous opportunity to choose a different path forward. The pandemic is making us more aware of our interconnectedness, all the people who contribute to our lives running smoothly, including scientists, grocery clerks, and health care workers. I pray that our communities and our country can also unite around the tragic murder of George Floyd and fix a system that continues to create winners and losers along racial lines. This is the conversation wanting to happen, and the time is now. We can move forward from this moment in a way that is more sustainable and inclusive. We are safer, and in integrity with life and love, when every person is regarded as sacred, everybody matters, and we create systems that support that.
With love,