There is Beauty in the World – Redwood City's Siena Youth Center Mural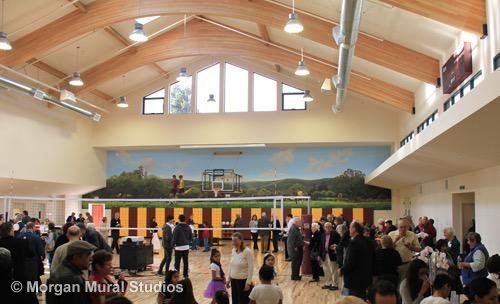 Over the past two months I have had the privilege of creating 5 different public murals. I love the opportunity to create in public spaces because the beautiful scenes I create might bring a slice of joy and beauty, a small blessing, into people's lives today and in the years to come. I am so proud to share with you the stories of two of these public projects in this newsletter!
Siena Youth Center in Redwood City
Yesterday I went to the dedication ceremony of the Siena Youth Center. It is a standing testament the the beautiful dreams of a handful of determined people, now manifested in this gorgeous community center and gym, that will offer a safer, more connected, and more hopeful future for the predominantly first generation immigrant families in North Fair Oaks. This building was an undertaking of The St. Francis Center, based just up the street. This non-profit organization provides substantial hands-on support to the community, including housing, food, clothing and education. Their endeavors are both ambitious and awe inspiring. Now they can add to their resources a vibrant youth center (with a slick mural!) to help keep kids off the streets and on-track with after school sports and tutoring. I feel so proud to have been a part of this project. They are always looking for help, so if you ever considered teaching English, Zumba, or anything in between, this is a great community and organization to get involved with that is not far from home.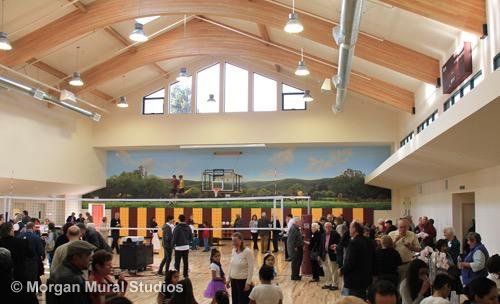 Juana Briones Primary Grades Garden Mural
About four years ago I painted a one-hundred-foot long mural on the north end of the Juana Briones campus, next to the library. Kim Perlmutter, of Designing Spaces by Kim, designed a beautiful reading garden that went in front of the mural, and during recess and lunch these spaces get a lot of use from kids escaping the craziness of the playground.
Last month, with funds raised from the parents, teachers and community, Juana Briones invited Kim and I back to create an art and garden space for the primary grades. For my part, I wanted to create vibrant, playful, and colorful garden vignettes to transform the primary grades area into a destination, not just a pass-through. A LOT of surfaces were painted, and much to the delight of the children, lots of little bugs, snakes, chickens, frogs and hidden fairies were incorporated in to the "art plantings".
I want to share a bit about two amazing people who made this project happen. The first is Kim, who after losing her only son to a fluke illness 5 years ago has dug deep in herself, created a business doing what she loves, beautifying the world through plants and megawatt inspiration. The second is Pamela Dappen, a second grade teacher at Juana Briones who headed this project up, working overtime and out of pocket to make this happen. I see the beautiful gifts they are bringing to their communities through their focused efforts, and I am deeply touched by their commitment to make the world a better place. I'll be honest: I just show up and paint. It is people like Kim and Pamela, and Sister Christina Heltsley at the St. Francis Center, that provide the spark and vision that bring community and resources together to make it happen.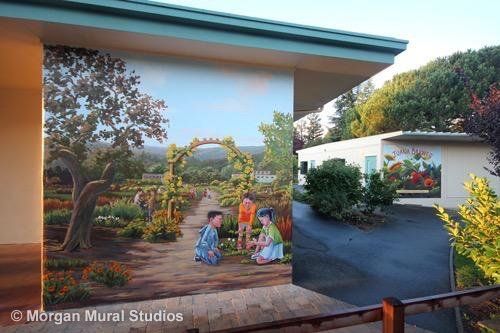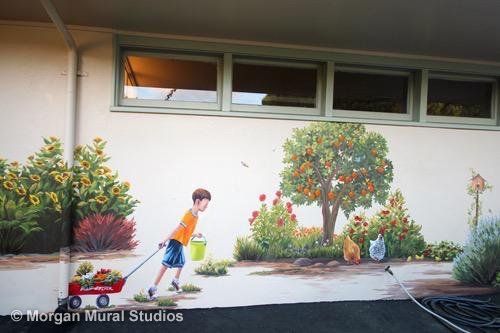 There is a lot to see here! Click through to my website to see all the detail photos.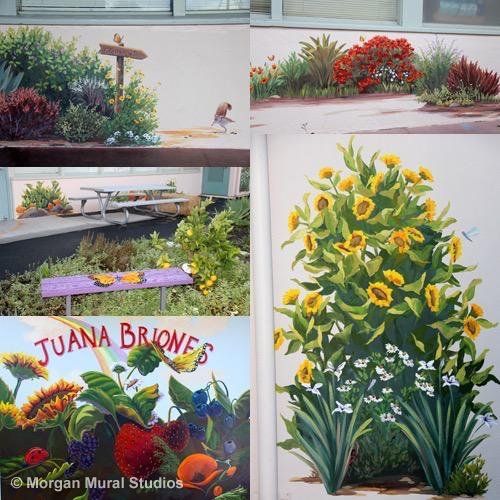 I love that it is my job to see beauty in the world, capture it, and deliver it in a big way. My brother turned me on to the song "Beauty in the World" by Macy Gray, and it is one of the best songs I have ever had stuck in my head. When I think about what I am most grateful for in my life, it is that I have the capacity to bring more beauty into the world, through my painting, family, and small daily efforts (i.e. cooking and cleaning).
I wish you a wonderful Thanksgiving holiday. Whether you will be with family, spending it in the Bahamas, stuck in an airport for 12 hours, or any approximate combination of the above, I hope that you are blessed with seeing "Beauty in the World!"
Blessings to you!
Morgan Bricca
Morgan Mural Studios