Urban Landscape – A New Diversity Mural for Google's Conference Room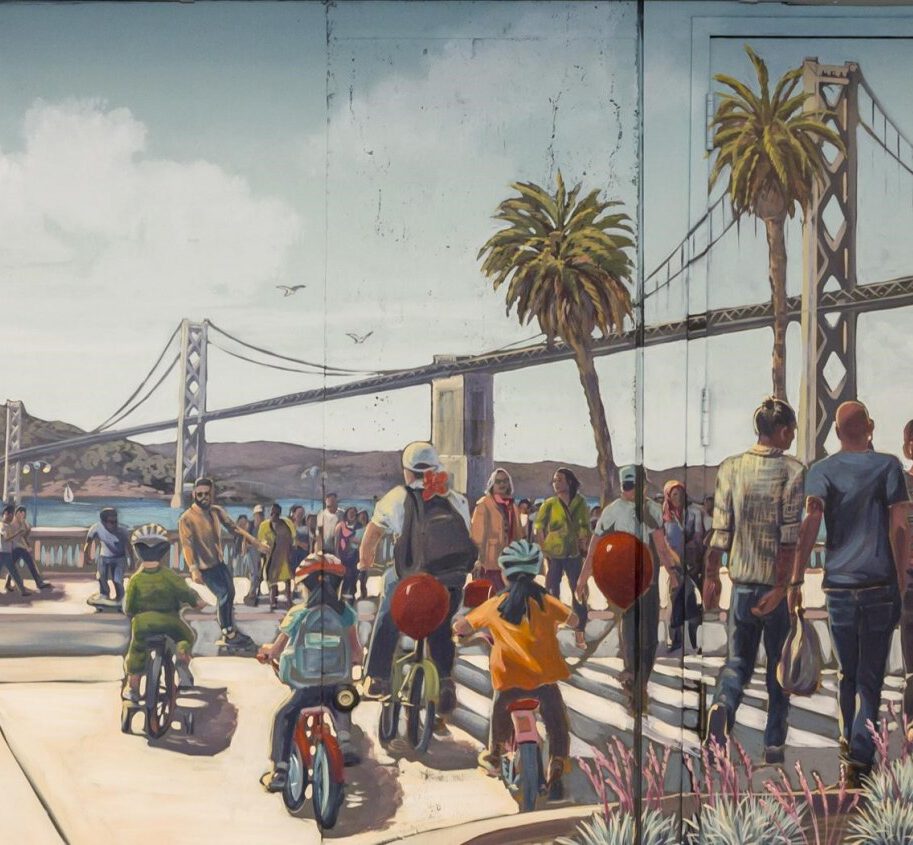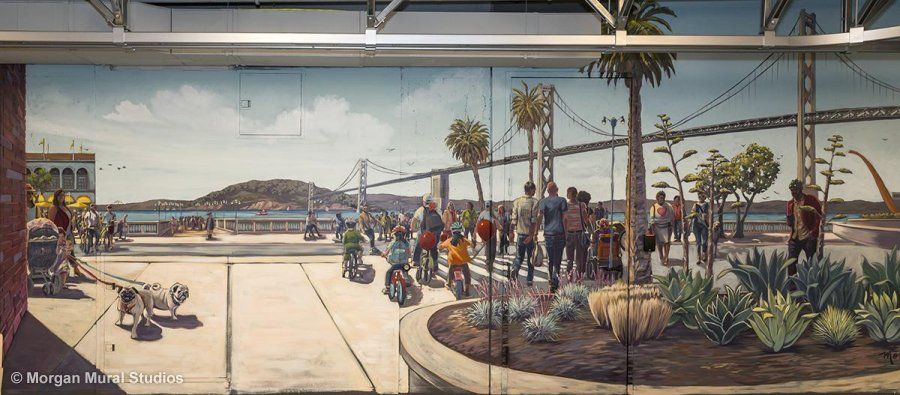 Recently I had the privilege of painting a Google mural! Google.org is focused on supporting non-profits that address inclusion, economic opportunity and education. One of the biggest challenges facing the non-profit community in the Bay Area is the high price of real estate. One way Google.org is addressing this challenge is they just finished a "Google quality" office and meeting space that will be available for non-profit organizations to use on the ground floor of their Embarcadero office in San Francisco. The space includes all the expected Google perks like a stocked mini kitchen but most importantly allows easy access and fluid collaboration between Google employees and the non-profit community. It is a truly creative and beautiful space to host events, trainings, and other support programming.
With this new space, they can roll the red carpet out to innovators of social change.
In the main conference room, they wanted to transform the windowless interior wall into a mural that celebrated the diverse Bay Area community and also the stunning beauty of the waterfront views. I was honored to be awarded the commission and I spent two weeks enjoying one of the best corner office views in the city while I created the artwork.
Here is the view from the casual gathering area, where I took my tea breaks to watch people stroll, roll, dog walk and commute along the Embarcadero. The fantastic views and people watching inspired the diverse city community I celebrated with the artwork.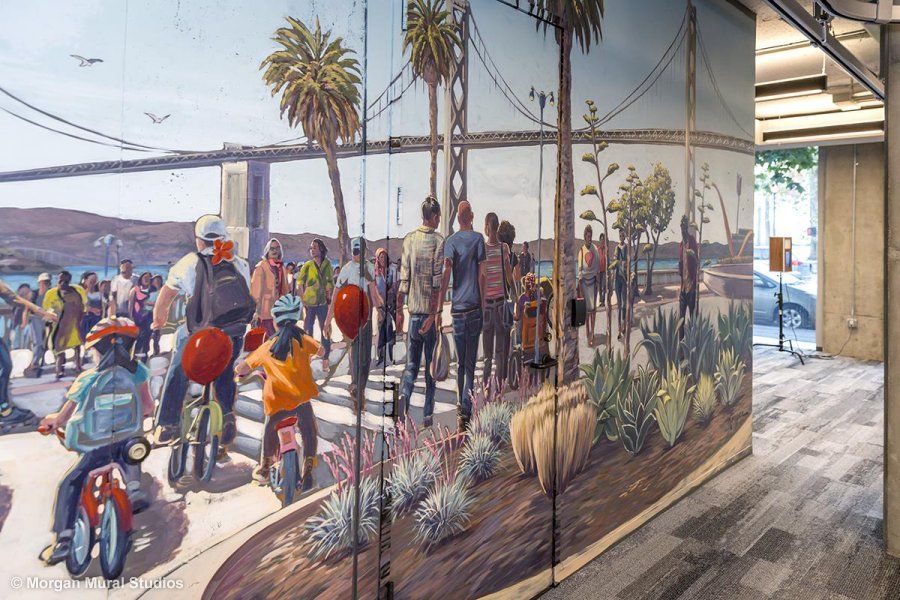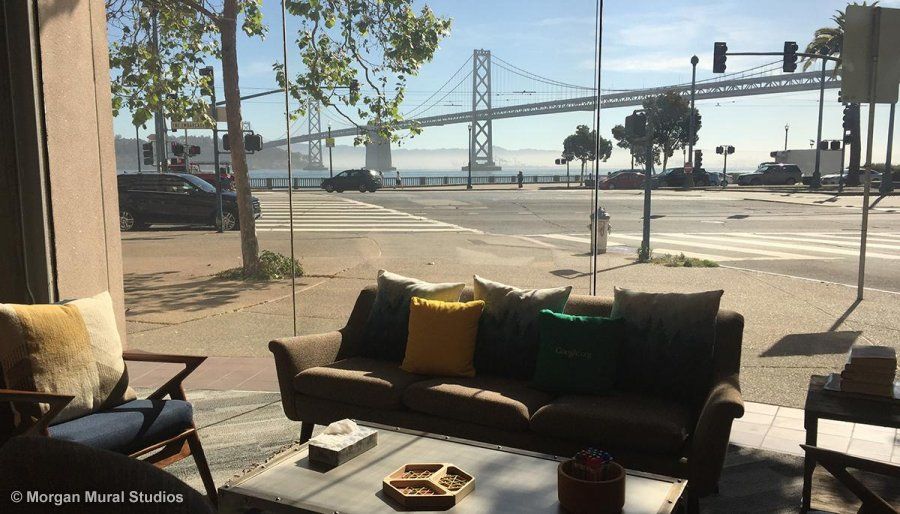 It speaks volumes that Google, which has the technology and resources to furnish this space with anything they want, chose to celebrate their commitment to a thriving San Francisco community with a hand painted mural.
I believe the more digital we get, the more we crave the tactile and handmade, the more we cherish the organic displays of humanity that make our lives and communities unique. My commercial murals and other mural projects have a lot of texture, layers of color, and movement in the brushwork that "builds the flavor profile" so it feels alive without being photo-realistic. This is one of the reasons I work with traditional brushes, not spray cans. This is also why I leave plenty of inspiration in the design process for onsite inspiration, just in case a couple of quirky little pugs wander by my view and beg to be included in the artwork.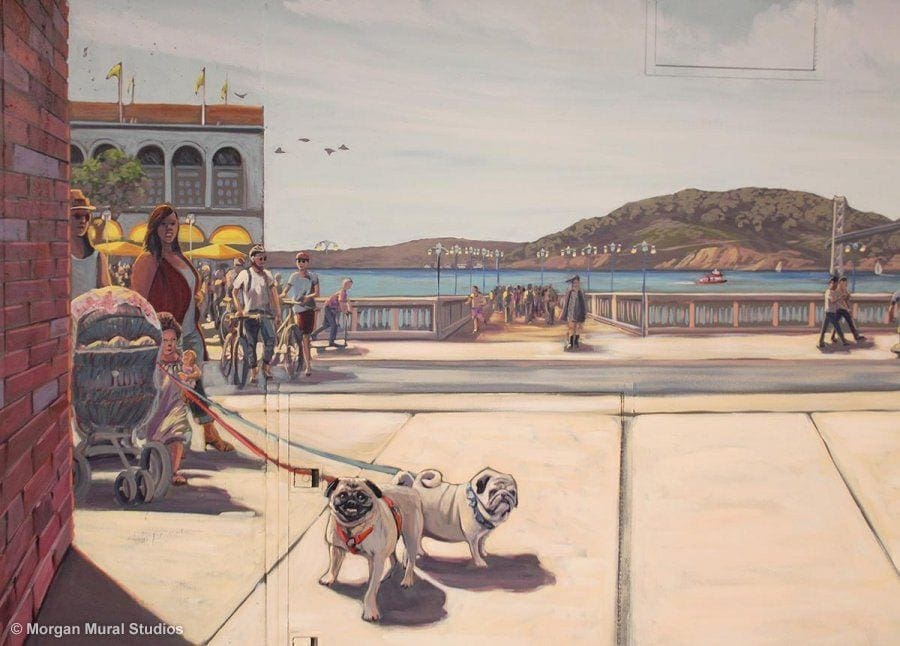 I painted this coastal mural with a reverse approach from how I usually approach my projects: I painted the foreground first, preserving edges of grey background from the base color and painting shapes of color on top. This approach helped to boost the color from the figures so they would "pop" and also ensured continuity of the grey tones used throughout the rest of the space.
Here is the grey wall before and after:

You can watch the Google mural come to life from start to finish here:
Here are some of the everyday heroes running non-profits that I met during the course of this project:
Yudy Coco helps run Oakland digital, a non-profit organization that train and mentor community college students in online marketing and design skills and matches them with work experience. Within minutes of meeting, Yudi recruited me to be a judge for Oakland Digital design competition for 6 billboards going up around Oakland, designed by their participants. There were so many great ideas, and the billborad project is a great example of a "triple win" – for the students, the organtization and the community. If you are interested in hiring up and coming online marketing, branding and design upstarts, head to Bridgegood.com to get started.
Amie Williams from GlobalGirl Media is dedicated to empowering high school age girls from under-served communities around the world through media, leadership and journalistic training to have a voice in the global media universe and their own futures. She had just returned from the Global Culture Summit in Dubai, where all the artists in the world collide to talk about how their work can impact humanity in a positive direction. Guess where I want to go next year?
Ashanti Branch of the Ever Forward Club, provides workshops and a safe space for young men from underserved communities to "be real", share honestly about their struggle to stay true to themselves while negotiating America's narrow definition of masculinity. The results and impact on participants is profound. The Ever Forward Club's work is featured in the documentary The Mask You Live In, directed by Jennifer Siebel Newsom and produced by The Representation Project.
Shira Abagli, the communications manager for The Representation Project, was one of my "office mates", since their organization had been awarded a three month grant to use the google.org office space a home base. The Representation Project uses film and media as a catalyst for cultural transformation, inspiring individuals and communities to challenge and overcome limiting stereotypes so that everyone – regardless of gender, race, class, age, religion, sexual orientation, ability, or circumstance – can fulfill their human potential. Learn more at TheRepresentationProject.org
I came away inspired by these amazing community advocates, and so glad that I was able to add my efforts to this new community space.
Here's to spaces that bring people together.
Cheers,