Blossom Drama at Pabu in Downtown San Francisco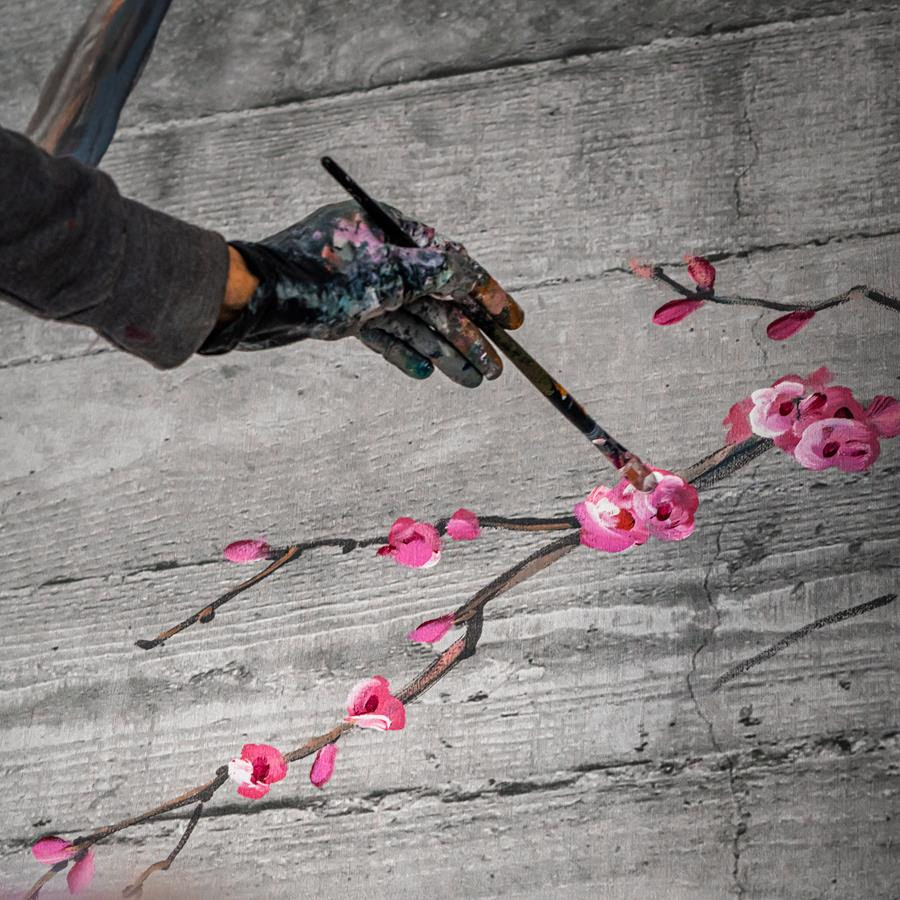 First up: I made this for YOU.
Next: A Dramatic Entrance for Pabu, a Michael Mina Restaurant in San Francisco
I was super fortunate to have my friend and photography artist Harlan Crowder come to capture the mural progress. All the good photos in this newsletter are his, and you can find more of his work on his website here. The glass front posed a unique challenge, but Harlan capitalized on the complexity with this amazing photo:
I painted for Pabu Izakaya Japanese Restaurant previously, both in San Francisco and Boston, starting back in 2014. You can read about those projects in previous blog posts here and here. As the restaurant expanded, I have come back out to add more cherry blossoms, including last year in the ramen bar.
Fellow artist and friend Shannon Geis popped in with sandwiches and daily encouragement. We have been collaborators for over a decade, and she paid me the highest compliment when she said, "Morgan, your work keeps getting better. It's like you speak cherry blossom fluently now!" I am tickled to be considered fluent in such a quiet language.
I also am a big fan of the Pabu experience!  I have enjoyed lavish meals at the San Francisco location several times. Working on the "inside" of the organization for the week gave me insight with regard to the effort that goes into creating an impeccable dining experience. When I arrived to paint each day at 8:30 am, the prep staff is already there starting to chop for dinner. The sushi chefs receive and prep the fresh bounty starting around 10 am. An hour before opening, at 4 pm the wait staff team rallies up for a pre-game strategy session. By the time the first diners arrive, every detail of the experience has been prepared for. Friday evening I did a superwoman change in my van, swapping my painting uniform for fine dining attire. I visited my new friend at the bar and asked him to surprise me with his favorite drink. It was smoky (mezcal?) and spicy (cayenne?). The drink came with a skull in the shape of an ice cube covered in activated charcoal to make it black. And: wow. Go try it yourself.
Pabu Izakaya boasts a sake sommelier – there are few in the world, and fewer outside of Japan- who opened a ginormous bottle of sake for our table that he himself had brewed the past summer during his annual artist's residency in a little fishing village in the north of Japan. I felt sheepish that I have very little experience of sake, or actually enough fine Japanese dining experience, in general, to fully appreciate the breadth and depth of the cuisine on offer. But, as with most great art, it can easily be enjoyed on both deep and superficial levels. The pandemic has been hard on restaurants. After my Pabu project, I have a greater appreciation for the creative value curated cuisine has on our cultural ecosystem and enjoyment of life in general. So eat out more! And go try Pabu Izakaya in SF while you are at it.