A Facelift at Duvenek Elementary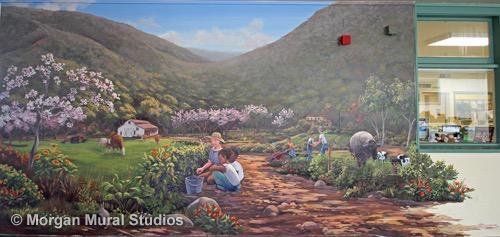 Duveneck Elementary School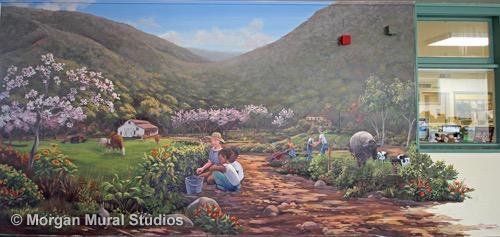 This month I had the privilege to paint a mural celebrating the legacy of the Duvenecks at the elementary school of their namesake. The Duvenecks helped start the Lucie Stern Center in Palo Alto, Peninsula School, and also Hidden Villa, where they shared their deep appreciation of the natural environment with a diverse community of learners. The mural included the pigs Frank Duveneck loved so much, the original barn, and the peaceful valley setting they fell in love with when they first spied it from the ridge on a camping trip. The mural is front and center as you enter the school, and the highlight of painting for me was all of the appreciation from the school community. A classroom of students would all "ooooh" (cooool, whooooa) as they turned the corner and filed past. I got lots of great questions about the process, and lots of ideas about what I needed to add. My favorite compliment was from a 5 grade cool dude who studied it for a few minutes and then looked at me and said, "I didn't even know that was possible." Wow. That was one of the nicest compliments I have ever received!
Click here to view more images of this mural.

Cambria in Spring
I painted this mural for a very sweet woman who cherished the memories of family trips taken to Cambria for hiking. She showed me photos of her family among the abundant rainbow colors of wildflowers. Her kitchen sink has looked on to a big blank wall for 10 years until today. How do you think she feels looking at that big wall now?
Click here to see more images of this mural.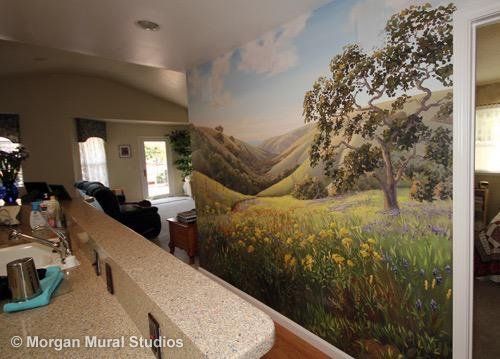 Thank you for sharing this newsletter with anyone you think might enjoy it.
Blessings to you!
Morgan Bricca
Morgan Mural Studios